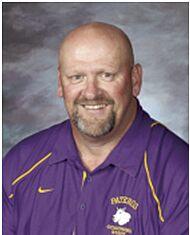 PATEROS — Longtime kindergarten through 12th grade Principal Mike Hull plans to retire from the Pateros School District at the end of the school year.
Hull spent his entire teaching career at Pateros, first as a sixth grade teacher for three years, then as a high school history and physical education teacher and later as principal.
"I wanted to coach the high school kids to I wanted to be connected through that job," he said.
The 2020-21 school year marks his 40th year with the district.
"It took a lot of courage to write my retirement letter because coming in those front doors of the school is all I've known my whole life," he said. "I graduated from Pateros in 1976, so all told, this is my 52nd year here at this school. Yes, I'd do it all over again, absolutely."
He said he and his wife, Diane, plan to remain in Pateros "and enjoy our grandkids coming through school now."
In other business, the board:
• Approved new and revised policies and procedures dealing with excused and unexcused absences, prohibiting sexual harassment of students, infectious disease and two others.
• Talked about levies, bond issues and enrollment. Possible projects were discussed.
• Talked about athletics practices and contests, and approved a plan should athletics start up again.
• Had first readings on policies and procedures dealing with enrollment, notification and dissemination of information about student offenses and notification of threats of violence or harm, associated student bodies, and two others.
• Accepted resignations from Shane Kelly, assistant football coach, and Katarina Evans, assistant softball coach.
• Accepted retirements Lyle Blackburn, vocational teacher, and Kerry Harvey, first grade teacher.
• Learned Hull has met with seniors to discuss what graduation ceremonies might look like, from a normal ceremony to a parade or a football field event.
The senior trip likely will not happen this year.
• Learned 112 students had signed up for the district ski program.
• Learned sixth-graders went skating at the Winthrop Rink.
• Heard about a state proposal to change graduation credits from 24 to 20.
• Extended Superintendent Greg Goodnight's contract for three years, until 2024.