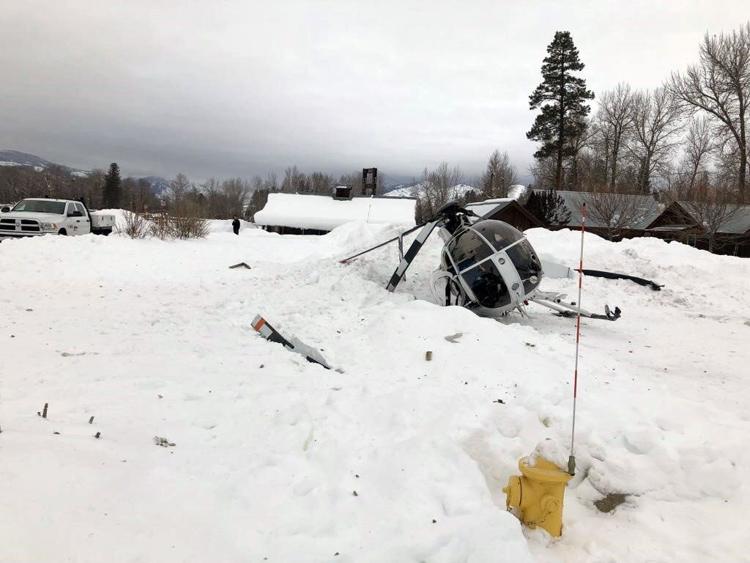 WINTHROP — Two people escaped injury when the helicopter in which they were riding crashed near the Winthrop Rink the afternoon of Jan. 9.
Winthrop Marshal Doug Johnson said the chopper's tail rotor apparently clipped a snowbank as craft landed.
There was no initial indication of mechanical failure, and it appears the pilot intended to land there, he said.
Pilot Robert McCoy, 60, Texas, and passenger Collin G. Berrett, 33, no town listed, apparently were staying at cabins adjacent to the landing site, which was between a row of cabins at Methow River Lodge and the skating rink, Johnson said.
"It was poor site selection" and the helicopter apparently had no ground assistant, Johnson said. "Given the ample open space in Okanogan County," they could've found a better landing spot, he added.
"The pilot stated the aircraft spun and he believes the tail rudder may have struck the snowbank," said a report by Deputy Marshal Ken Bajema. The craft carried approximately 40 gallons of fuel.
A statement by witness Chandan Singh, Richland, said the craft spun around three or four times before hitting the ground.
Photographs of the scene indicate the tail section broke away from the main portion of the helicopter.
The craft was owned by Hi Line Helicopters, Darrington, said Okanogan County Sheriff Tony Hawley. Deputies Cody Lunn, Rachel Martin and Sgt. Tait Everett responded to the crash.
Johnson said his office's report on the crash has been forwarded to the National Transportation Safety Board. The crash was reported at 12:33 p.m.
Fire District No. 6 sent units from Twisp and Winthrop to the crash site. Neither the pilot nor the passenger was seriously injured, and no fire or fuel leaks were found, the district said.
Neither the pilot nor the passenger was transported to a medical facility, Hawley said.
Fire officials said the site was secured for the Federal Aviation Administration.
District crews were on site for a little more than two hours.
Bajema's report said NTSB officials gave permission to clear the scene. The wrecked helicopter was removed by 8 p.m.