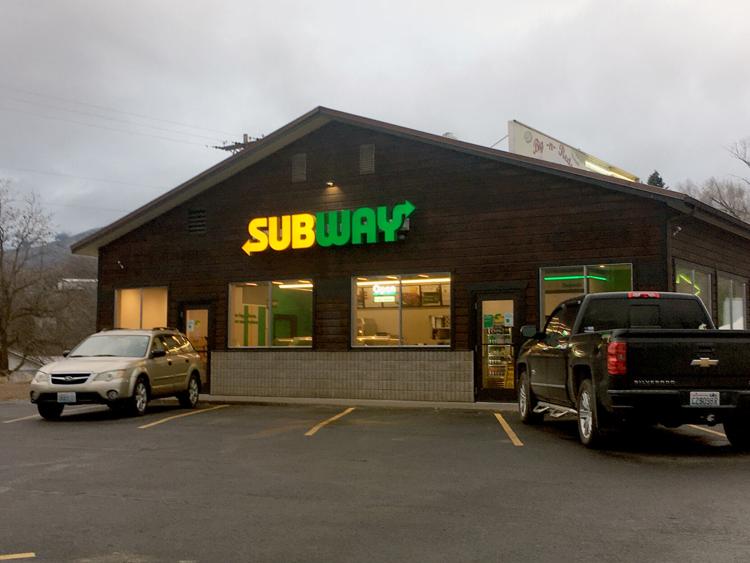 OROVILLE — Smith Brothers Enterprises LLC. N. County Subway's opened a Subway restaurant at 2002 Main St. Jan. 1.
"I would like to express my deepest gratitude to the Oroville Community for such a wonderful first day of business," owners said. "We are happy to see what the future of this store brings."
The eatery served 700 sandwiches on its first day of business.
Because of COVID-19 restrictions, the restaurant is offering take-out only orders currently.
Hernandez is Edward Jones adviser
OKANOGAN — Jose M. Hernandez is the new Edward Jones financial adviser in Okanogan, 214 Pine St.
He succeeds Sam Buchert, who remains with Edward Jones but has relocated to Arizona.
"I am very excited about working with Jose," said Leanne Doney, branch office administrator since 2015. "Together we will provide investors with unparalleled personal service."
Hernandez previously worked for Edward Jones in Quincy. He said he and his family – wife Carina and son Liam - are in the process of relocating to the Okanogan area.
A 2010 graduate of Quincy High School, Hernandez graduated from Washington State University in 2014. Before joining Edward Jones in 2019, he worked for the Washington Apple Education Foundation and Big Bend Community College.
Highway closure point moves east
MAZAMA — The North Cascades Highway east side closure point was moved last week from Silver Star gate, milepost 171, to Early Winters, milepost 177.
The state's northernmost route through the Cascades closed Nov. 13, 2020, because of heavy snowfall and avalanche risk.
Hikers, skiers, snowmobilers and other recreationalists can access the closed portion of the highway during winter, although the U.S. Forest Service has closed some areas near the highway.
Vehicles may be parked at the end of the plowed portion of the roadway in designated parking areas. The state Department of Transportation said users should allow power drivers the space they need to clear snow around the access gates.
The closure zone has 27 avalanche chutes, some stretching more than 2,000 feet above the highway. People going into the closed area are advised by officials to check avalanche danger before going around the gates.
Missing girl located, arrested in Omak
OMAK — A missing person alert for a 15-year-old Okanogan girl has been canceled.
Justice Michelle was listed on the "Missing: Help Bring Me Home" website of the National Center for Missing and Exploited Children. She had been missing since Nov. 23, according to the site.
According to an Omak Police Department report, Michelle was located at a West Bartlett Avenue home and arrested Dec. 28 on an outstanding warrant. A state Child Protective Services employee in Spokane alerted police to her location.
Okanogan County Sheriff Tony Hawley said earlier that Michelle was being transported to relatives in western Washington when she apparently exited the transport vehicle at a stop sign in Okanogan.
According to the Omak Police, Michelle ran away again Jan. 8 after being released from juvenile detention.
Sex offender moves to South Granite
OMAK — Convicted Level III sex offender Patrick Lee Luntsford has moved to the 400 block of South Granite Street.
Luntsford, 64, notified the Okanogan County Sheriff's Office of his residence as required by state law.
He is described as white with brown hair and hazel eyes.
Luntsford was convicted in June 1987 of incest, November 1991 of first-degree rape and March 2020 of failure to register as a sex offender.
The sheriff's office said he is not wanted by police.
Council OKs interim chief's appointment
OMAK — The Omak City Council on Jan. 4 affirmed Mayor Cindy Gagne's appointment of Darren Duncan as interim police chief.
Jeff Koplin left the chief's position Dec. 31.
In other business during the Zoom meeting, the council learned was asked to prepare a letter of support for Okanogan County Child Development Association, which wants to expand services for children and families in the Head Start program.
Carport, contents damaged in fire
OMAK — A carport and its contents were damaged Monday morning, Jan. 11, when a string of Christmas lights apparently fell down and ignited a fire.
The fire, at 202 S. Cedar St., did about $500 damage, said Omak Fire chief Kevin Bowling.
Woman named to state committee
OLYMPIA — An Omak woman has been appointed to the Governor's Committee on Disability Issues and Employment.
Yvonne Bussler White was named Dec. 24, 2020, to the position, effective Jan. 1.
Her term runs until Dec. 31, 2023. She is one of 27 committee members.
The committee, made up of state residents – half of whom must have a disability, advises the governor and Legislature on disability issues, generates local action and initiates projects to address specific issues, according to the committee's website.
It also provides training and assistance to individuals and organizations statewide, from conducting workshops and conferences to publishing disability-related materials.
White continues as rodeo queen
OMAK — Shelby White, Winthrop, will continue as Miss Omak Stampede through 2021.
She was selected as Stampede queen for 2020, but the August rodeo was canceled because of COVID-19.
The organization had no annual meeting in fall 2020, and didn't make any money during the year, said spokeswoman Sarah Grooms.
Expenditures stopped at the end of March.
Grooms said the Stampede board will meet as soon as in-person meetings are allowed.
Shelter conducts donation drive
TONASKET — Animal Foster Care Cat Shelter is conducting a clothing drive.
Donations of clothing, accessories, shoes and linens are sought until Jan. 20.
They may be dropped off at Tonasket Interiors, 7 W. Fourth St., Tonasket. Arrangements for Omak-area drop-offs may be made by calling 509-631-1449.
Brown recognized by middle school
OKANOGAN — Building secretary Katherine Brown has been named Okanogan Middle School employee of the month for December 2020.
"She is the 'go-to' for all staff in the building," said a school announcement. "Katherine is the wheel that keeps us running smoothly."
The school said she's willing to help with whatever is requested of her and does so with a smile.