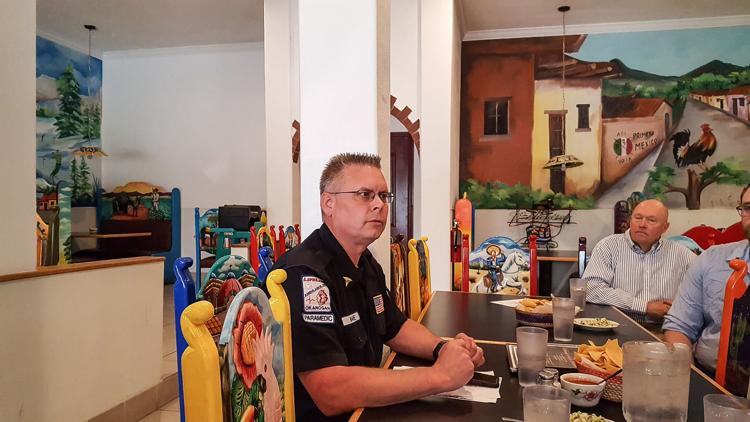 OROVILLE — Emergency Medical Service levies for the City of Oroville and Oroville Rural District will be on the ballot this August.
Lifeline Ambulance paramedic Wayne Walker said it was originally slated for the November ballot, but city and county commissioners recently passed a resolution to have it voted on earlier.
"This will be the only time it will be on the ballot," said Walker while answering questions from local business representatives at an Oroville Chamber of Commerce meeting last week. "If it fails in August, I don't know if there is enough time for them to put it back on the November ballot."
The levies ran in November 2018, with the levy for the city failing by a small percentage and the rural district levy failing by a slightly larger margin.
Walker said speaking with people after the votes were cast led him to believe wording of the ballot measure led to confusion for many voters, a factor he believes was at least partly to blame for the levy failing. Walker said because the boundaries of the Oroville School District were included as a geographical description of the areas the levy would serve, people thought they were voting in more funds for the school district.
"We heard from a lot of people some of the language was confusing on the levy when it ran last time," said Walker. "It didn't have anything to do with the school district."
Walker said the EMS Council is working on public service announcements to make sure people understand exactly what they are being asked to vote on.
Walker pointed out the Oroville EMS District has always required the support of the community as a whole in order for the service to remain functional and viable, regardless of who the service provider is.
"It requires tax-supported dollars, and it has for many years," said Walker. "People incorrectly think because it (Lifeline) is a private organization, it now has to be a tax-supported levy. But we also needed the levy when EMS was on a pure volunteer basis."
Walker pointed out "volunteer" does not equate "free."
"They still have to purchase uniforms and fuel, and there are training expenses for personnel. A new ambulance costs $175,000," said Walker. "Sometimes it's hard to understand the true cost of operation. I wish medical care didn't cost as much. It is expensive to be someone receiving services as well as operating it. The levy goes for maintenance to have people ready to respond."
Walker said he sometimes hears people ask why the service can't go back to being all volunteer.
"That is a possibility and always on the table, but it's important for people to understand, volunteerism as a whole is diminishing across the nation," said Walker. "Employers are not able to provide the flexibility they did 15 years ago to let volunteers leave. They have scaled their workforce back, so they can't support it. It's a difficult challenge, and keeping up with all the regulations required of an ambulance service today is much more significant than it was15 years ago. It is a significant time commitment for someone to do on voluntary basis and is not sustainable."
Walker said the most important thing for voters to remember is, "the levy is absolutely vital for the community of Oroville and the surrounding areas outside of Oroville.
"If there is no levy, there is no service, regardless of who the service provider is.," said Walker. If you don't like us as a service provider, I understand. But don't put your community at risk. It requires money to provide ambulance service."
Walker said another issue causing a certain degree of confusion was people being billed for services despite the EMS district being supported by levy dollars.
"The levy does not cover all the cost of running the ambulance service, so people are still charged to help offset the cost of the operation. The further out they are, the more wear and tear on the vehicle and the greater the fuel expenses," said Walker. "A good, strong and viable community means having faith in the police, fire district and schools, and EMS plays right into that. Levy money provides the service to make it available in the community."
Howling Dog business owner Paul Neir asked how much coverage the levy would provide. Walker said it would cover having two people at least 80 hours per week, but there were some factors they were still waiting on to balance into the equation.
"Minimum wage goes up next year by 7.5 percent, and we're not certain how that will affect the picture," said Walker. "We want to provide two people 24/7, 365 days a year, but we're not sure at this point where all the costs are going to shake out."
Neir also asked if it mattered what agency responded to a call, depending on who was closest to the scene.
"We have good working relationships with all the agencies," said Walker. "If they are closer, historically they have responded. The local police department here is very supportive, and the local fire department has been fantastic. They come out any time we request or need them. All the emergency responders in the area work to support each other."
Walker illustrated the point using an example from earlier in the month when they got four calls in one hour.
"If the Tonasket vehicle goes out an extended distance, then we are shifting resources up for back up. It doesn't matter if the resource is here or not, it is still taxing that resource. In the process of bumping people up, Oroville went out, then Tonasket, then South Pine Creek and one in Crumbacher," said Walker. "All those calls were handled because of our plan and the execution to move and flex resources as needed."
Walker said Lifeline covers two-thirds of Okanogan County, the third-largest county in the nation.
He said Lifeline has seven ambulances in Omak, three in Tonasket and two in Oroville.
Lifeline has stations in Omak, Tonasket, Oroville, Wenatchee and East Wenatchee.
"If you live in the City of Oroville, you vote on that levy, and if you live outside city limits you vote on the Oroville rural levy," said Walker. "This is not a new levy or an additional one. It is just on the ballot asking for continued support."
A straight majority is needed for passage.