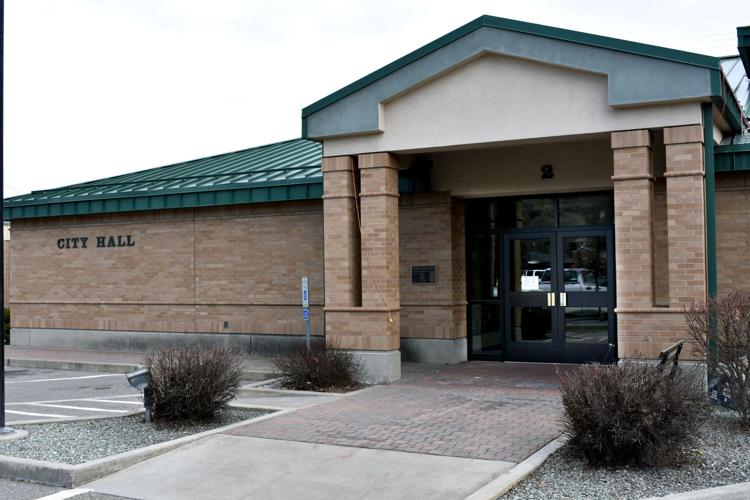 OMAK — Drivers on state highways in the Omak area could go around and around if recommendations in a state-sponsored traffic study come to fruition.
Jenn Saugen and Christina Wollman of Perteet, a consulting company hired by the state Department of Transportation to conduct the study, updated the city council June 3 on recommendations to be contained in the plan.
The final plan is due by the end of June.
Depending on development, traffic volumes and funding, roundabouts could be the recommended way to address bottleneck and safety concerns at several intersections on Highway 97 and feeder highways.
Perteet did traffic counts, and convened a community stakeholder committee to offer advice, hosted a meeting to gather comments and offered an online open house. The online site, https://us97omakareastudy.participate.online/, remains active.
Safety, bicycle and pedestrian access, and freight access were top concerns voiced by area residents, said Wollman.
The study area runs from Sand Flat Road near North 40 Outfitters in the north to 12 Tribes Resort Casino in the south, and includes a bit of Highway 215 (Riverside Drive) and Highway 155 to East Omak Elementary.
-Highway 97 at Sand Flat Road - Reduce speed limit to 50 mph. A roundabout could be in the picture in the distant future.
-Highway 97 at Shumway Road - Add a fourth "leg" - a road on the east side of the highway - and provide a two-way stop control for short-term benefit and low traffic volume uses, and a roundabout for long-term benefit when traffic volumes increase.
Traffic volume could increase at both intersections, depending on commercial development and whether the Omak School District builds on property it already owns in the area, Wollman and Saugen said.
-Highway 97 at Engh Road - Build a roundabout to provide "the greatest benefit through reduction in congestion and increased safety," said the recommendation.
Wollman said planners received both pro and con comments on the preliminary plan about roundabouts.
Councilman Dave Womack recalled a proposal a few years ago to put a roundabout on Highway 97 at Cameron Lake Road in Okanogan, and asked whether people are becoming more used to roundabouts now that there are several in the north central Washington area.
Residents vehemently opposed the Okanogan proposal, which was dropped.
Since then, roundabouts have been added on Highway 97A and Highway 97 just north of Wenatchee and East Wenatchee, respectively, and circular traffic intersections recently were added in East Wenatchee and Ephrata.
"You lower the chance of collisions with a roundabout," said Saugen, who said there are fewer points of impact involved with traffic going around a center point versus two-way traffic going through an intersection at right angles.
She referred to several accidents recently at the intersection.
Omak Police Department and Colville Police Department vehicles, responding to emergency calls, have been involved in injury accidents at the intersection in recent weeks. Before that, a fatality occurred when a truck collided with a passenger car.
As with roundabouts on highways 97 and 97A, drivable curbs would flank the roundabout lanes to make it easier for large trucks to negotiate the circle.
Council members Steve Clark and Michelle Gaines asked about pedestrian safety and the impact on the traffic light at Engh Road and Omak River Road near Walmart and Home Depot, and whether traffic would be able to turn into McDonald's and the strip mall next to it. The area is very congested now, they said.
Councilman Michael Foth questioned whether a pedestrian crossing the roundabout area would cause traffic to bog down.
Saugen said pedestrians would cross a lane at a time, so would have less impact than crossing the current intersection, which includes feeder turn lanes, travel lanes and left-turn lanes.
Under the proposal, pedestrians could move across a lane to a safe area, either in the center of the circle or on the sides. Right-turn-only lanes would be included and would be separate from the roundabout.
Highway 215/Riverside Drive and Quince Street - A roundabout is proposed for the intersection at the west side of Omache Shopping Center. The city already is looking at making traffic flow from Omache Drive to Riverside Drive into a right-turn-only intersection.
A roundabout on Quince, just west of Omache Drive, would cut down on waiting time for people trying to get onto Riverside Drive from Quince, which borders Arby's and the back side of the shopping center, the planners said. It also would provide a turnaround for people turning right from Omache Drive onto Riverside Drive but wanting to go left toward Highway 97.
Highway 97 at Dayton Street - A flashing yellow arrow light and optimized signal timing are proposed so people going through the intersection in the middle of the night wouldn't have to sit through a red light when no one else was around. Sidewalks from the intersection to the Omak Community Center on Benton Street also are proposed.
Highway 97 at 12 Tribes Resort Casino - A roundabout is proposed, along with closure of Fairgrounds Access Road, which runs from the highway to Rodeo Trail. Another access road, in the vicinity of Tribal Trails gas station, is proposed between the highway and Rodeo Trail.
It would have to cross the railroad tracks, planners noted.
Non-motorized travel between Omak Avenue and the Riverside Drive/Engh Road intersection - A trail is proposed along the west side of the highway with a new pedestrian bridge across the Okanogan River. The trail would tie into an existing trail running from the highway to the end of Dewberry Street and to the Riverside Drive intersection.
"The location of this trail provides the greatest benefit to the community," said the recommendation. "It will pass through an existing park and connect to the rodeo grounds" in East Side Park.
Non-motorized travel between Omak Avenue and the casino - The trail would follow Highway 97 from Dayton Street to the casino, crossing over Rodeo Trail with a pedestrian bridge.
Highway 155 at East Omak Elementary School - Sidewalks are proposed along the south side of the highway in front of the school and additional radar signals would be added to existing crosswalks.
Wollman said a grant is coming up that could address the area, especially if the city, Omak School District and Colville Confederated Tribes joined in seeking funding.