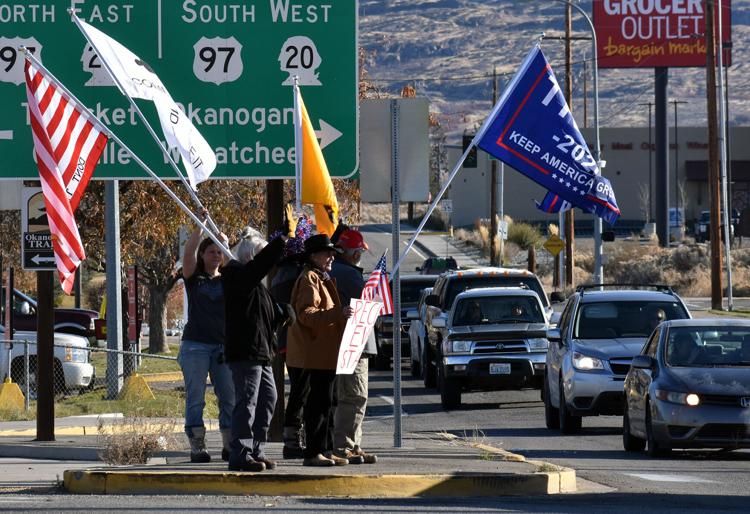 OMAK — A mosaic of U.S. and Trump flags swayed at the hands of local residents who turned out for a "Stop the Steal" rally at the intersection of Highway 97 and Engh Road Saturday morning.
The event was one of several protests throughout the country questioning the integrity of the Nov. 3 vote count and demanding remedies for allegations of fraudulent vote counts.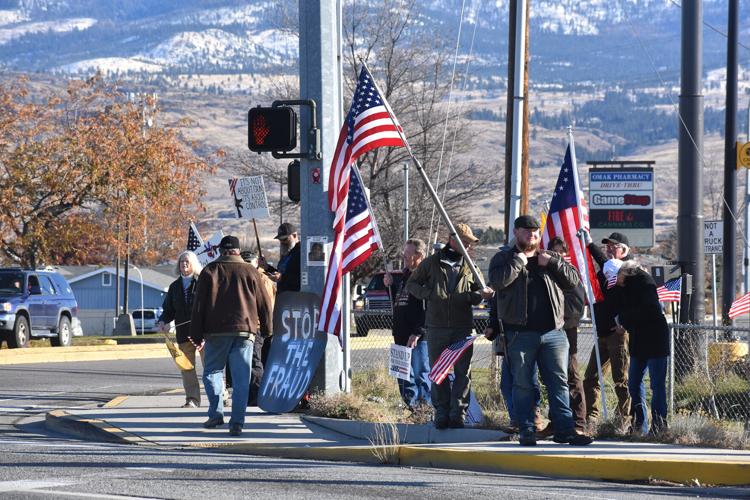 "I had a fantastic time exercising my constitutional rights of speech and peaceable assembly at the rally on Saturday," local resident Maria Errico said. "I chose to participate because I want to remind my fellow citizens that elections are not decided by the media or because one candidate decides to call himself 'president-elect.'"
Former Vice President Joe Biden was announced as president-elect after gaining 290 electoral votes. President Donald J. Trump received 232.
Dozens of affidavits have been filed, but other evidence of widespread fraud has not yet been presented.
In Michigan, the Trump campaign and some residents have filed suit, alleging fraud in the counting of Detroit absentee ballots. Judges have refused to stop certification of the results.
"Federal elections are decided by the electoral votes cast on the first Monday after the second Wednesday in December and those votes are counted on Jan. 6 in Congress," Errico said. "The president of the Senate then declares the next president of the United States.  That is unless the courts rule that the election is invalid due to fraud.  Then, the House votes on the next president and the Senate votes on the vice president.  In the House, each state gets one vote."
Errico said she the "election will be over when our legal process for selecting the next president has been followed.  Once that process is complete, I encourage every American citizen to support whoever the electors or House determine our president to be."
Participant Mike Stenberg agreed.
"It was amazing to see such a nice turnout Saturday from all walks of life," he said. "We saw Americans who are concerned with the direction our country is heading ... and are alarmed at what appeared to be clear election fraud in this election. That should be of concern to all Americans."
Stenberg said freedom is a right granted to all Americans.
"Life, liberty and the pursuit of happiness isn't a slogan, it's a God-given Declaration of Independence right and it's 'non-negotiable,'" he said.