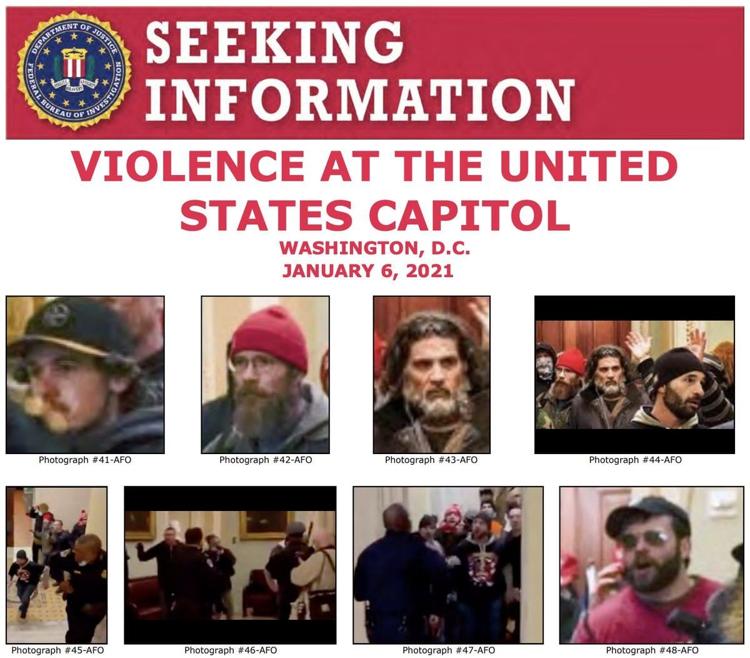 OMAK — The Jan. 6 mob attack on the U.S. Capitol stunned people across the world and also provided some real-time discussion of the American political system for local students.
The incident was the offshoot of a rally by Republican President Donald Trump, who claimed the 2020 presidential election was stolen from him. Thousands of people then stormed the Capitol, where Congress was meeting to confirm Electoral College votes.
When the dust settled several hours later, Democrat Joe Biden was confirmed as the next president.
During the siege, members of the crowd overwhelmed police, and broke doors and windows to gain entry to the building where they entered and ransacked several congressional offices, and gained entry to the House and Senate chambers. Representatives and senators were evacuated.
"How could we not discuss and address the events from Wednesday?" asked Omak High School social studies teacher Chris Werner.
"Due to our class schedule, we were not totally aware of what was happening on Wednesday, but when I checked the news feed after class, I couldn't believe what was going on at the Capitol," he said.
Over the next couple of days, he put planned lessons on hold to address the events.
He and his students discussed the final phase of the electoral process, reviewed Trump's tweets addressing Vice President Mike Pence, and reviewed what Pence's role was when presiding over the electoral vote count.
"Under Article II Section I of the Constitution, it read the "President of the Senate (vice president) shall open all the Certificates and, and the Votes shall be counted."
"Through some discussion, students came to the conclusion that VP Pence could not overturn an election," said Werner.
He and his students then studied the 1887 Electoral Count Act, which allows for the objections of electoral vote. Several Republican members of Congress voiced objections to some states' electoral votes.
"We discussed the process the law outlines so students had a better understanding of what was happening in the Capitol," he said.
He and his students also studied the First Amendment and what it means to "peaceably assemble" under the Bill of Rights. Students watched news broadcasts and were asked to come to their own conclusions about the day's events.
"We are always conscious of the various viewpoints our students come to us with," he said. "I feel it is my job to present the information and allow them to come to their own conclusions.
"All students with their various backgrounds and belief systems have a place in the classroom and in discussion. This time was used to facilitate civil discourse, an opportunity for students to learn how to share and receive different opinions. Overall, students were very engaged and acknowledged that they were witness to history again."
Aaron Nickelson, who teaches current world problems and social studies at Okanogan High School, said he and his students had similar discussions.
"We have spent a full day on the story for each class," he said. "It is important for me for them to understand what is happening around them."
The day after the incident, state Superintendent of Public Instruction Chris Reykdal expressed concern about the impact on children of the attack on the U.S. Capitol and a similar inciden at the Governor's Mansion in Olympia.
"This was an overt attack on our government and our democracy, and it was fueled by hate and by a complete disregard for some of the key pillars of our society," he said. "As a former history teacher and as a parent of two public school students, I know our young people are watching these events unfold and they are looking to us for contextualization. Educators and families are answering questions and providing reassurance to our students – even as they are making sense of the events themselves."
Nickelson said his students "are fine. Curious, but far from traumatized" by the events.
Evon LaGrou, counselor at Omak High School, said late last week that none of her students had contacted her with signs of trauma.
In Washington, D.C., both Rep. Dan Newhouse, R-4th District, and Rep. Cathy McMorris Rodgers, R-5th District, had been among those questioning the election's outcome.
Before Jan. 6, McMorris Rodgers said she supported objections to Electoral College vote counts in states where there were allegations of voter fraud and questions raised about the legality of changes to state election law.
After the siege but before Congress reconvened, McMorris Rodgers did an about-face.
"What happened today and continues to unfold in the nation's capital is disgraceful and un-American," she said. "Thugs assaulted Capitol Police officers, breached and defaced our Capitol building, put people's lives in danger, and disregarded the values we hold dear as Americans. To anyone involved, shame on you."
She said a peaceful transfer of power is needed.
"What we have seen today is unlawful and unacceptable," she said. "I have decided I will vote to uphold the Electoral College results and I encourage Donald Trump to condemn and put an end to this madness."
Before the electoral vote certification, Newhouse and others expressed concern over some states' election processes, but said he would not object to certification of Electoral College votes.
Newhouse said Jan. 7 he was "disappointed, disgusted and horrified by yesterday's attacks on our U.S. Capitol. This is not the United States of America. Violence of any kind is absolutely unacceptable. I can't say that strongly enough."
He thanked the Capitol Police, FBI and National Guard "who kept us safe throughout the day."
Elizabeth Daniels, Newhouse's communications director, said his office, in the Cannon House Office Building, was one of the first to be evacuated but it was not entered by the rioters.
In the end, eight senators and 139 representatives supported at least one objection to Electoral College results.
As of Jan. 11, six people had died as a result of the incident.