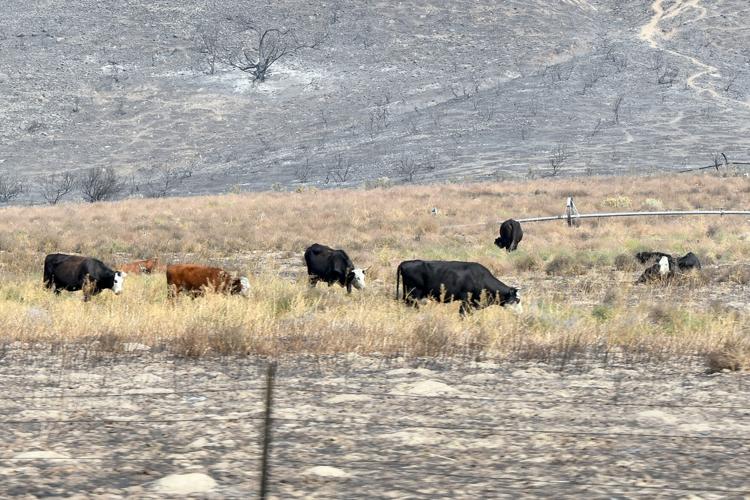 OKANOGAN — People aren't the only ones displaced by the Cold Springs and Pearl Hill fires.
Animals — from cats and dogs to horses and cattle — also were in the fires' path.
Less than 48 hours after an inferno of flames ripped through Okanogan County, donations began pouring in for farmers and pet owners.
Throughout the past week, Okanogan County Fairgrounds Manager Naomie Peasley has been managing aid efforts from the county fairgrounds office.
Tons of hay have been trucked into the fairgrounds; stacks of animal feed and fencing supplies have also been donated.
"I'm very emotional about this," Peasley said. "There's literally hundreds of volunteers. I'm overwhelmed."
The first day the fairgrounds opened, there were 43 dogs, seven cats, two donkeys, one goat and 25 horses there.
As of Friday morning, Peasley said 14 horses were among the animals being treated by volunteer veterinarians at the grounds, noting several had burn injuries.
"We are working right now to get the vet costs covered," she said. "We are trying to help these families out who have animals here."
Peasley said hay and fencing are among top priorities for local ranchers.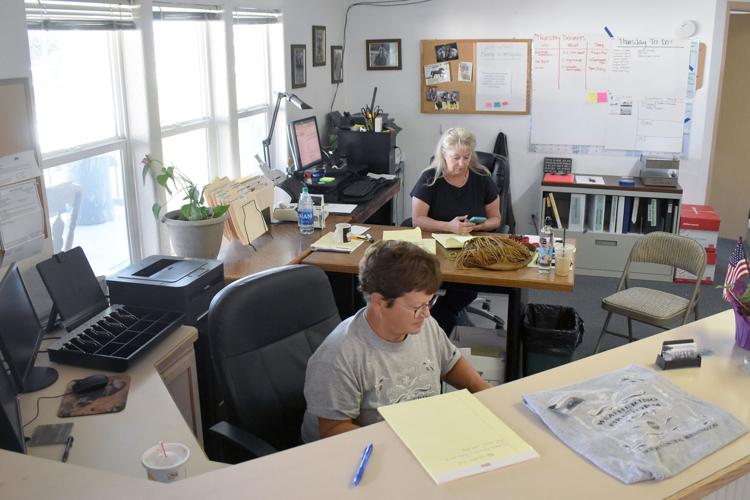 Tons of hay has been donated, but additional hay is needed because so many grazing pastures have been burned, leaving livestock with little to eat.
"We need hay," Peasley said. "They can bring it down here," and volunteers help coordinate which ranch to deliver it to.
The Omak/Okanogan Long Term Recovery Organization and Okandogs are just a few of the non-profit organizations helping to assist with animal relief efforts.
"Okandogs has been life saver," Peasley said.
"We have helped acquire and deliver a lot of hay and we want to continue," the non-profit organization said Friday. "As of this point, we have delivered more than 750 bales and it costs a lot."
Donations, which are being processed through the non-profit, can be made online at paypal.me/okandogs. Checks can be mailed to Okandogs, 6820 Osprey Lane, Cashmere, WA 98815.
The Omak/Okanogan Long Term Recovery Organization received its non-profit status Friday and is ready to assist fire victims.
"We will be launching our fundraising campaign very soon," said OOLTRO board member Kathy Power. "Item donations for animals go to the fairgrounds; item donations for people go to the Omak Community Center."
The organization, founded in response to the 2015 Okanogan Complex wildfires, is focused on immediate needs for those within the boundaries of the Cold Springs Fire, from Omak to Bridgeport and all areas in between.
"Cold Springs Fire Relief's immediate focus is on the agricultural needs of ranchers, farmers and families, including hay, feed, fencing, veterinary care and other critical needs," Power said. "At over 187,000 acres and growing, the fire has decimated thousands of acres of rangeland, and affected thousands of head of livestock. Feed and containment fencing is needed today!
The Okanogan County Fair was supposed to happen last weekend at the fairgrounds, but instead it became the headquarters for the Cold Springs and Pearl Hill wildfires. The fair was previously canceled this year because of COVID-19.
"God had a plan (that) fair was supposed to happen this week," Peasley said. "And he needed us for something else and need us to help families in a different way."
The Okanogan County Fairgrounds can be reached at 509-422-1621.