Windy conditions lead to long-distance scoring
OMAK – Tonasket broke open a close game for a 5-2 non-league soccer victory over Omak on April 13.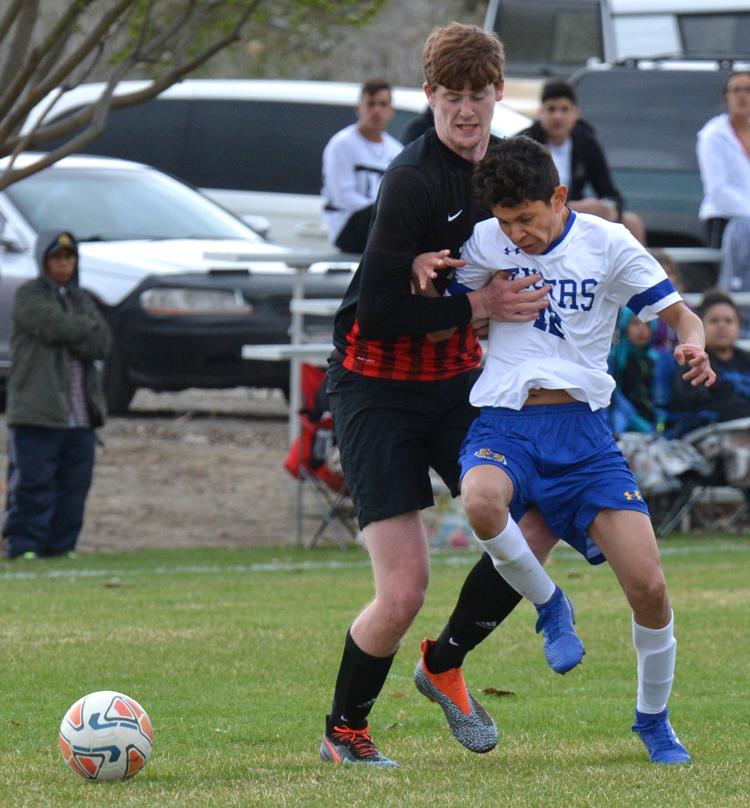 "The game was played in very windy conditions," Tonasket coach James Elias said.
The Tigers led 3-2 before putting in two insurance goals.
Chris Rivera finished with two goals. With one goal each were Hector Guevara, Walter Reyes and Ramiro Sanchez.
No scoring was received for Omak.
"Because of the wind, Walter Reyes had a goal that was about 70 yards out," Elias said. "Both teams played really hard and it was a very tough match."
Bridgeport 3, Okanogan 0
OKANOGAN - Bridgeport blanked Okanogan, 3-0, in a non-league match April 13.
The loss came on the heels of a 4-0 shutout by Cashmere in a league match April 11.
"In both of these games (Bridgeport and Cashmere), we had scoring opportunities but just couldn't get the score," Okanogan coach Dean Klepec said. "Both of these games were closer than the score would make it seem."
Brewster 3, Bridgeport 2
BRIDGEPORT – Brewster edged Bridgeport, 3-2, in a league soccer match April 11.
The Bears led 3-0 at the half before Bridgeport's Yair Diaz scored twice.
"The Mustangs struggled in the first half to put their shots in the goal," Bridgeport coach Gabe Gonzalez said. "The Mustangs worked hard during the second half but fell short."
Cascade 3, Okanogan 2 2OT
OKANOGAN – Cascade got past Okanogan, 3-2 in double overtime of a Caribou Trail League match April 9.
"It was a great game and we played very good both offensively and defensively," Okanogan coach Dean Klepec said. "Our goalie (Julian Hernandez) had a great game."
Okanogan led 1-0 at the half after an early goal by Josue Ramos on a pass from Jose Gonzalez.
"Defensively, we didn't allow them any easy shots and were pressuring them continuously," Klepec said. "In the second half, they came out and scored two goals. We came back and James Hamilton scored off of an assist from Josue Ramos."
With about 30 seconds left in the second five-minute overtime, Cascade scored on a penalty kick.
OROVILLE – Oroville, due to low numbers, forfeited to Bridgeport on April 9.
"We struggled with numbers for Tuesday's game and had to forfeit," Oroville athletic director Ed Booker said.
Other scores
April 13
Cascade 6, Brewster 0
Oroville 11, Pateros 1
Liberty Bell 4, Wenatchee-C 0
April 11
Cascade 5, Omak 0
Cascade JV 11, Pateros 1
Manson 2, Oroville 1
Tonasket 7, Liberty Bell 5
April 10
Eastmont-C 7, Pateros 1