BREWSTER – Omak closed strong in a 47-34 win over Okanogan in loser-out, winner-to-a-crossover-game in the 1A District 6 girls' basketball tournament Feb. 13 at Brewster High School.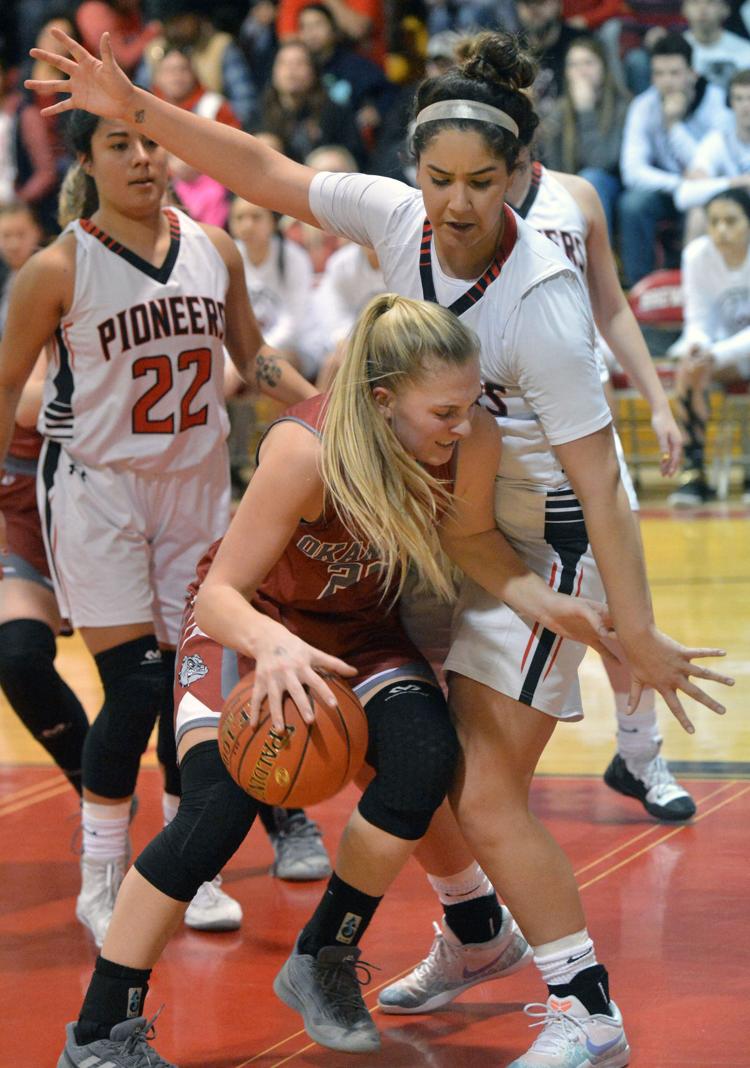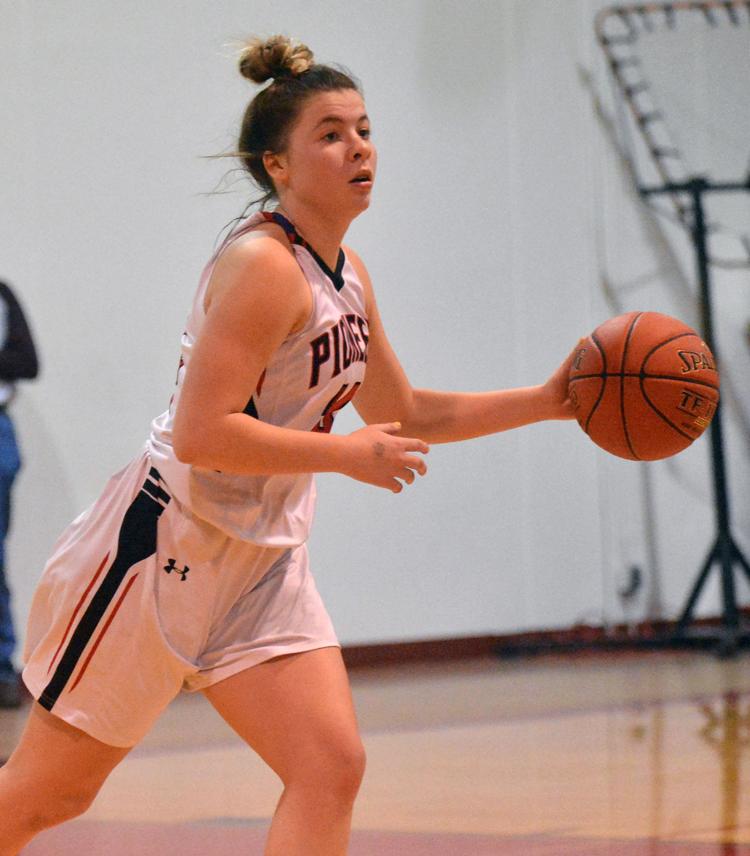 The Pioneers, who finished second in the tournament, next take on Lakeside High School at 5 p.m. Saturday, Feb. 16, at Nine Mile Falls.
The winner will advance to a regional game. The loser will be out.
Omak led 25-15 over Okanogan at the half and 35-26 after three quarters.
Okanogan coach Bryan Boesel called a timeout after an Omak bucket led to a 39-32 lead.
Boesel reminded his players that Omak's inside 5-11 player, Taya Mendoza would be playing carefully since she had four fouls and that the Bulldogs needed to drive inside.
Dallas Heindselman took a pass from Lexi Lafferty and hit a short shot to cut the lead to 39-34 with just over three minutes to go.
From there Omak ran off 8 unanswered points to finish the game, getting two free throws from Payton Abrahamson, an inside bucket by Sidney Nichols (in for Kacie Vejraska, who fouled out at 3:19) and two baskets by Mendoza.
"We had to grind it out," Omak coach Mike Ables said. "We were in foul trouble. Breane George and Payton Abrahamson (the team's lone seniors) played big minutes. They stepped up the last four minutes on defense.
"Senior leadership late, driving for baskets and making free throws" were the difference, the coach said.
Omak made 12 of 19 free throws, led by Abrahamson, who made 11 of 16.
"We practice free throws a lot," said Abrahamson, who led Omak with 19 points. "We shoot 10 free throws in practice. If we miss one (free throw) we have to run. I don't like to run."
Mendoza, despite playing in foul trouble, added 10 points.
Okanogan made 4 of 12 free throws.
"When you don't make your free throws you don't win games, period," said Okanogan coach Bryan Boesel, whose team did not have a free throw chance in the fourth quarter.
Okanogan was led by Mylie Leitz-Rawson (she fouled out with 3:05 in the game) and Lexi Lafferty, who each had six points.
Okanogan (34) - Duncan, Wood 3, Leitz-Rawson 6, Serles, Popelier, Lafferty 6, Spark 3, Heindselman 5, Hawley 7, Allen 4.
Omak (47) - Nichols 6, Vejraska 2, Abrahamson 19, Arciniega 5, Mendoza 10, Campos, Fjellman 5, Delgado, George, Samuels.
Feb. 11, first round District 6
Game 1: Cashmere 76, Omak 37, winner CTL No. 1
Game 2: Okanogan 47, Chelan 39, loser out
Game 3: Omak 47, Okanogan 34, winner CTL No. 2
Game 1: Deer Park (NEA No. 3) at Cashmere (CTL No. 1), 5 p.m.
Game 2: Omak (CTL No. 2) at Medical Lake (NEA No. 2), 5 p.m.
NEA No. 1 Freeman, has bye to regionals