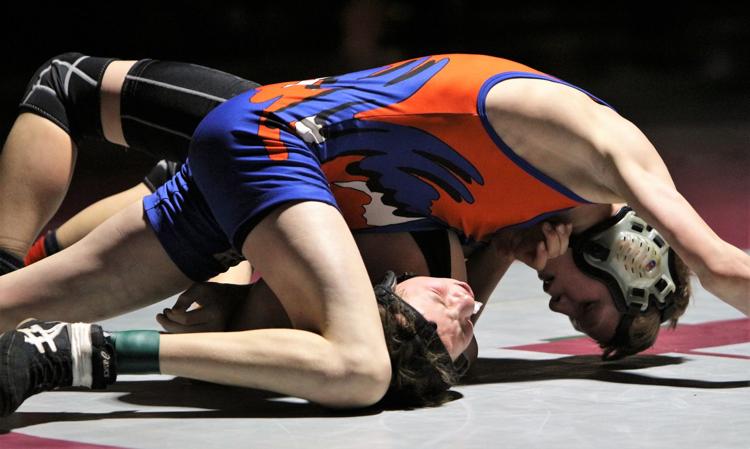 DEER PARK — Both Omak and Okanogan high schools' wrestling teams had a day at Deer Park for the 1A regional wrestling tournament on Feb. 15, with both teams sending several athletes to state.
Mat Classic XXXII will begin at 10 a.m. Friday, Feb. 21, at the Tacoma Dome. It continues Feb. 22.
For the Omak Wrecking Crew, four of the team's five freshmen - Tameron Hall (113), Kessler Fjellman (126), Jermain Watkins-Clark (220) and Caden Johnson (120) - will make their state debut. Leighton Jensen (285), a sophomore on the team, also will compete.
Fjellman, Watkins-Clark and Jensen all placed second in their weight classes and Jensen earned 20 points for his team score, a Pioneer high for the day. Johnson placed third place in his weight class and Hall took a solid fourth.
Kayden Cate, Derrick Gomis, Anthony Cardona and Tony Marchand competed at regional, but will not move on to the state tournament
"Leighton (Jensen) wrestled one of his best tournaments ever, if not his best," said head coach Dean Agee. "I had expected to get some kids through to state, but it is never a walk-through because our region is tough.
"The boys really stepped up to the competition and wrestled their best," he said. "It was a great day to be a fan and a coach of Omak wrestling, the atmosphere was electrifying, and the boys had a great crowd."
He offered appreciation for everyone who supported the team and wished luck to everyone going to state.
"We will have a good week of practice and then the boys will be responsible to give it their best effort on the mats one last time this season," said Agee.
Omak placed fifth place out of 12 regional teams with 95 points. Okanogan came in 10th with 80.5 points. Deer Park took the championship with 154 team points.
The Okanogan is sending four wrestlers to state, Johnny Swartzel (152), Sterling Ritch (182), James Smith (220) and Makayla Duran (235), the Bulldogs' lone female wrestler heading to state, and two alternates, Jose Fonsenca (138) and Joseph Cates (285).
Smith was the champion of his weight bracket for the day, Ritch took second and both Swartzel and Duran took third place in their weight classes.
OROVILLE — The 2B schools also went at it Feb. 15 in Oroville for the regional championships.
Tonasket dominated and will send 16 wrestlers to the Tacoma Dome in hopes of bringing home the Tigers' fourth state team championship in a row.
Placing first for the Tigers were Waylon Thomas (113), Waylon Wilson (120), Kevin Sanabria (132), Colin Silverthorn (138), Enrique Long (145), Austin Brock (170) and Carson Sasse (182).
Second-place finishers were Lazaro Soria (106), Lane Bolich (126), Rielan Bretz (120), Carson Walton (145) and Granger Sutton.
In third were Angel Depaz (120), Chris Rodriguez (138), Ryden Zabreznik (182) and Jesus Najara (220).
Oroville, the tournament host, is sending four boys and one girl to state. Boys advancing are Seth Baugher, Darian Range, Colby Guzman and Oscar Cervantes. Taralynn Fox, who was recognized as the Central Washington B League's female wrestler of the year, will represent the Hornet girls.
The Hornets were led by Baugher who had a perfect "pin-all-opponents" day and brought home the regional championship gold medal, said coach Chuck Ricevuto.
Range and Guzman were runners-up in their weight class, while Cervantes brought home a third-place finish.
Fox fought through a triple overtime match to secure third place and her spot at the state championship.
Oroville placed fourth as a team with 102 points, while Tonasket brought home the championship with 360 team points.
Team scoring: 1, Tonasket, 360. 2, Lake Roosevelt, 153. 3, Kittitas, 124. 4, Oroville, 102. 5, Mabton, 76. 6, White Swan, 57. 7, Liberty Bell, 48. 8, Brewster, 30. 9, Pateros, 22. 10, Dayton, 20. 11, Columbia (Burbank), 15. 12, Riverside Christian, 3.