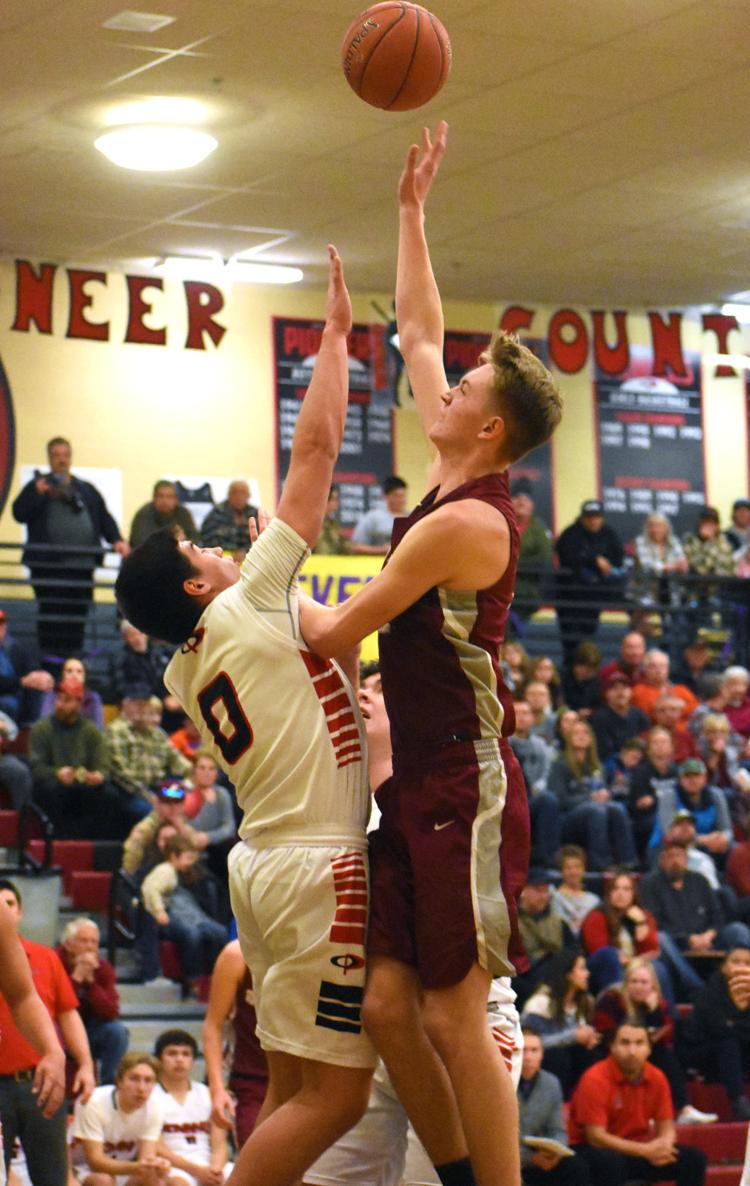 OMAK — Okanogan traveled to Omak on Jan. 31 and pulled out a nearly last-second boys' basketball win (63-61).
"It's not over until the final buzzer sounds, all those in attendance of the Omak vs. Okanogan game were reminded on Jan. 31," said Okanogan assistant coach Kyle Thornton. "With only 2.5 seconds left in the game, Bulldog Chase Wilson threw a pass across the court to Carson Boesel, who tipped it over his head to a running Josue Ramos, who missed a tough left-handed layup."
"Ninety-nine point nine percent of the time, that would be the end," he said. "But Boesel had not only tipped it to Ramos, he followed his pass, rebounded that miss and laid the ball in to give us the win."
Okanogan 63 - Wagner, 2. Clark, 3. Boesel, 10. Radke, 10. Ramos, 5. Mail, 10. Wilson, 17. Perez, 6.
Omak 61 - Hall, 5. Davis, 17. Boyd, 17. Black, 2. Sam, 6. Marchand, 6. Sackman, 8.
Lake Roosevelt 86, Tonasket 48
TONASKET — The Raiders took a league win on the road against Tonasket, 86-48.
Lake Roosevelt has a perfect record with 12-0 and first place in the Central Washington 2B League, while Tonasket is 4-9 and seventh.
Liberty Bell 57, Manson 50
WINTHROP —  Liberty Bell held strong against Manson in a league game on Jan. 28 for a 57-24 win.
Manson is 7-6 and in fourth place in the Central Washington 2B League while Liberty Bell is 5-8 and sixth.
CHELAN —  Okanogan notched a win against Chelan on Tuesday, Jan 28, 66-48.
"Our guys started out hot and at halftime were up 34-21," said Okanogan assistant coach Kyle Thornton. "Chelan hit some tough shots in the third quarter to make it 45-44 heading into the fourth quarter.
Chelan always has a great student section and with the momentum on their side, we needed a spark."
Sophomore Julian Perez provided that spark, outworking everyone else on the court with 12 points, three rebounds and three steals in the fourth quarter, said Thornton.
"That kid works as hard as anyone," he said. "He's always in the right spot at the right time and he does whatever is asked of him. He is the type of guy a coach loves to coach."
Okanogan is 7-2 and second in league while Chelan is 2-8 and fourth.
CASHMERE —  The Pioneers traveled to Cashmere on Jan. 28 but couldn't keep up with the Bulldogs, losing 58-44.
Omak is currently 5-4 and third in the Caribou Trail League while Cashmere hangs on tightly to the first place slot with a 9-0 record.
Pateros 47, Cascade Christian Academy 31
WENATCHEE —  The Billygoats traveled to Wenatchee to compete in a Central Washington 1B League match on Jan. 28, winning over Cascade Christian Academy 47-31.
Bridgeport 65, Oroville 58
OROVILLE —  The Oroville Hornets gave up a league win on Jan. 28 to the Bridgeport, 65-58.
Republic 54, Harrington 39
REPUBLIC – Republic came out with a Northeast B League home victory Jan. 31
Tonasket 68, Waterville-Mansfield 35
WATERVILLE —  Tonasket traveled to Waterville to secure a league win over Waterville-Mansfield, 68-35.
"The boys did a great job on defense and played very well," said Tonasket head coach Aaron Small.
Tonasket (68) — Duchow, 20. Morris, 15. Clark, 8. Martin, 6. Robinson, 4. Haug, 4. Flores, 3. Moreland, 3. Alvarez, 3. Thomas, 2.
Bridgeport 57, Liberty Bell 45
WINTHROP —  The Mustangs ventured into Mountain Lion territory for a league game on Jan. 31 and came out with a 57-45 win.
No other information was available.
Republic 46, Northport 28
REPUBLIC —  Republic secured another league win on Jan. 31 over Northport, 46-28.
Oroville 72, Waterville-Mansfield 43
OROVILLE —  The Hornets secured a league win on Feb. 1 in their home gym against Waterville-Mansfield, 72-43.
CURLEW —  Curlew couldn't keep up with Selkirk on Feb. 1 as the Cougars gave up a league win, 69-44.