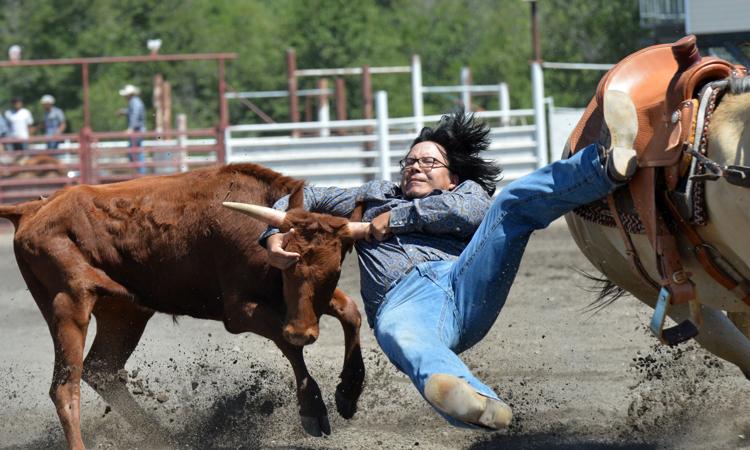 Rodeo, team roping highlight weekend
NESPELEM – The annual Nespelem Celebration Rodeo, competed in conjunction with the Celebration Powwow, returns July 13-14.
The rodeo starts with a grand entry at noon each day at the Nespelem Rodeo Arena off Lower Columbia River Road.
Standard Indian National Finals Rodeo events include saddle bronc, bareback and bull riding, women's barrel racing and breakaway, calf roping, steer wrestling and team roping.
There also will be senior, junior (15 and younger) and peewee (10 and younger) events, plus a wild horse race each day along with wild colt and mane hold races on Sunday.
Points will be awarded in the King Mountain Indian Rodeo Association for Region 9, which includes Washington and north Idaho.
Contestants can earn points that may qualify them for the Indian National Finals Rodeo from Oct. 22-26 at the South Point Equestrian Center in Las Vegas, Nev.
Nespelem is the first KMIRA rodeo since the June 8-9 Yakama Treaty Days Rodeos in White Swan.
As of June 20, Wyatt Covington of Omak leads the bull riding with 29 points. The only other rider to score this season, Slick Phelps of Porcupine, S.D., has 19 points.
Former Omak resident Rocksie Marchand, now living in Wilbur, leads ladies barrel racing with 48 points.
Isabela Timentwa of Omak leads junior barrels with 24 points.
Brier Selvidge of Malott is second in junior breakaway.
Brandon Louie of Cawston, B.C., is second in junior bulls.
"The weather should be nice," said spokeswoman Dorothy Palmer. "We are looking forward to another good year of rodeo."
Admission will be charged. Raffles are planned each day.
The powwow that runs in conjunction with the rodeo starts at 7 p.m. Friday, 1 p.m. and 7 p.m. Saturday and 1 p.m. Sunday, said spokeswoman Angela Iukes.
After each grand entry there will be a recognition of all veterans, tribal and otherwise who are attending, said Iukes.
The sixth annual team roping competition returns Saturday evening after the rodeo.
The event is sponsored by Jesse Palmer Construction. There is an entry fee plus an added purse. The team roping competition is not a KMIRA-sanctioned event. Anyone can enter.
Entries will be taken in front of the concession stand with Jesse Palmer (509-634-1494) or Yolanda "Yo" Orozco (509-631-1954).
Entrants must be 18 or older and sign a release/waiver.