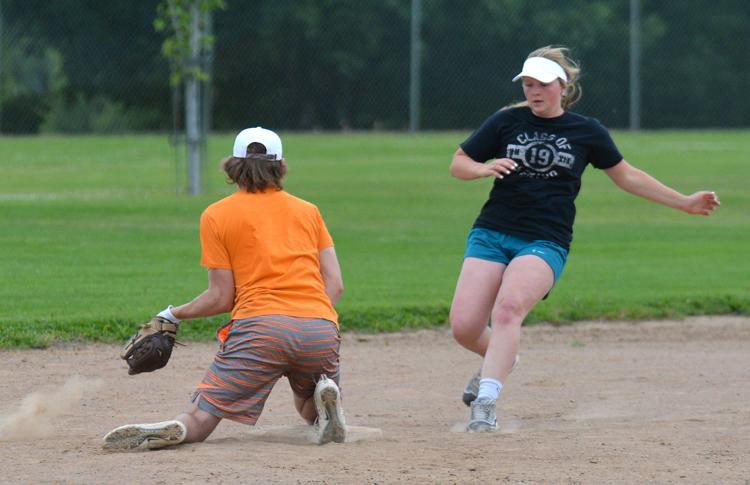 Hey NDN flies up standings
OKANOGAN - Club Sports Bar remains unbeaten in the Okanogan Valley Coed Softball after three weeks of play.
The Club entered the week along with Heatstroke as the lone teams without a loss.
That ended Wednesday when the Club topped Heatstroke, 12-5.
Hey NDN lifted itself from fifth place to a tie for second four wins last week that include a 14-13 win over D&R Glass Works.
Mid-Valley Hospital is the lone team still searching for a win, although the team came close before falling 7-6 first-place the Club Sports Bar last Tuesday.
Coed softball games are played Monday through Thursday starting at 6 p.m. at The Plex in Okanogan.
Second games follow approximately at 7 p.m., depending if are a few extra minutes added to the first games.
"Come out and see your neighbors playing ball, said spokeswoman Shirley Bowden. "Some very good plays nightly."
The league runs through Aug. 20 to be followed by a coed invitational Aug. 24-25 at The Plex.
Of note, games start at 5:30 starting Aug. 12 to the end of the regular season.
No games are slated for Aug. 7 and 8 due to many players being involved in the Omak Stampede and World-Famous Suicide Race.
6 p.m. – NDN v. Heatstroke; Farmers v D&R
7 p.m. – Farmers v. NDN; Heatstroke v. ERS
6 p.m. – Mid-Valley v. ERS; NDN v. Club
7 p.m. – NDN v. Mid-Valley; Club v. ERS
6 p.m. – Mid-Valley v. Heatstroke; Boo Yaa v. Farmers
7 p.m. – Mid-Valley v. Boo Yaa; Farmers v. Heatstroke
6 p.m. – Boo Yaa v. D&R; Farmers v. Club
7 p.m. – Club v. D&R; Boo Yaa v. Farmers
Game scores from first three weeks:
Heatstroke 13, Hospital 3