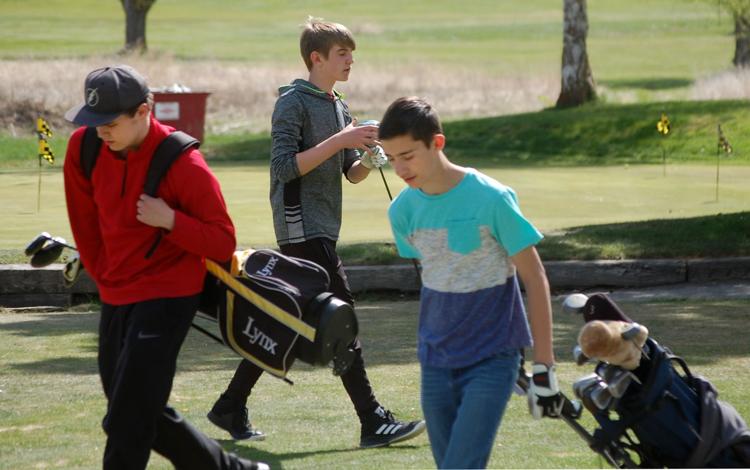 Raider's Whiteman cards medalist title
PATEROS – The Okanogan boys' golf team took low score at 377 at a seven-team meet May 1 at Alta Lake Golf Course.
Lake Roosevelt's Darin Whiteman was medalist at 76.
Okanogan's Billy Norwill was second at 87.
Omak's low-scoring golfer was Destyn Markel at 98.
A state 1A qualifier will start at noon May 14 at the Chelan Golf Course.
The top seven boys (and an alternate) advance to state 1A May 21-22 at Olympia Country and Golf Club.
At the same time at the district tournament, there will be qualifying for the girls' state 1B/2B/1A tournament.
"Our CTL player of the year, all league, team/district champions will be determined at this event," Omak coach Nick Popelier said.
Omak (476) - 98, Destyn Markel. 106, Tanner Hall and Brady Tonasket. 166, James Rodriguez.
Okanogan (377) - 87, Billy Norwill. 93, Jacob Stanley. 95, Bo Silverthorn. 102, Jackson Whitley. 103, Weston Wood. 107, Ryley Moore.
Lake Roosevelt (392) - 76, Darin Whiteman. 97, Derek Whiteman. 109, Daxton Whiteman. 110, Levi Bob.
ACH - 95, Conner Emerson. 126, Garrett Heathman.
Oroville - 91, Jaxon Rise. 115, Finn Kennan.
Tonasket - 120, Sean Glover.
Okanogan - 56, Kylien Vance.
Oroville - 75, Darbey Carlton. 82, Katie Maynard.
OKANOGAN – Okanogan's Jacob Stanley was medalist at 84 in a match between the Bulldogs and Omak on May 30 at the Okanogan Valley Golf Club.
Omak's Destyn Markel was second with a career-low 89.
"He played really well," Omak coach Nick Popelier said. "Tanner Hall had a good day as well, finishing in third with a 94."
Okanogan finished with a team score of 402.
"We did not have a team score, as we were unable to post four qualifying scores," said Popelier.
Omak - 89, Destyn Markel. 94, Tanner Hall. 129, Alberto Moomaw. 144, James Rodriguez.
Okanogan (402) - 84, Jacob Stanley. 99, Riley Moore. 105, Weston Wood. 114, Bo Silverthorn. 124, Jackson Whitley.
Okanogan JV (9 holes) - 59, Logan Clark. 64, Dallin Evans.
Okanogan girl - 132, Kylien Vance.