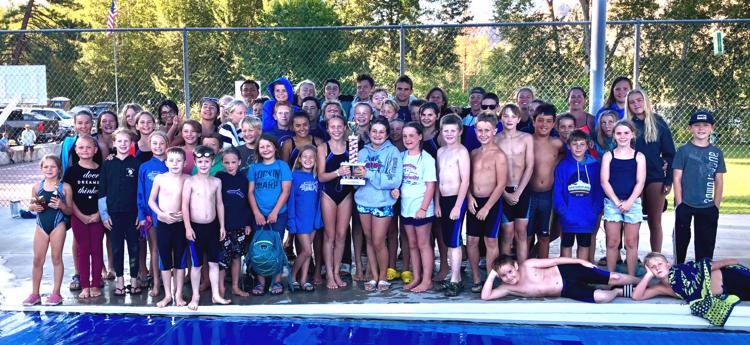 Methow Valley team earns third-straight title
TWISP – The Methow Valley Killer Whales swim team, led by three age-group champions and the largest in numbers team, won the Okanogan County Summer Swim League championship Saturday.
This was the third-straight county title for the Killer Whales, who finished with individual champs Nils Smith and Zahra Borowski in age six and younger, and Zoie Dubowy in age 7-8.
Okanogan took second with 645 points and four champions – Victor Lesamiz (7-8), Owen Painter (13-14), Kyle Clough (15-16) and Micah Downey (17-18).
Omak may have been small in numbers but came up big for third (418 points) with five individual champions – Josef Gann (9-10), Anakin Saario (11-12), Bellina Saario (13-4), Mackenzie Cline (15-16) and Evangeline Lamb (17-18).
The Brewster Bears finished fourth with a strong 346.5 points led by champions Sarah Zoretic (9-10) and Camryn Ashworth (11-120.
The Bears were the last non-Killer Whales team to take the time title, that being in 2016 by a score of 676 to 672.
Combined team scores: 1, Methow Valley Killer Whales, 917.5. 2, Okanogan Bullfrogs, 645. 3, Omak Manta Rays, 418. 4, Brewster Bearacudas, 346.5.
6 & younger: Nils Smith and Zahra Borowski, both from MV.
7-8: Victor Lesamiz of Okanogan and Zoie Dubowy of MV .
9-10: Josef Gann of Omak and Sarah Zoretic of Brewster.
11-12: Anakin Saario of Omak and Camryn Ashworth of Brewster .
13-14: Owen Painter of Okanogan and Bellina Saario of Omak .
15-16: Kyle Clough of Okanogan and Mackenzie Cline of Omak.
17-18: Micah Downey of Okanogan and Evangeline Lamb of Omak.