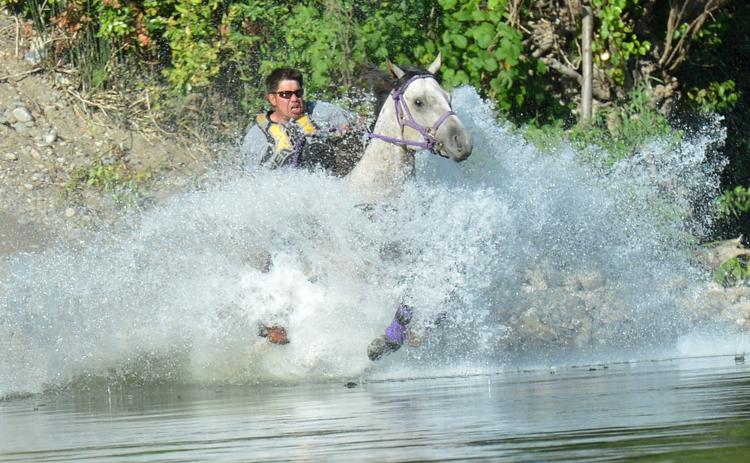 Qualifying ends Saturday; runoff races possible Sunday
OMAK – A record of 42 horses and 43 jockeys have passed through at least a veterinary check following qualification Sunday for the 84th World-Famous Suicide Race.
The race is competed after each performance of the Omak Stampede from Aug. 8 to Aug. 11. The rodeo starts at 7 p.m. Thursday through Saturday and 1 p.m. Sunday.
There are 29 horses qualified for the horse race after completing a vet check plus swim and hill tests.
Peter Palmer, president of the Owners and Jockeys Association that puts on the races, said algae from a low river this year caused problems Sunday and there's been several improvements on the course.
"I am very happy to be back as the president," said Palmer. "I have my team in place and we are ready to pull off the best show in history. The support, outreach of people and businesses, and words of encouragement have been very humbling to say the least.
"It fills my heart to be amongst good people and most of all the horses. I want to thank everyone who has supported me through the years, both past (two years as secretary and 10 years as past president) and present."
The race starts north of the river with horses coming down a hill into the river before racing up a ramp to the finish line in the rodeo arena.
Notable additions Sunday to the qualified field were defending champion Eagle Boy, owned and ridden by Scott Abrahamson, and Jackpot, which tied for second last year with Jockey Edward Marchand and owned by Bronson Peterson.
Eagle Boy finished with 12 points following four races for first overall.
Black Shay, which tied with Jackpot for second with 10 points, qualified in earlier practices that started two weeks earlier. Black Shay is ridden by Riley Prescott and owned by David Palmer.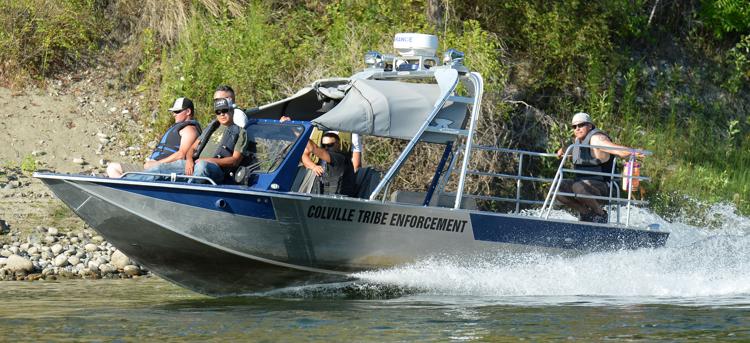 Practices last weekend were hampered by algae, which plugged up a pump on the tribe's rescue boat.
"About an hour into practice Sunday we had to dock the boat because it was so plugged up with slimy green algae," Palmer said. The five-man committee made the choice to allow qualifications to continue. We put in some safety measures by adding two out riders on the downstream side of the hill in addition to the two on the upstream side of the hill.
There were no problems as at least five additional horses qualified Sunday.
The only rescue came in previous practices for Osprey, ridden by BeauDeen Adolph and owned by Anthony/Kristin Williams.
"Another challenge we are meeting is the low water which challenges the rescue boat and the horses," said Palmer. "As always we are geared to make necessary adjustments to ensure the safety of both horse and riders."
This weekend's final qualification tests will run 6-9 p.m. Friday and 5-8 p.m. Saturday.
How big the final field will be won't be known until entry fees are paid, which can be paid starting Friday and until 8 p.m. Saturday.
"Depending on the entries we are scheduled for either a jackpot race on Sunday at 3 p.m. or two elimination races starting at 3 and 5 p.m.," said Palmer.
By O&J rule, the final field can only be 20 or fewer horses. If more pay the entry fee there will be two heats of elimination races to whittle the field down to 20.
A field of 20 or fewer paid entries are not required to participate in a jackpot race Sunday.
"All races will be Calcutta and open to the public so come on down and put your money on your favorite!" said Palmer.
"Our team has been able to hit the ground running and the community support in sponsorship has been outstanding," she said. "Although we were a little hesitant going into this year; we hit the ground running – just like riding a bike."
Speaking of ground, O&J received donated clean sandbags from the tribe from last year's flooding.
"They were hand-loaded into trucks and trailers and hauled to the top of the hill," Palmer said. "They were lowered in a wagon to the bottom of the hill where they were emptied to add some cushion and eliminate the drop from the low water.
"In addition, Vern Toulou came down and leveled the paddock area and left it in a very nice condition."
Fill dirt also was added near the bottom of the ramp near the river.
Horses having qualified (horse, jockey, owner)
Augustus, Loren Marchand, Loren Marchand, Mike and Sheri Jones
Black Shay, Riley Prescott, David Palmer
Chief, Josiah Desautel, Tim Holt
Chief, Conner Picking, Louis Castro
Dale, Mike Harry, John Pakootas
Digger, Danny Trevino, Danny Trevino
Dillinger, Henry LaCourse, Kevin LaCourse
Dirty Dan, Andrew Whiteman, Casey Nissen
Dollar, Kaden Desautel, Blake Marchand
Duranimal, Chance Carson, Marchand Stables
Eagle Boy, Scott Abrahamson, Scott Abrahamson
Edgar, Gib Seymour/Blaine, Cole Seymour
Gimmesome, BeauDeen Adolph, George Marchand
Houdini, Jim Best, Jim Best/Ivory Ford
Ice, Alex McCraigie/Matt P, Blake Marchand
Jackpot, Edward Marchand, Bronson Peterson
Jake, Tom Best/Rocky Timentwa/Tyler Peasley, Tom Best
Julio, Gabriel Moses, Annette Moses
Lonesome, Tarren Meusy, George Marchand
Mufasa, Andrew Whiteman, Jonathan Abrahamson
Mufasa, Steven Ford, Zane Marchand
Omaha, Jason Meusy, Jimmy Marchand
Redline, Jasper Abrahamson, Jake Taylor
Redman, Abe Grunlose, Abe Grunlose
Schitzo Lenny, Francis Marchand, Lacy and PJ Pakootas
Spade, Tyler Peasley, Mia Pakootas
Spirit, Josh Harry, Milo Pakootas
Thunder, Montana Pakootas, Casey Nissen
Wind Walker, Audrey Seymour, Audrey Seymour
Augustus, Loren Marchand, Loren Marchand, Mike and Sheri Jones
Big Casino, Abe Grunlose/Jordan Pakootas, Abe Grunlose
Copenhaver, Andrew Whiteman, Casey Nissen
Cowboy, Tony Louie, Lacy and PJ Pakootas
Dually, Jordan Pakootas, Edward Marchand
Grey Dogg, Matt Pakootas, Blake Marchand.
Money Spot, Scott Abrahamson, Scott Abrahamson
Onyx, Oliver Pakootas, Shawnae and Oliver Pakootas
Osprey, BeauDeen Adolph, Anthony/Kristin Williams
Warbonnet, Josh Cate, Lacy and PJ Pakootas
Horses needing swim and hill tests
Arrow, Bronson Peterson, Bronson Peterson
Brody, Kevin Carden/Danny Trevino, Danny Trevino
Stormy, no rider listed, Casey Nissen