SPOKANE – The Omak bowling team, sponsored by Valley Lanes, finished second at the Washington State Bowling Proprietors State Tournament Feb. 16-17 at Lilac Lanes.
"Due to weather the state tournament was divided between the east and west sides of the state," Omak coach Dale Dunckel said. "On the east side of the state were seven of the top 10 teams in the state. The tournament decided to break each side of the state into two brackets."
Some eastern Washington schools did not want to go to state, planned for Paradise Lanes in Tacoma.
The eastern Washington teams, which competed at Lilac Lanes, and their seeding in state included 1, Moses Lake; 2 Valley (of Spokane); 4, Wenatchee; 5, Omak; 6, Mount Spokane; 7, Eastmont; 9 Valley No. 2; 13, Shadle Park; 15, Gonzaga Prep.
The tournament consisted of about 40 games of Baker Format, said Dunckel.
Moses Lake through Mount Spokane, including Omak, competed in the first division with the average of the teams being a blind score.
In Baker Format, the first bowler bowls first and sixth frames, the second bowler bowls frames two and seven.
"Each team bowled the rest of the teams based on a schedule then followed up with position rounds," Dunckel said. "After day one, Omak was in first place by two points. Going into the last Baker match Omak was in fourth place, two points out of first.
"Omak won their match and finished in second place behind Valley No. 1."
The team included Clayton Goetz, Bryden Goyne, Bryson Goyne, Josh Fleming, Carlie Reddington and Maesun Matt.
Omak also won its second consecutive Don Peek Inspirational team award for its sportsmanship, as voted by the rest of the teams.
Some of the Baker games bowled by Omak included 193, 224, 218, 246, 205, 233, 201, 193.
Final standings - 1, Valley No. 1, 38.5. 2, Omak, 37. 3, Moses Lake, 35.5. 4, Mount Spokane, 35. 5, Wenatchee, 23.
Omak also took four bowlers from its No. 2 and No. 3 teams, which did not qualify for state.
They included Logan Stensgar, Bishop Stensgar, Ayden Pierce and Julianna Utigard.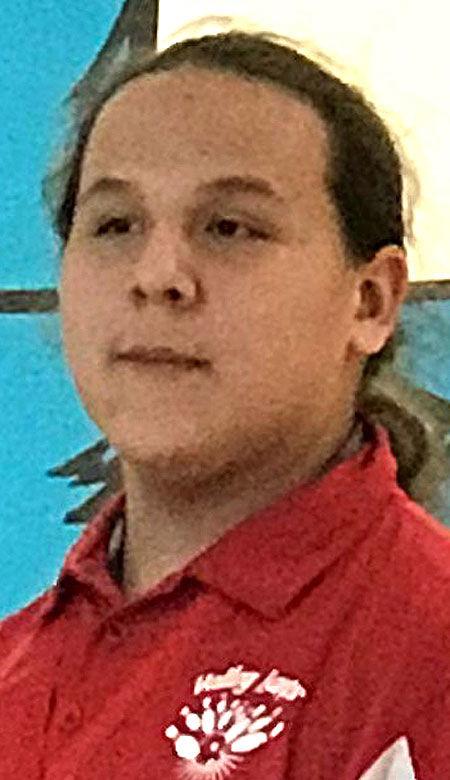 Stensgar finished second, eight pins out of first in singles.
"Logan, Bishop and Ayden were in division one," said Dunckel. "Julianna was in division two. Boys and girls competed against each other based on average."
Some high scores - Logan Stensgar, 166, 162, 166, 211, 166, 176, 190; Ayden Pierce, 170, 165, 172; Julianna Utigard, 145.