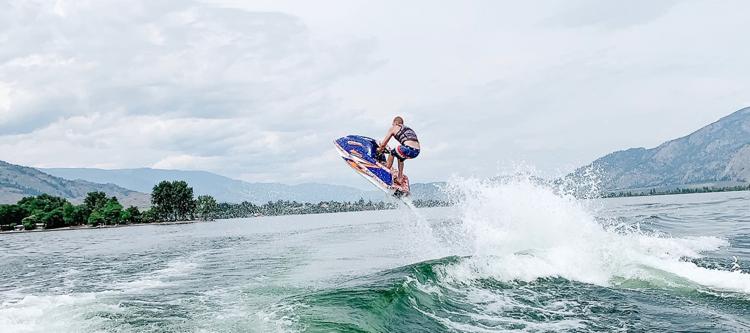 Watercross racing set for 11 a.m. Saturday, Sunday
OROVILLE – Chris Wolley of Oroville will be among the watercross racers competing this Saturday and Sunday in the Lake Osoyoos Cup.
Practices and race set start around 10 a.m., with competition starting around 11 a.m., said promoter and race director Roger Harnack, who said signups, staging and viewing are from Deep Bay Park north of town.
"I've been on the water (primarily Lake Osoyoos) all my life," said Wolley, 29. "Recently I got a standup (ski) and thought it would be fun to try the race since it was local."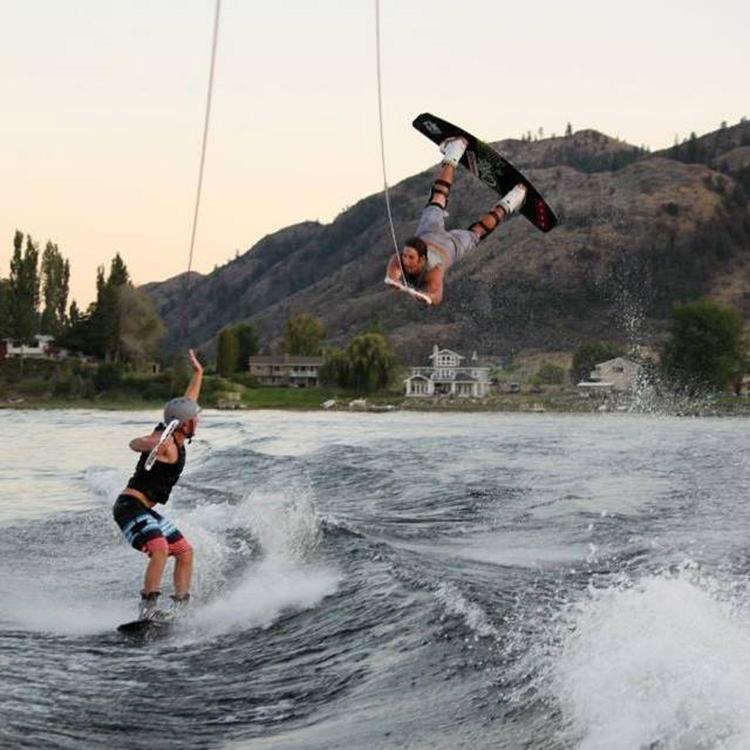 Chris and his dad, Gordon, went together to buy a Yamaha Superjet.
The father later bought his own ski, leaving Chris with the Yamaha.
"We waterski a lot, wake board surfing, too," said Chris.
The whole Wolley family enjoys life on the water, from his wife, Sara, to his 2-year-old son, Cohen.
"She (Sara) does all the same stuff that I do," said Chris. "Cohen loves the water. He's always out on the Jet Skis and the boat."
He said his dad, however, is "pretty green still" on the ski, so won't be racing.
Chris is a hometown son, graduating as a Hornet in 2009. He tried his hand at several sports in school, from his first-love basketball to tennis and golf.
"I didn't realize being a local doing this I would get so much attention," said Chris. "People are asking me all over about it. I just thought the race being local I would give it a shot."
Chris will be competing in a novice standup class, which is appropriate since he's been riding such a watercraft for only a year. Before that he rode a sit-down ski.
"I'm pretty new to it (standup)," he said. "My cousins (Jake and Jesse Barker) ride them around," Chris said. "I thought it would be kind of fun to give it a shot. I've watched races the last couple years" in Oroville and Pateros.
"It could be terrible, but you never know," he said. "It's all new to me. It was kind of a spur-of-the-moment thing."
One of the advantages of racing on a Jet Ski, said Chris, is that it's easier than, say, racing a hydroplane.
"It's a lot cheaper," he said. "You can throw it in the back of your pickup and head to a race."
He's been calling other racers to learn what he has to do to make his Yamaha race-ready to comply with all the rules.
"As long as I can stay up and don't wreck too much, I will be happy," he said.
This year's races represent rounds three and four in Northwest Jet Sports watercross racing.
Competing under the American Water Sports Association this year, the Northwest Tour includes the Lake Osoyoos Cup and the Apple Pie Jamboree (rounds one and two) that was competed July 20-21 in Pateros.
"We're expecting one of our best turnouts ever at Lake Osoyoos," said Harnack. "We're hoping the turnout exceeds our opening rounds on the Columbia River in Pateros.
"We have classes for everyone. If you've never raced before, this is a great place to get into the sport."
Northwest Jet Sports included a beginner turnout at Apple Pie Jamboree, with three racing beginner ski, two first-time racers in the X2 class and four youngsters in the Junior 10-12 ranks.
Another first-time racer is entered the women's class.
At the Osoyoos Cup, racing is from 11 a.m. to 5 p.m. Saturday and 11 a.m. to 4 p.m. Sunday on Lake Osoyoos, which lies half in the U.S. and half in Canada.
Several Western Canadian Watercross Association members are expected to join in the action.
"It's going to be 90 degrees and the water is great," Harnack said. "See you in Oroville."