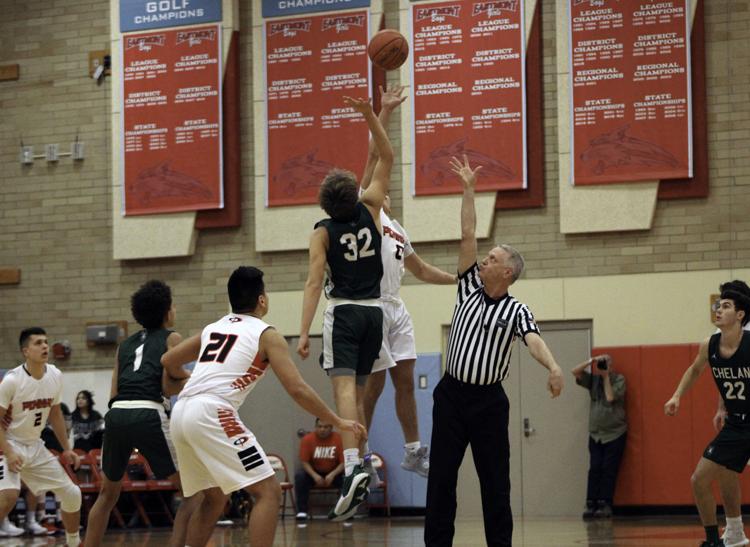 EAST WENATCHEE — The Omak boys' basketball team traveled to meet Chelan on Feb. 15 at Eastmont High School in the Caribou Trail League tournament, where they competed for third and fourth place.
The Pioneers prevailed, 71-64.
Omak came to play, never giving an inch and consistently keeping the intensity up throughout the game. Two players secured double doubles for the Pioneers - TJ Sackman with 16 points and 10 rebounds and Tanner Hall with 10 points and 10 rebounds.
Reilly Davis sank 21 points for his team and Tre Marchand was not far behind with 15 points.
The energy was always high as the Pioneers fed off of the crowd and each other's successes. The team made some plays that the Goats couldn't stop and played tough defense that forced Chelan to shoot.
"We made our free-throws down the stretch and finished with a great win against the best fourth-place team in the state," said Pioneer coach Geoff Pearson.
"Outscoring Chelan is an accomplishment, as they are really talented offensively, but our defense was really solid for the entire third quarter."
Omak was set for a rematch against Okanogan on Feb. 18 back at Eastmont High School in a loser-out game.
WENATCHEE — The battle of the Bulldogs came around in full force as Cashmere and Okanogan met Feb. 15 in the league championship game at Eastmont High School, with Cashmere prevailing 58-44.
"Cashmere came out to shoot well early, hitting seven of their eight three-point shots," said Okanogan assistant coach Kyle Thornton. "Unfortunately, we couldn't match that, only hitting two of our 11 three-point attempts."
Okanogan was down by 16 points at the half.
Throughout the game, Okanogan was shut down by Cashmere's defense with the starters staying in single digits for points made during the game. Joseph Mail came off the bench and led the team with 14 points.
Okanogan and Omak were scheduled to meet Feb. 18 at Eastmont, after The Chronicle's deadline.
Brewster 85, Liberty Bell 36
BREWSTER — Liberty Bell brought its A-game to Brewster's gym on Feb. 14, but couldn't keep up with the Bears' big offense, losing 85-36.
"We had a sloppy first half," said Brewster coach Michael Taylor. "We were playing hard, just not at the level we want. We were able to pick up our play and have a wonderful second half."
Liberty Bell, with a 6-10 record, will meet Oroville Feb. 18, after The Chronicle's deadline, with both going on to crossover games. Brewster geared up to play Lake Roosevelt Feb. 18 with the winner going to regional play and the loser to a crossover game.
During Brewster and Lake Roosevelt's last meeting, two players and a fan were ejected from the game.
Lake Roosevelt 69, Oroville, 52
GRAND COULEE — Oroville traveled to Grand Coulee on Feb. 14 to compete in a playoff game against Lake Roosevelt, with the Raiders prevailing 69-52.
Oroville shocked Lake Roosevelt by playing to a level not yet seen this season. At the end of the third quarter, the score was 40-all.
But the fourth quarter was a huge scoring period for the Raiders, who knocked down 29 points.
Lake Roosevelt was scheduled to meet Brewster on Feb. 18, after The Chronicle's deadline, with the winner advancing to regional play and the loser going to a crossover game. Oroville and Liberty Bell were set to meet Feb. 18, with both going on to crossover games.
No scoring was available for the Lake Roosevelt-Oroville game.