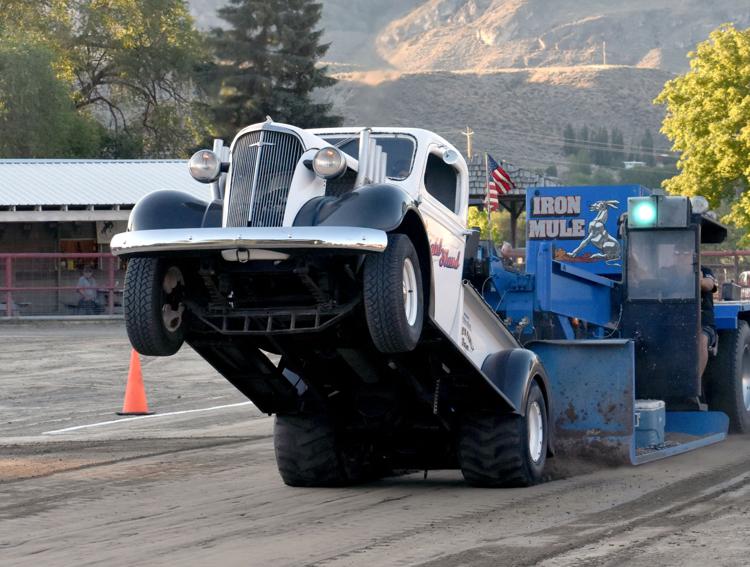 TONASKET — Truck and tractor enthusiasts from around the northwest converged July 19-20 in Tonasket for the 9th annual Tonasket Truck and Tractor Pull.
"I think it was a really good show," organizer Roger Sawyer said. "Friday night was an excellent crowd."
Results, as provided by Cascade Pullers include:
Travis Burril, Lucifer 190.9
Delton Amoth, Tired n Blue 212.3
First, Katie Oftsun, Bootie Shaker 199.0; second, Mike Thomas, Clifford 187.3; third, Sam Juneau, No Name Truck 183.4; fourth, Alex Bergi, The Mistress 183; fifth, Jake Meyer, The Prostitute, 175; sixth, TJ Burton, Bad Parenting 163.2; seventh, Tara Nielson Gray Ghost 152.5; eighth, Dustin Buckingham, USS Snowflake, 99.5.
First, Dave Notar, Sandbagger 215.3; second, Jason Burton, Overdrawn 192.9; third, Mark Adams, Specialized Diesel 193.3; fourth, Tim O'Neill, CN Red 185.8.
First, Joey Haveman, Hog Wild 149.2; second, Kris Claeys, One Night Stand 198.9.
First, Brent Coghill, Bone Digger 181.0; second, Jennifer Wills, Insane Addiction 179.1.
Delton Amoth, Bad Apple 202.9.
First, Jason Gish, Double Ugly Too 191.9; second, Ralph Tramp, Agent Orange 185.8; third, Charles Coad, Hell on Wheels 168.9; fourth, Sami Smith, Moonlighter 168.8; fifth, Corey Coad, Capt n Hook 158.0; sixth, Tom Walker, Heart Strong 163.2; seventh, Garrie Grant, Little Thunder 145.0.
Cheryl Wheatley, Bounty Hunter 251.4
First, Chris Wheatley, 225.6; second, Jack Wheatley, 250-plus.