Don Gray and Mike Wyckoff hit the Skyline trail at 6 a.m. headed for Camp Muir.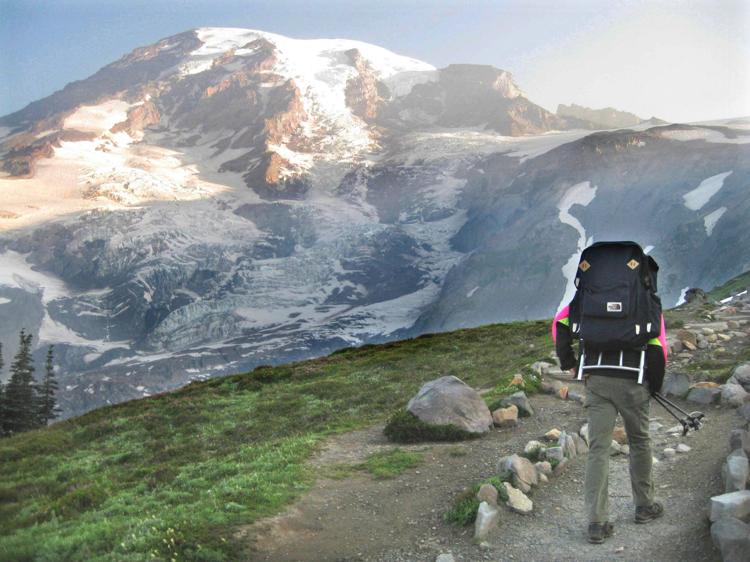 MOUNT RAINIER – Tonasket residents Don Gray and Michael Wyckoff realized a long-held dream when they climbed halfway up Mount Rainier to Camp Muir last August.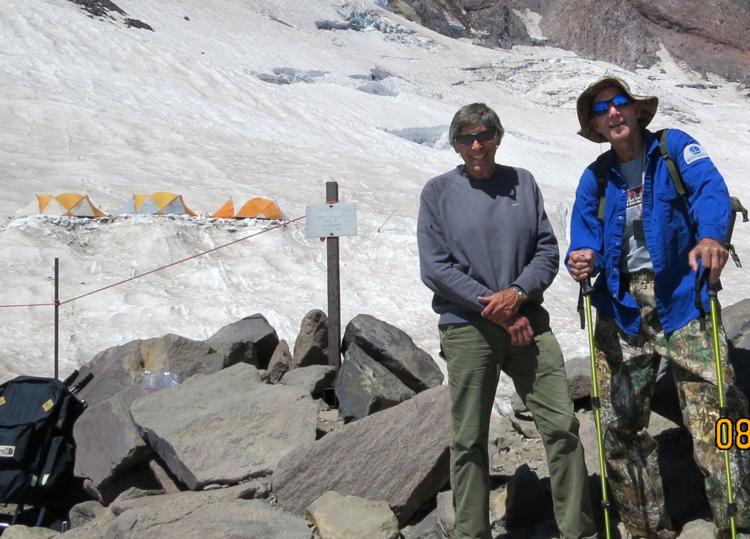 At 10,188 feet, Camp Muir is a popular basecamp for climbers on their way to the mountain's summit at 14,410 feet.
"I stopped in at the Ranger station at Paradise afterward, and said, 'I'm 72-years-old and I just got done hiking up to Camp Muir in a day. How does that stack up?'" said Gray. "The ranger drew me a bell curve, and said, 'You are way out here on the front of the curve. We don't see too many 72-year-olds make that hike.'"
Listed by Backpacker magazine as one of the 10 most dangerous hikes in America, the Muir Snowfield can be a "killing field" if bad weather sets in.
Gray and Wyckoff were turned back due to bad weather on previous attempts.
"We hiked for several years with this hike in mind," said Wyckoff. "The first time we got ready to try it we got snowed out. We had picked a date but cancelled when we heard the weather was bad."
The two got partway up the trail on a second attempt but turned back when Gray realized he didn't have enough energy to make it to Camp Muir.
"The third time, in September, I tried it without Mike, who had a leg injury. I got there and the weather was bad. It can turn on a dime," said Gray. "It was sleeting, but I wanted to at least make it to Pebble Creek. The mountain was coming in and out of view."
Coming across hikers on their way down, Gray asked about the weather further up.
"They said there were 50 mph winds and it was below zero up there," said Gray. "That mountain can get real nasty, with 100 mph winds at the top sometimes. It is wicked, so I turned around."
After Wyckoff's leg healed, the two set the next attempt for August last year when the weather would be better.
They drove to the Paradise Henry M. Jackson Memorial Visitor Center, at 5,400 feet. "From there to Camp Muir is an additional 5,000 feet, so we gained 1,000 feet elevation per mile," said Gray. "It's five miles up and five back."
They hit the trail at 6 a.m.
"It was dark and cold, there was wind and it was bitter cold," said Wyckoff. "I put on everything I had and thought 'if this isn't enough, I am going to be in trouble.'"
They took the Skyline trail, following it partway up before turning off towards the Muir snowfield.
"The high mountain meadows are beautiful, but the beginning was dark, and I couldn't believe he was taking me up there," said Wyckoff. "The sun came up about an hour into it. You were looking at Rainier and you could see the pink on top of the mountain. After we got over the ridge into the snowfield it was easy living."
"We had interviewed people about the hike, and they said they slogged up and slogged back," said Gray. "But we were in shape."
"From Skyline trail, Rainier is right in your face and it is huge," said Gray. "The Rockies only display 5,000 feet of themselves, when you are on the highway. Rainier displays all 14,000 feet of itself, and it takes your breath away that anything could be that big."
"We had never been on glaciers before, and as we were going up, we could hear loud booms from the Nisqually Glacier," said Wyckoff. "We expected to see an avalanche. Then we saw a plume of steam."
"When the first boom hit, it caught our attention," said Gray. "It was a loud boom, and there were several more. That is what you get when the sun settles on the glacier."
Taking part of the Emmons Glacier route, the two went up between the Nisqually Glacier on the left and the Cowlitz Glacier on the right.
"They tell you to be careful, as the snow looks like it goes right up to the boulder, but it melts underneath," said Gray.
"The rocks pick up the warmth of the sun and melt the snow," added Wyckoff.
"We passed a sign on the way up that said if you see so-and-so, he went up in February trying a winter climb and they never heard from him again," said Gray.
"The added danger in winter climbs is the fresh snow covers the crevices. It forms a snow bridge, and if you walk out onto it and it won't hold your weight, you fall into the crevices," said Wyckoff. "The snow fields are stabilized, but the glaciers move downslope so they crack and separate and produce the crevices."
They arrived at Camp Muir at 2 p.m., after hiking for eight hours.
"It was a tough hike," said Gray.
They stayed about an hour.
"Going out onto the Cowlitz Glacier was fun. It was my first time on a glacier, and there were lots of crevices to look down into," said Gray. "Then I realized I didn't have my Yaktrax on and didn't have my (climbing) poles. If I slipped, I wouldn't have anything to hang onto. I got a cheap lesson."
"If you slipped, it would have been three miles later before we found you if we found you at all," said Wyckoff.
"After the photo was taken, I edged my way back," said Gray.
For the trip down, Wyckoff was able to "skate" on his boots, using his climbing poles to keep his balance.
"I realized I couldn't skate like Mike was doing," said Gray. "We thought it would be 11 p.m. before we got down there, and we would be hiking in the dark."
Fortunately, Gray had packed a 3 mil garbage bag.
"I asked a hiker up there if he knew anything about glissading, and he said to cut leg holes into the bag and step into it, tuck the back end under my pack, grab onto the front of it and hold it so the surface you are sliding on doesn't have any creases in it, lift up your feet and away you go," said Gray. "I'm thinking I was going about 15 mph at some points, once I got the hang of it, on the steep parts. About halfway down, some people were waving us off to the side. It looked like if we kept going the way we were, we would have slid off onto Nisqually glacier. We knew the route we had going up, but when you are coming back it is different."
"The downslope is to the south and the crown of the hill veer off towards Nisqually, so he was naturally veering towards the cliff," said Wyckoff.
The trip down took about four hours.
"The slow part was when we got down to Pebble Creek, and we had to walk," said Wyckoff.
"When I started to walk, I had to get my legs under me," said Gray. "After I got onto the rocks, I fell and cut my jeans and scraped my knee and hurt my wrist, falling into the rocks."
"The way he was laying, I thought it was going to have to be a carry-out, but once he stopped cursing and got up, I knew we could go on," said Wyckoff.
Once they reached the Paradise visitor center, they visited the Inn's lounge.
"We debriefed over a beer," said Gray. "At 5,000 feet and being tired, one beer put me on my knees."
"That was when I realized how important it was to Don to do the hike," said Wyckoff. "It was on his bucket list, and he was so elated."
"My sister did it in her 30s, she was in the Mountaineers, and I told her I was going to do it, so I had to," said Gray. "I told Mike I was going to get to Muir, or I was going to die trying."
Now the two are debating going to the summit.
"The window to do that, to go to the top, is closing in on me," said Gray. "If I don't do it in the next three years, I can't predict further than that. I need someone to go with me, but I haven't gotten Mike to commit to it yet."
"My wife already told me if anything happens to me, she'll kill him," laughed Wyckoff.
"But it is on the table," said Gray.
"I couldn't let him go alone," added Wyckoff.