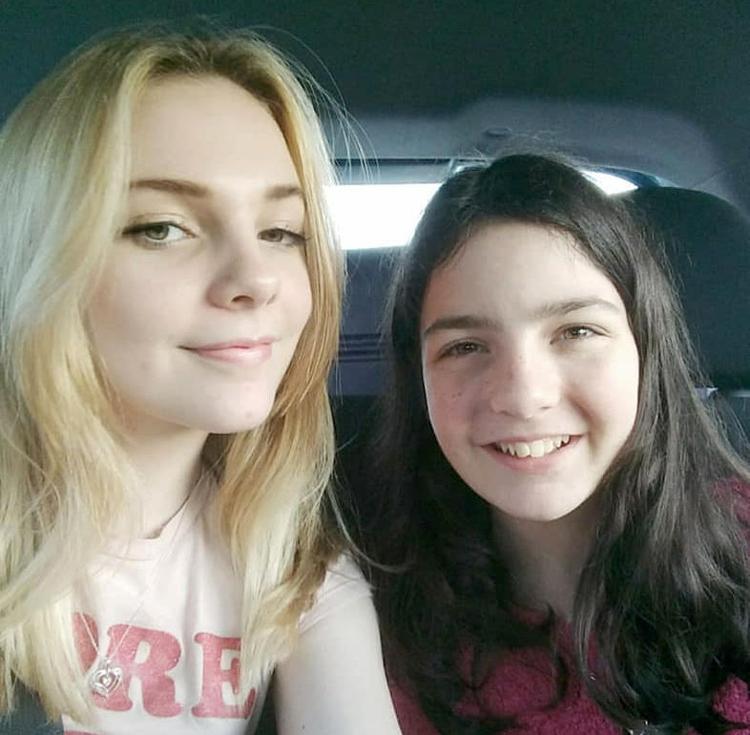 Family plans a return to Okanogan in 2020
OKANOGAN –Sisters Amelie and Ayla Baker, former Okanogan School District students, will continue to get an international education for one more year before returning to town in 2020.
The daughters of Simone and Scott Baker are visiting for six weeks this summer while school is out in Uruguay, where they have been living for several years.
Amelie Baker surprised her good friend Geri Fletcher, who is a cheerleader and was doing the Dawg Wash last month.
School in Uruguay is out for six weeks during North America's summer and six weeks from about Christmas to February, during which the country celebrates Carnival for two weeks.
Amelie Baker, 15, and Ayla Baker, 13, attended school in Okanogan for two years, making many friends.
The girls also get to visit grandparents Linda and Hank Baker, who live near Conconully.
Amelie will finish her junior and senior years starting in 2020. Ayla would be going into the ninth grade a year from now.
The family has spent lots of time in various countries over the years because Scott Baker works embassy security for the State Department.
Baker, 47, a 2000 Omak graduate, is working at the embassy in Montevideo, the capital of Uruguay.
Uruguay is a small country about the size of Washington state in southeast South America, surrounded by Brazil to the north, Argentina to the west and south, and the Atlantic Ocean to the east.
Scott Baker, who competed in wrestling for the Pioneers, previously worked for two years in Baghdad, Iraq. While he was there, the family lived in the Okanogan School District.
The family went with him when he worked in Amman, Jordan, and Dakar, Senegal.
"It's educational, especially visiting other places," said Amelie Baker, who enjoyed competing in track and volleyball here while in middle school in Okanogan.
When she moved to Uruguay, she could only play volleyball.
"There's no track in Uruguay," she said of attending an American school there. "They only do a few sports in Uruguay."
Ayla Baker likes playing basketball.
One plus of living in another country getting out to sightsee, said Amelie Baker.
"We've visited several places there," she said, nothing she has picked up some Spanish, the language of the country.
"I definitely miss my friends from Uruguay when I come back here," she said. "It's kind of tough. The schools are quite different. Uruguay is a bit ahead in some subjects and not so much in others."
She expects it won't be too difficult both returning to Uruguay or coming back to the states for her final two years in school, since she has friends in both places.
"I miss sports here a lot," Amelie Baker said. "I really want to do track again and volleyball."
She was very aware of the Okanogan High School girls winning the state 1A title in late May.
"That's really cool," she said. "I'm actually really proud of them."
She prefers the sprints because she likes to run fast, and kind of stays away from the distance races.
Amelie Baker set up her surprise of Fletcher, texting her she would arrive a day later than she actually did.
"I wanted to surprise her," Amelie Baker said.
As for her future, she is not considering a life as a diplomat, but rather something like nursing because she enjoys biology.