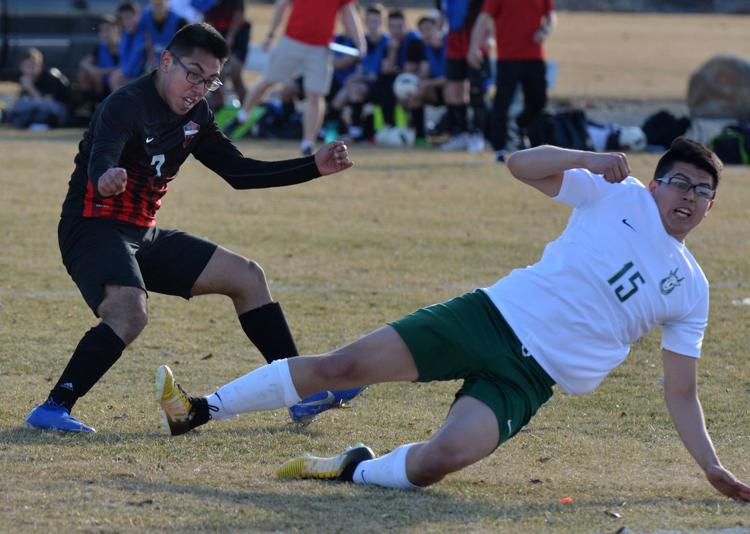 OMAK – Chelan escaped with a 4-3 Caribou Trail League soccer win over Omak on March 26.
"It was a great back and forth game," Omak coach Chris Werner said. "Our attack was led by Dillon Carlton, who put pressure on Chelan's midfield. Both Isaac Cervantes and Victor Renteria pressured their back line causing missed passes and attacking opportunities for us.
"Patrick Ramey anchored our back line and did a great job for us. This was a great game to be a part of."
Dillon Carlton scored Omak's first goal unassisted in the third minute.
Cervantes, off a pass from JoJo Ibarra, knocked in a goal that tied the match at two-all just before halftime.
Carlton scored Omak's third goal on an assist from Reilly Davis in the 54th minute.
The Pioneers' goalkeeper, Tyler Sam, finished with seven saves.
Chelan finished with 11 shots on goal compared to six for Omak.
BREWSTER –Tonasket put together a complete game to take out Brewster, 6-2, in a Central Washington B League soccer match March 27.
Ramiro Sanchez booted a hat trick – three goals.
Chris Rivera finished with two goals and an assist for the Tigers.
Alexander Flores had a goal and an assist and Sergio Pineda has an assist.
Tonasket goalkeeper Esteban Flores finished with four saves.
"As a team, we had 15 shots, seven on goal," Tonasket coach James Elias said. "Brewster had five shots, three on goal."
TONASKET – Bridgeport shut out Tonasket, 2-0, in a league soccer match March 26.
The Mustangs had five shots at goal, four shots on goal of which two went in, said Tonasket coach James Elias.
"We had six shots at goal and four shots on goal, of which none went in," he said. "Bridgeport played a very strong game against us."
Bridgeport finished with four saves and Tonasket with two.