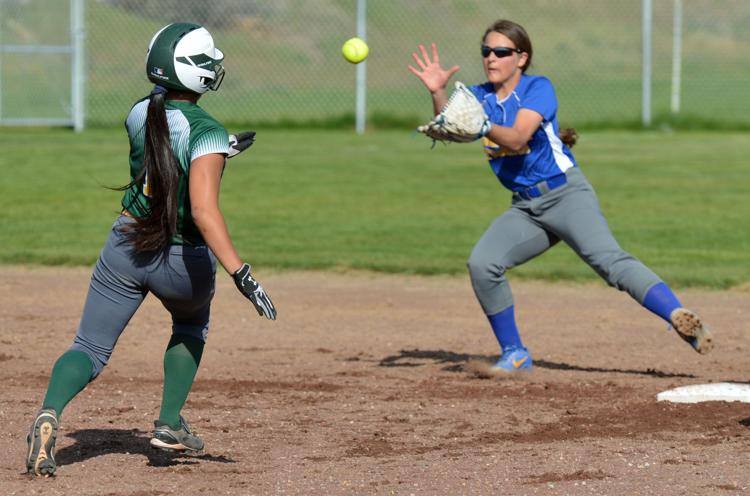 Omak wins first league victory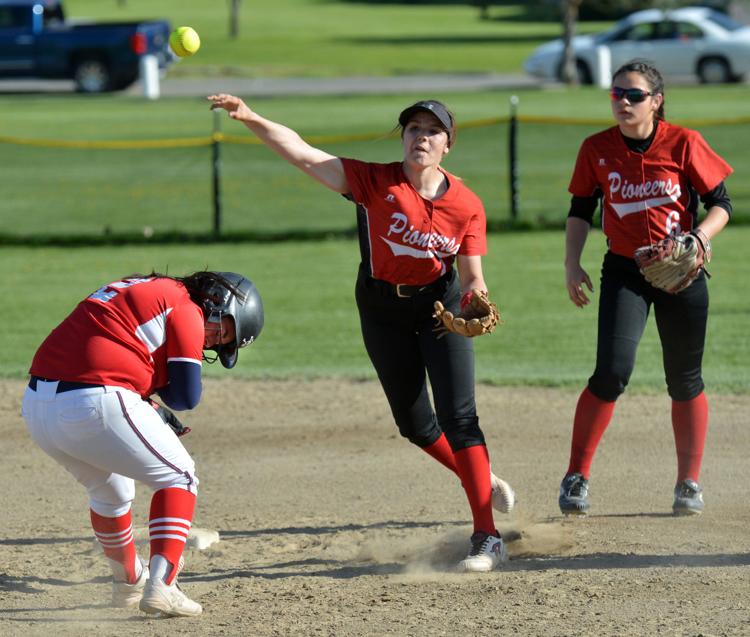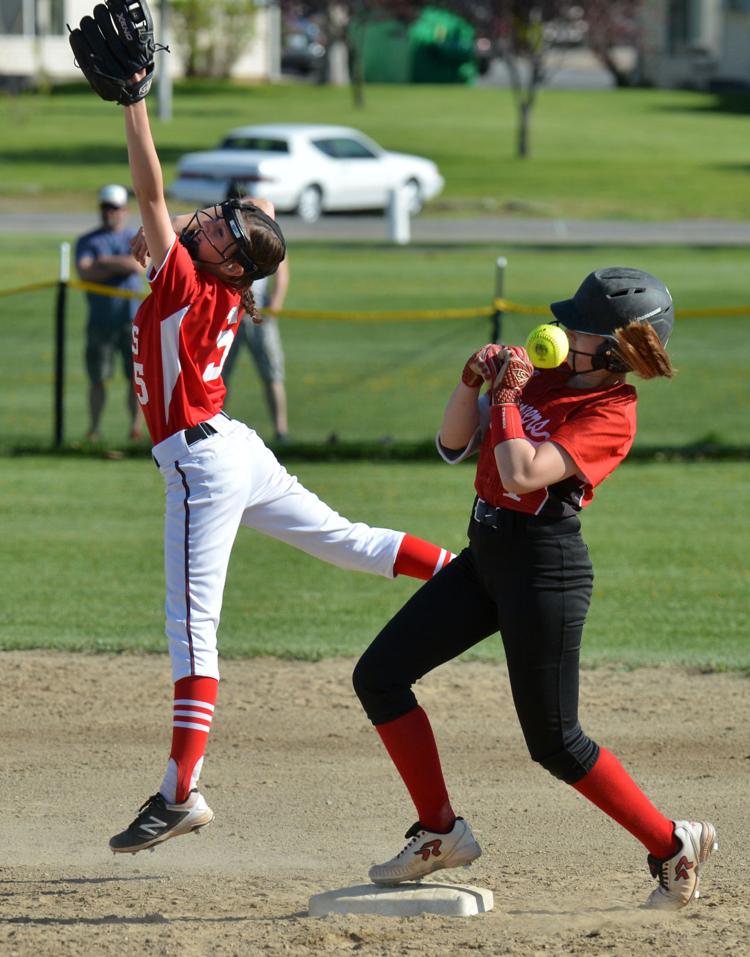 TONASKET - Tonasket won a slug and error fest with Liberty Bell, 18-12, in a league game May 2.
The Tigers finished with 19 hits, nine errors, 10 walks and also hit five batters on pitches.
Liberty Bell tried to keep pace with three hits, four errors and giving up only four walks.
Every Tonasket starter finished with at least one hit.
Jade Barroca led the Tigers (3-5) with a double, home run and four runs batted in.
The game was tied at three-all after the first inning.
The Tigers then broke loose, scoring two in the second and four in the fourth for a 9-3 lead.
The Mountain Lions clawed their way back into the game with three runs in the top of the fifth to cut the lead to 9-6.
From there the game resembled a prize fight, with each team putting the other on the ropes before they would reverse positions.
Tonasket scored six in the bottom of the fifth to which Liberty Bell responded with six runs in the top of the sixth.
The Tigers' pitcher, Grace Cory, lasted into the fourth inning, when she walked several batters before giving way to Jaelynn DeJong, who got the final out. DeJong pitched the final two innings to finish striking out two, walking four and giving up one hit and four earned runs.
Liberty Bell's Tommy Ochoa went six innings for Liberty Bell, striking out three, walking four and giving up 19 hits and 13 earned runs.
Central Washington 2B League play continues this week before a District 5/6 tournament May 18 at the Paul Lauzier Athletic Complex in Moses Lake.
Liberty Bell (12) - Surface R, 2RBI, 2BB, HBP; Curtis R; Ochoa 1-2, 2R, 2RBI, 3BB; Bakke 1-4, R, RBI, BB; Smith RBI, BB; Dammann 2R, RBI, 2BB, HBP; Christina 2R, BB, HBP; Gilbert 1-5, 2R, RBI; Cole 2R, RBI, 2HBP.
Tonasket (18) - Attwood 1-3, 3R, RBI, BB, HBP; Barroca 3-5, 4R, 4RBI, 2B, HR; Wilson 2-4, 2R, 2RBI, BB, 3B; Sutton 3-5, 4R, 2RBI, SB; DeJong 4-5, 3R, 3RBI, 2B, SB; Cory 2-5, 3RBI, 2B; Deebach 1-3, RBI, BB; V. Keller 2-4, R, RBI, BB, SB; Whiteaker 1-4, R.
OMAK – The Omak softball team closed its season by falling 16-6 in a non-league game against Brewster on May 3.
The Pioneers also fell 13-3 to Cashmere on May 2.
Omak (1-19 overall, 1-11 league) split with Chelan (6-14, 3-9) on April 30, winning its first game of the season, 12-8, and falling 23-2.
No information on the games was received.
TONASKET — Brewster broke open a close league game with five runs in the top of the seventh for a 7-2 victory over Tonasket on April 30.
Each team finished with four hits.
The Bears took advantage of three Tiger errors and nine walks.
Tonasket led 1-0 after the first inning before Brewster tied with a run in the fourth and took a 2-1 lead with a run in the fifth.
That set up the final inning, in which the Bears got five in the top of the seventh while the Tigers scored one in the bottom of the inning.
The Bears' Sammi Emigh struck out nine, walked four, and gave up four hits and no earned runs.
The Tigers' Jaclyn DeJong went a complete game, striking out five, walking nine and yielding four hits and four earned runs.
"It was a good test for us," Brewster coach Jesse Barnes said. "We haven't played a game that was that close yet this season. It took a while to adjust to the faster pitching, but we strung together some hits in key spots to score runs."
Teams will be seeded to state at the District 5/6 regional tournament May 18 at the Paul Lauzier Athletic Complex in Moses Lake.
Brewster (7) — V. Sanchez R, HBP; Mic. Kelpman 1-4, R; Wulf 1-1, 2R, 2RBI, 3BB, SB; Emigh 2BB; C. Sanchez 1-4, R, 2RBI; Mik. Kelpman R, BB, 2SB; Kelly 2BB, SB; Reagles 1-1, 2RBI, 2B; Boesel R, BB.
Tonasket (2) — Whiteaker 1-3, RBI, HBP; Attwood 1-4, RBI, 2B; Sutton BB; HBP; Wilson BB; Cory R, BB, HBP; V. Keller 2-3, SB; J. Keller R, BB, SB.
MANSON — Manson edged Pateros, 21-20, in nine innings on April 29.
The Nannies led 20-16 into the bottom of the seventh, which normally is the final inning of regulation.
But the Trojans' Josephine Thompson, with two outs and the bases loaded, hit a grand slam to tie the game.
The freshman also had three singles and a double.
In the bottom of the ninth, Manson's Megan Clausen singled home the winning run.
Pateros was to play Sunnyside Christian on May 2, with the winner advancing to the District 5/6/7 tournament May 4 at Kettle Falls High School.
The loser on Thursday was out.
Scores of those games have yet to be posted.
The top five teams Saturday advance to an eight-team District 5/6 and 7/9 tournament May 10-17 at fields in Spokane.
Waterville-Mansfield 12, Oroville 1
Waterville-Mansfield 12, Oroville 0
Lake Roosevelt 15, Manson 0
Lake Roosevelt 14, Manson 1
Oroville 20, Bridgeport 8
Liberty Bell 24, Soap Lake 4
Lake Roosevelt 14, Pateros 4
Lake Roosevelt 12, Waterville-Mansfield 4
Central Washington B League
Waterville-Mans. 8 7 9 10