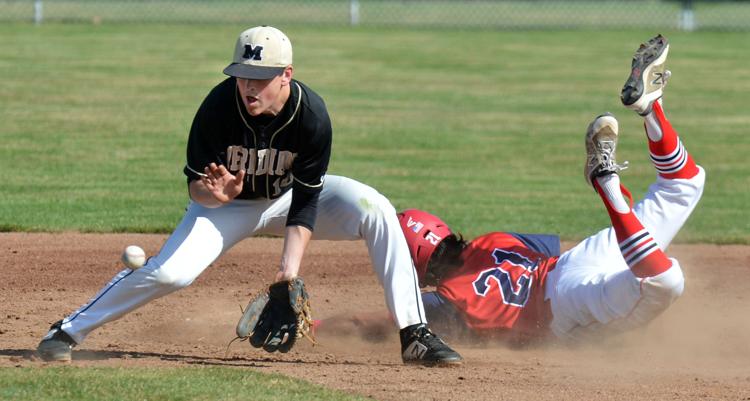 Game highlights action during spring break
BREWSTER - Brewster High School's baseball team limited visiting Meridian from Bellevue to three hits in a 5-1 non-league victory April 4.
"It was great to play some real solid competition," said Brewster coach Todd Phillips.
Since and opening day 5-3 win over Shelton on March 22, the Bears have outscored opponents 106-1 in the last five games that included four shutouts.
"Meridian did a great job of putting the ball in play and making us make plays," Phillips said. "A lot of defensive players got in on the action today. We were also able to see a few of the ways we could be exposed so we can address those in the coming weeks."
Brewster's Quincy Vassar got the win, pitching five innings, striking out six, walking one and giving up one earned run on two hits.
Conner Ashworth came on in relief for the final two innings, giving up one hit.
"Our pitchers were very efficient and pitched to contact, averaging just over 10 pitches per inning," Phillips said. "That is what I like to see at the end of the day."
Brewster jumped on the board with a run in the bottom of the first inning when Corey Jarrell tripled and scored on a single by Mason Kelly.
The Bears, getting great production from the bottom of the order, pushed across three runs in the bottom of the second inning.
No. 6 hitter Jorge Ramirez got the inning started with a single before stealing second and advancing to third on a ground ball by Cade Gebbers to the right side.
"Our situational hitting today was phenomenal and I thought our guys took great approaches at the plate," said Phillips. "I can only think of three bad approaches or swings throughout the entire game. That is a pretty great day at the plate."
Ramirez scored on a double by Kade Kelpman, who scored on a double by No. 9 hitter AJ Woodward.
Leadoff Joe Taylor got Woodward home with a single.
Meridian got its run in the top of the third when its first batter singled before scoring on a long single to centerfield.
Brewster added one more run in the bottom of the fourth inning.
Taylor doubled with two out and advanced to third on a balk before Jarrell walked.
"We were able to execute a double steal," said Phillips.
Meridian got Jarrell in a run down before throwing home unsuccessfully to catch Taylor. Jarrell then successfully stole second.
Second-place Brewster (4-0 league, 7-0 overall) hosts third-place Liberty Bell (2-1, 2-2) at 4:30 p.m. Wednesday, April 10.
Tonasket (5-0, 5-0) holds down first place by a half game.
Brewster (5) - Taylor 2-3, R, RBI, 2B, 2SB; Jarrell 1-2, R, BB, 3B, SB; Kelly 1-3, RBI; Q. Vassar 1-3, 2B; Ramirez 2-2, R, 2SB; Kelpman 1-3, R, RBI, 2B; Woodward 1-2, R, RBI, 2B.
MANSON – Okanogan edged Manson, 1-0, following a shootout in a non-league soccer match April 4.
The Bulldogs won the shootout 3-1 after four kickers.
In the first round, Okanogan's Josue Ramos scored before the Bulldogs' goalkeeper, Julian Hernandez, blocked a Manson shot.
Okanogan's Micah Downey scored, and the Trojans scored.
Leithan Gillespie scored for the Dawgs before Hernandez blocked another shot for the win.
"It was a very evenly played game," Okanogan coach Dean Klepec said. "Both teams had limited scoring opportunities. Most of the game was played between the goal boxes."
Okanogan is at Cashmere for a league match April 9.
Chelan 12, Granite Falls 11
Lake Roosevelt at Pateros
Waterville-Mansfield at Bridgeport
Waterville-Mansfield at Bridgeport
Pateros at Lake Roosevelt
Lake Roosevelt at Tonasket
2019 Washington Baseball Poll
(Compiled by Lem Elway; posted April 2)
10, Columbia-White Salmon
3, Bellevue Christian, 7-2
7, Seattle Christian, 5-2
10, Tonasket, 3-0 (is actually 2B)
MaxPreps shows Tonasket at 1A when it is actually 2B
Brewster was 6-0 as of March 2.