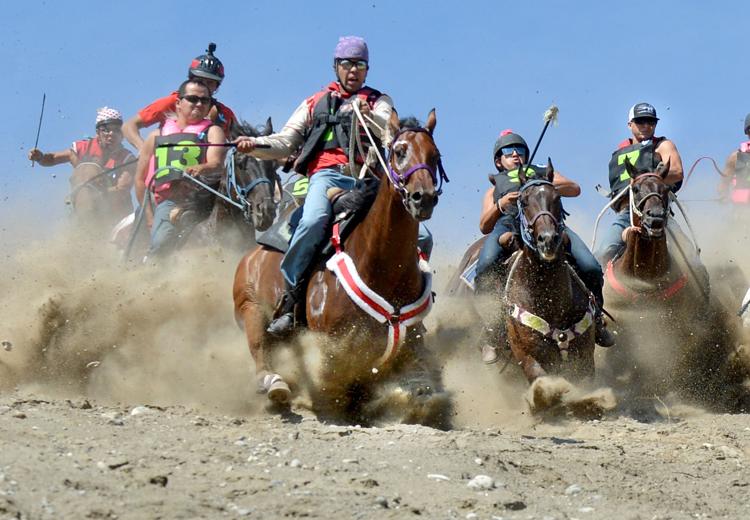 Final field determined following qualifying
OMAK – This year's final field for the 84th World-Famous Suicide Race will be determined this weekend.
The final qualification day and paying to be in the race runs 6-9 p.m. today, Saturday Aug. 3.
If more than 20 horses are paid to be in the race, there will be two runoff races at 3 p.m. and 5 p.m. Sunday.
If 20 or fewer horses pay to be in the race, those wanting to can compete in a jackpot race at 3 p.m. Sunday.
There will be a Calcutta for any of the races earlier in the day at the paddock area of East Side Park.
The field is limited by the Owners and Jockeys Association to 20 horses for races competed after each Omak Stampede rodeo, Aug. 8-11. The rodeo starts at 7 p.m. Thursday through Sunday and 1 p.m. Sunday.
After qualification July 28, there were 42 horses with 43 jockeys who had passed through at least the veterinary check , said Owners and Jockey Association President Pete Palmer.
There were 29 horses qualified for the horse race after completing a vet check plus swim and hill tests.
More horses could have qualified Friday and again today, Saturday.
But how many pay an entry fee determines how many horses truly want to race.
One big name horse needing to pass the hill test Friday or Saturday is Onyx, ridden by Oliver Pakootas and owned by Shawnnae and Oliver Pakootas. Onyx finished fourth in last year's overall point standings.
In all, there were nine horses needing to qualify on a hill test and another three needing to pass both the hill and swim tests going into the weekend.
As a side note, there are two sets of horses with the same names – two named Chief and two others named Mufasa.
As of July 28, horses having qualified (horse, jockey, owner) are:
Augustus, Loren Marchand, Loren Marchand, Mike and Sheri Jones
Black Shay, Riley Prescott, David Palmer
Chief, Josiah Desautel, Tim Holt
Chief, Conner Picking, Louis Castro
Dale, Mike Harry, John Pakootas
Digger, Danny Trevino, Danny Trevino
Dillinger, Henry LaCourse, Kevin LaCourse
Dirty Dan, Andrew Whiteman, Casey Nissen
Dollar, Kaden Desautel, Blake Marchand
Duranimal, Chance Carson, Marchand Stables
Eagle Boy, Scott Abrahamson, Scott Abrahamson
Edgar, Gib Seymour/Blaine, Cole Seymour
Gimmesome, BeauDeen Adolph, George Marchand
Houdini, Jim Best, Jim Best/Ivory Ford
Ice, Alex McCraigie/Matt P, Blake Marchand
Jackpot, Edward Marchand, Bronson Peterson
Jake, Tom Best/Rocky Timentwa/Tyler Peasley, Tom Best
Julio, Gabriel Moses, Annette Moses
Lonesome, Tarren Meusy, George Marchand
Mufasa, Andrew Whiteman, Jonathan Abrahamson
Mufasa, Steven Ford, Zane Marchand
Omaha, Jason Meusy, Jimmy Marchand
Redline, Jasper Abrahamson, Jake Taylor
Redman, Abe Grunlose, Abe Grunlose
Schitzo Lenny, Francis Marchand, Lacy and PJ Pakootas
Spade, Tyler Peasley, Mia Pakootas
Spirit, Josh Harry, Milo Pakootas
Thunder, Montana Pakootas, Casey Nissen
Wind Walker, Audrey Seymour, Audrey Seymour
2018 final overall standings:
(place, horse, owner, jockey, points)
1, Eagle Boy, Scott Abrahamson, Scott Abrahamson, 12 points.
2-3 tie, Jackpot, Bronson Peterson, Edward Marchand, 10 points. Black Shay, Jonathan Abrahamson/Babe Palmer, Riley Prescott, 10 points.
4, Onyx, Shawnnae and Oliver Pakootas, Oliver Pakootas, 8 points.
5, Lonesome, George Marchand, Tarren Meusy, 7 points.
6-7 tie, Spirit, Milo Pakootas Sr., Alex McCraigie, 3 points. Augustus, Loren Marchand/Mike and Sheri Jones, Loren Marchand, 3 points.
8-9 tie, Chief, Louie Castro, Conner Picking, 2 points. Spirit, Milo Pakootas Sr., Alex McCraigie, 2 points.
10-12 tie, Julio, Ralph Moses, Gabe Moses, 1 point. Blur, Tyler Peasley and Tim Holt, Tyler Peasley, 1 point. Digger, Daniel Trevino, Daniel Trevino, 1 point.