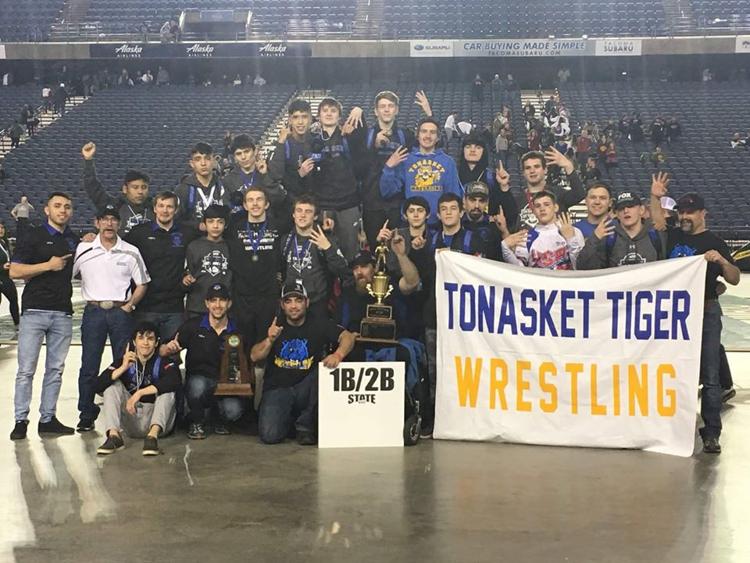 TACOMA — Tonasket took its fourth consecutive 2B wrestling state title Feb. 20-22 with 14 wrestlers competing at Mat Classic XXXII at the Tacoma Dome.
The Tigers finished with seven individual champions and a team total of 294. Liberty (Spangle) was second with 123 points.
Last year Tonasket had five champions and scored 348 points, setting a new state record point total for all classes. The Tigers held the previous record, set in 2018, at 286.5.
For the second time since five classifications were started for state wrestling, all five team titles went to eastern Washington teams. The first time was last year.
Only the girls' team title went to a western Washington school, White River.
"To come away with seven state champions in the first seven weight classes is definitely rare and might not have been done before," said coach Cole Denison. "I am very proud of all the wrestlers that made it through the season and contributed to a finish that we will never forget."
He also acknowledged his coach staff and support system.
"This couldn't be done without all of them," he said.
Lazaro Soria (106) took his weight class with a clean sweep of wins. He started with a bye round, then beat Aksel Espeland of Darrington by fall at 3:18, Isaac Rodriguez of Mabton by decision of 8-6 and Colton Jackson of Lake Roosevelt by decision of 10-8.
Waylon Thomas (113) also started with a bye round, then beat Steven Nicholsen of Friday Harbor by fall at 1:07, Bryan Dickerson of Life Christian Academy by fall at 4:47 and Johnny Ryan of Ritzville by major decision of 11-2, bringing it home as Tonasket's second gold medalist.
Waylon Wilson (120) stepped in with the third gold medal by starting with a bye round, then going on to sweep his bouts. Tristan Walker of Ilwaco went down by fall at 6:40, Mathew Hess of Mary Walker High School also went down by fall at 1:24 and finally Tony Rios of Kittitas was defeated by fall at 1:40.
Lane Bolich (126) brought in championship No. 4 with another clean sweep. He began with a bye round and defeated each of his opponents by fall: Porter Carman of Selkirk at 3:28, Sammy Manina of Northwest Christian at 3:19 and Ethan Hull of Reardan at 2:48.
Kevin Sanabria (132) took championship No. 5 with the initial bye round, then by beating Tristan Wood of Almira/Coulee-Hartline by decision of 6-1, Robert Reed of Concrete by fall at 5:15 and Justyce Acosta of Chewelah by decision of 6-1.
Colin Silverthorn (138) won his weight class by initially having a bye round, then beating Kolby Mozingo of Onalaska by fall at 1:32, Christophe Lake of Ilwaco by fall at 1:23 and Ian Campbell of Kalama by decision of 8-4.
Carsen Walten (145) won the sixth championship for the Tigers by passing through his bye round, beating Michael Small of Mary Walker High School by fall at 4:10, Clay Jeanneret of Chewelah by fall at 1:21 and Enrique Long of Tonasket by decision of 8-1.
Other placers of the day were Enrique Long (145), who took second by having a clean sweep until he met with his teammate, Carsen Walten, who won the weight class. He had a bye round first, then beat Trey Rego of Toledo by fall at 1:36, Alex Placenia of Davenport by decision of 11-9 and then fell to Walten.
Austin Brock (170) also took second place by beating Breadyn White of Pomeroy by a major decision of 13-5 and Jesse Turner of Liberty (Spangle) High School by fall at 5:57, but lost to Kaden Krouse of Chewelah in the championship round.
Rielan Bretz, Chris Rodriguez, Casson Sasse, Rayden Zabreznik, Granger Sutton and Jesus Najara also wrestled for the Tiger cause.
Lake Roosevelt sent seven wrestlers to the tournament with Colton Jackson bringing home a silver medal for the Raiders. Julian Lopez, Teyton Flores, Tyler Palmer, Sergio Garcia, Myka Boyd, Trevon Johnson and Joseph Tynan also wrestled for the Raiders at the Mat Classic.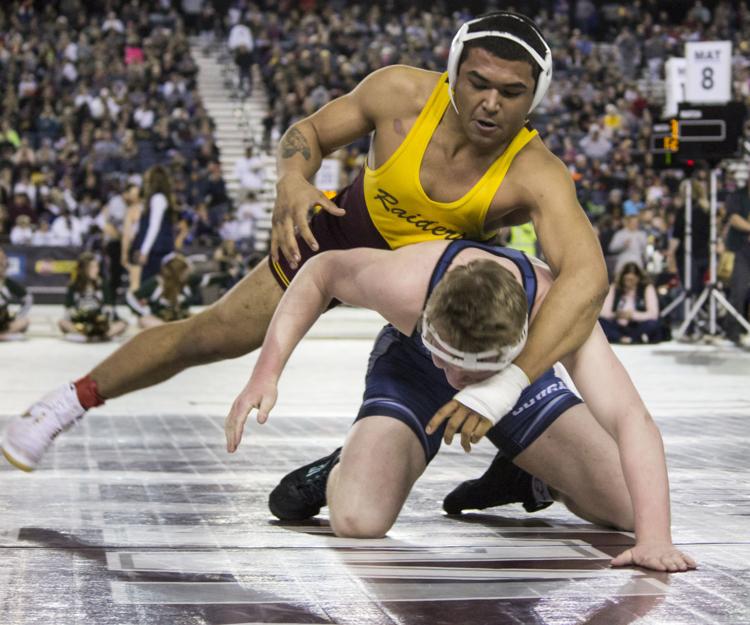 Oroville took eighth overall in team points because of Darian Range (152) who took second, Seth Baugher (160) who took third and Colby Guzman who took fifth. Oscar Cervantes also wrestled for the Hornets.
On the girls' side, Taralynn Fox (125) took fifth.
She beat Nicole Poussier of White River, then fell to Riley Aamold of Union. In the consolation bracket, she beat Alexandria Kauffman Temple, Olympia, and then Ebonney Bowhay of Mount Baker for the fifth-place medal.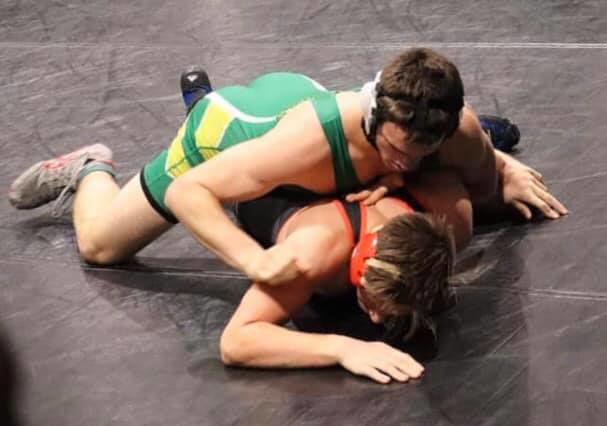 Liberty Bell, Brewster and Pateros each sent one wrestler.
Bodie Paul (152) of Liberty Bell brought home a silver medal, losing to Rylan Anderson of Reardan in the championship.
Brewster's Gabe Garcia (160) of Brewster took sixth place in his weight class. Nathaniel Hart of Pateros did not place.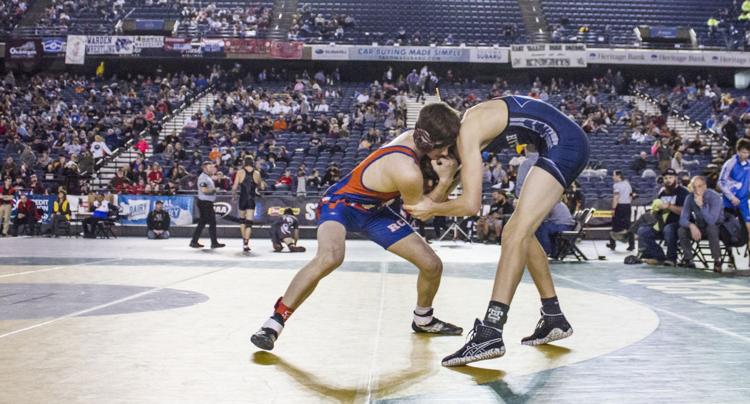 Republic/Curlew sent four: David Philips (106), who placed fourth; Damen Jager (132), who was sixth; Chad Doyen (138) and Nolan Haddenham (220). The latter two did not place.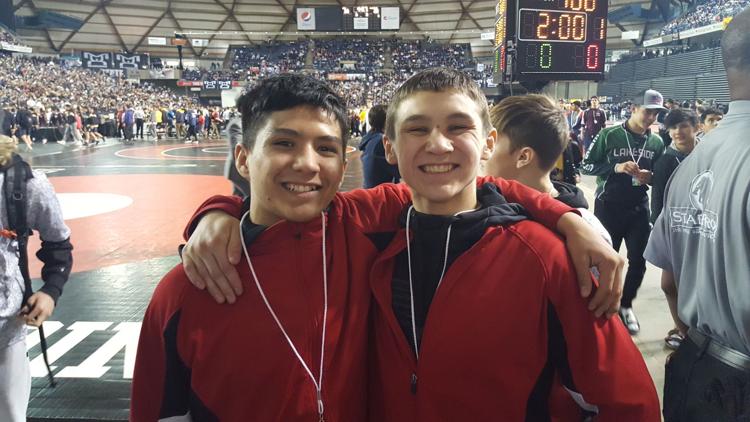 Bulldog and Pioneer grapplers place
TACOMA — Omak and Okanogan each had competitive wrestlers in the Mat Classic XXXII 1A division.
Omak left with two state placers Kessler Fjellman, who took third at 126, and Cayden Johnson who took eighth at 120.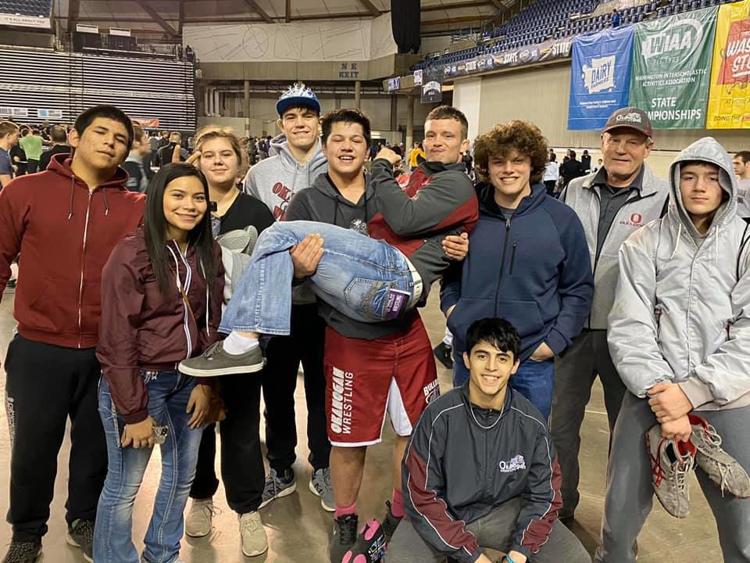 Okanogan's Makayla Duran placed sixth at 235 in the girls' competition, which included all school divisions.
For the Pioneers, Tameron Hall (106) started his Mat Classic competing against Oscar Alvarez of Granger, who went on to win the championship in his weight class, and lost by a fall at 1:23. He then lost to Conner Demorest of Forks by a major decision, 9-1.
Johnson (120) had a win in his first match against Aaron Lano of Montesano by fall at 4:22, then lost to Jonathan Magana of Connell by fall at 1:03. He then went on to beat Christophe Rathjich of Mount Baker by a decision of 13-8. He lost the next two matches to Aden Carl of Medical Lake by decision of 9-3 and Jose Toscano of Granger by a technical fall at 2:52. The final round against Toscano secured his eighth-place medal for the Pioneers.
Fjellman (126) started off with a loss to Abel Morales of Connell by decision of 6-2. He won his next four matches, securing his bronze medal. He defeated Drews Aposhyan of South Whidbey High School by a fall at 4:26, Parker Stinebaugh of Lakeside by decision of 9-4, Logan Hoffberger from Stevenson by decision of 6-4 and Yahir Morales of Connell in the medal round to take third by an injury at 4:02.
Fjellman is the highest-placing freshman wrestler in Pioneer history, said assistant coach Dallas Joe Jr.
Omak's Jermain Watkins-Clark (220) started off his mat classic with a win over Emilio Castillo of Connell by a major decision of 12-4. He lost his next two matches against Richard Rivas-Gutierrez, Vashon, by fall at 2:23 and to Cristobal Alejendre, Zillah, by fall at 0:52.
For Okanogan, Johnny Swartzel started off with a loss to Mason McBride of Granite Falls by a major decision of 11-3. He won his next bout against Manuel Torres of Granger by a decision of 3-0. Swartzel lost his third bout to Jared Garcia of Zillah by a decision of 4-3.
Sterling Ritch (182) started with a over Mateo Sanches of Montesano by fall at 1:53, but lost each of his next matches, first against Dylan Tracer of Port Townsend by decision of 11-6, then to Brent Hollatz of Montesano by decision of 2-1.
James Smith (220) also came out winning his first match against Cristobal Alejendre of Zillah by a decision of 11-8. He lost his next two matches, first to Cody Deason of Sultan by decision of 6-4 and then to Elisio Castillo of Connell by a decision of 2-1.
Duran made it to the medal rounds and brought home a sixth-place medal at 235.
She is the first Okanogan female wrestler ever to place at state.
Her competition started with a loss to Anna Schander of Stanwood by fall at 4:43. She won her next bouts, first over Regan Schaefli of Prairie by fall at 0:32, then over Evelyn Taylor of Bremerton by fall at 2:07, last over Aliyah Draisey of Kamiaken by decision, 5-2.
She lost her next two matches, first to Schander, who she met again in the consolation bracket, by fall at 3:47, and then to Frances Kava of Spanaway by fall at 1:23. Duran brought the only hardware home for the Bulldogs.
Team scoring — 25, Omak, 27. 41, Okanogan, 7.
120 – 8, Caden Johnson, Omak.
126 – 3, Kessler Fjellman, Omak.
Team scoring — 1, Tonasket, 294.5. 5, Lake Roosevelt, 77. 8, Oroville, 55. 17, Almira/Coulee-Hartline, 33. 19, Republic/Curlew, 32. 26, Liberty Bell, 20. 30, Brewster, 13. Pateros also competed, but scored no team points.
106 — 1, Lazaro Soria, Tonasket. 2, Colton Jackson, Lake Roosevelt. 4, David Phillips, Republic/Curlew.
113 — 1, Waylon Thomas, Tonasket. 5, Julien Lopez, Lake Roosevelt.
120 — 1, Waylon Wilson, Tonasket.
126 — 1, Lane Bolich, Tonasket. 5, Angel DePaz, Tonasket.
132 — 1, Kevin Sanabria, Tonasket. 3, Rielan Bretz, Tonasket. 6, Damen Jager, Republic/Curlew.
138 — 1, Colin Silverthorn, Tonasket. 6, Chris Rodriguez, Tonasket.
145 — 1, Carsen Walton, Tonasket. 2, Enrique Long, Tonasket.
152 — 2, Bodie Paul, Liberty Bell. 3, Darian Range, Oroville.
160 — 3, Seth Baugher, Oroville. 6, Gabe Garcia, Brewster.
170 — 2, Austin Brock, Tonasket. 5, Colby Guzman, Oroville.
182 — 3, Carson Sasse, Tonasket. 6, Sergio Galicia, Lake Roosevelt.
195 — 5, Myka Boyd, Lake Roosevelt.
220 — 5, Trevon Johnson, Lake Roosevelt.
285 — 3, Will Hahn, Almira/Coulee-Hartline.
(All classifications combined)
Team scoring — 48, Oroville, 13. 55, Okanogan, 10.
125 — 5, Taralynn Fox, Oroville.
235 — 6, Makayla Duran, Okanogan.