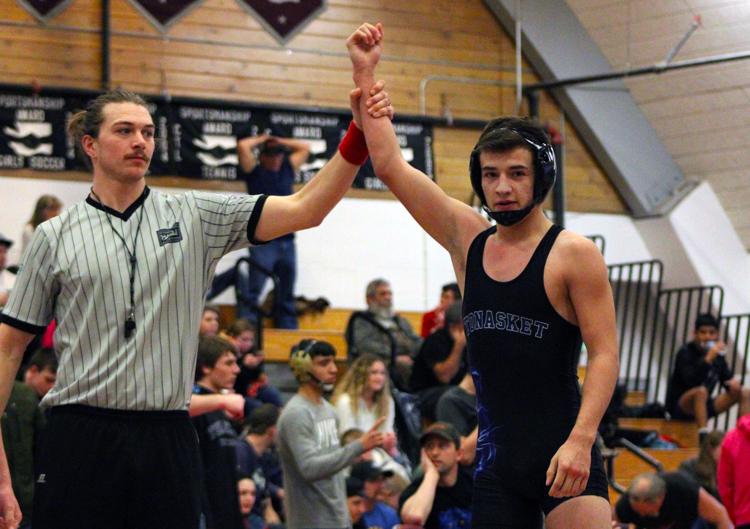 OKANOGAN — Wrestling teams from all over north central Washington gathered on Feb. 1 for the 16th annual Okanogan Invitational Tournament in Dawson Gym.
The gym was loud and packed as wrestlers competed on three mats at once. Brewster/Pateros, Omak, Okanogan, Cashmere, Tonasket, Cascade, Liberty Bell, Eastmont, Chelan, and Oroville attended.
Tonasket won the tournament by almost 100 points, 247. Cascade was second at 160.5.
Okanogan Invitational Tournament — 1, Tonasket, 247. 2, Cascade, 160.5. 3, Eastmont, 158. 4, Oroville, 149.5. 5, Omak, 115.5. 6, Cashmere, 110. 7, Okanogan, 96. 8, Chelan, 89.5. 9, Brewster/Pateros, 82. 10, Liberty Bell, 70. 11, Lake Roosevelt, 22.
For Oroville, two seniors — Colby Guzman (170) and Seth Baugher (160) — were undefeated throughout the tournament and came away with gold medals. The Hornets also won four silver medals, Darian Range (152), Melinda Clark (135), Wyatt Sherrer (106) and Miguel Quezeda (120).
No other schools reported results.
The league match for the Central Washington 2B league will be Feb. 8 in Tonasket, and the regional tournament will be Feb. 15 in Oroville. The following Friday and Saturday, the top three placers from the regional tournament will compete in the Tacoma Dome for the state title.
Pioneers lock down league title
CHELAN — The Omak Wrecking Crew wrestling team took a win on the road and first place in the Caribou Trail League Thursday, Jan. 30, at a double dual meet in Chelan.
The Pioneer wrestlers set themselves up throughout the season for the win, ending with a 5-1 record. The lone loss was to Cashmere.
The Pioneers needed only one team win to secure the league title, and Okanogan was the first team on the list. The Pioneers finished that match with a 47-27 victory over the Bulldogs.
The second match brought Cashmere. Omak dominated with a 48-24 win.
GRAND COULEE — Omak traveled to Lake Roosevelt on Friday, Jan. 31, for a non-league match.
The Pioneers' few missing weight classes were filled with wrestlers from Wilbur-Creston. The matchups were against Kittitas and Lake Roosevelt.
Against Kittitas, Omak's Tameron Hall (113) lost to Jonathan Jones by dec. 10-0. Kayden Cate (120) lost to Tony Rios by maj. dec. 11-2. Caden Johnson (126) defeated Jonathan Marin by fall at 3:28. Kessler Fjellman (132) defeated Ridge Essman by fall at 0:59. Derik Gomis (138) lost to Josiah Skindzier by fall at 0:48. Tony Marchand (152) defeated Thomas Steely by maj. dec. 14-5. Jermain Watkins-Clark (220) defeated Brody Corrigan by fall at 1:57. Leighton Jenson (285) won by forfeit.
The same day against Lake Roosevelt, Hall (113) defeated Everett Jolley by fall at 1:44. Cate (120) defeated Teton Flores by fall at 3:07. Johnson (126) defeated CJ Arcasa by fall at 5:55. Fjellman (132) defeated Kyler Kuehne by fall at 3:16. Gomis (138) lost to Landon Kohn by fall at 3:24. Marchand (152) defeated Cole Harding by fall at 1:11. Watkins-Clark (220) defeated Brody Corrigan by fall at 1:57. Jensen (285) defeated Joseph Tynan by fall at 5:08.
With help from Wilbur-Creston, the Pioneers pulled out wins in both dual matches. Head-to-head, the Wrecking Crew won more matches against both teams than any other competitors.
OMAK — The Pioneers celebrated seniors on Jan. 28 with Liberty Bell and Oroville in attendance.
Honorees were Anthony Cardona, Tony Marchand and Mason Matt.
"Mason did not get a match on senior night but was able to come out the next evening and secure a pin over Cashmere," said Omak coach Dean Agee. "Although the night did not go as the seniors would have liked, they wrestled well and made us all proud."
Hornet wrestlers were represented by Wyatt Sherrer (106) and Matt Donaglia (113), who led off with a pin and a slim decision, respectively. Captain Darian Range (152) and Seth Baugher (160) added wins by decision for the Hornet cause.
"The highlight matchup of the night was a big win for Seth Bauger over No. 2 in the state-ranked Bodie Paul of Liberty Bell," said Hornet coach Chuck Ricevuto. "Seth was dominant on his feet with two take-downs and was impossible to hold down, scoring two escapes.
"A great match for the crowd from two of the very best wrestlers in the state."
OKANOGAN — The Bulldogs not only recognized seniors on Tuesday Jan. 28, they recognized head coach Andy Knutson for 30 years of coaching the team.
Knutson, a shop teacher, is retiring at the end of the school year.
Seniors recognized were Jose Fonseca, Bryce Dixon, Jasmine Medina and Chastidy Lambert. Each received an Okanogan wrestling hat and a corsage to pin on their mothers.
The Bulldogs have a tradition of signing the mat on senior night to recognize the end of their time on the team, and coach Knutson signed as well. He signed it "Do your best," a common phrase heard from him throughout his years at Okanogan.
Assistant coach Lee Morrison surprised Knutson by having his three children, Audrey, Myles and Kayleen, flying in from all over the United States. Knutson's wife, Pam, also attended.
Knutson was honored with a plaque for the gym that will hang for years to come.
"Andy Knutson has been a coach and inspiration not only to myself, but to hundreds of student athletes throughout his 30 years as an Okanogan Bulldog head coach," said Morrison. "I've been fortunate enough to know Andy on and off the wrestling mat, and as much as he loves the sport, I know that he will equally love his future off the mat as well.
"As a teacher and coach, we spend what I believe to be a tremendous amount of time away from our family. It's time for him to catch up, not only as a husband, but a father and now grandfather as well.
"His best years are ahead of him and I hope he's able to fully enjoy them. Thanks, Andy, for being a mentor to me and so many more. It's been a pleasure having you in my corner and others alike. You will truly be missed."
Kevin Daling, Okanogan athletic director, shared in the sentiments of the evening: "I would like to thank Coach Knutson for his dedication and commitment to Okanogan wrestling for the last 30 years. He will be dearly missed."