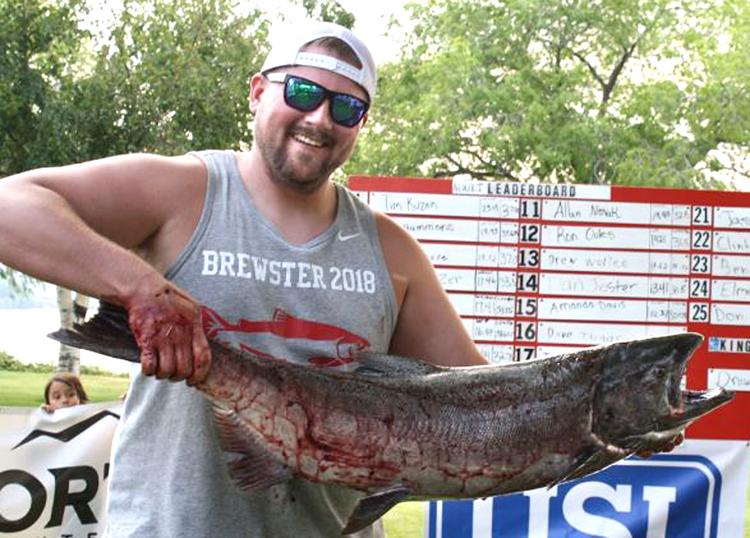 Condon sinks men's golf title; hospital offers free sports physicals
The 14th annual Brewster King Salmon Derby returns Friday to Sunday, Aug. 2-4, in the Columbia (with a restriction) River.
A limited number of entries were taken, with ticket sales ending at noon Wednesday, July 31. You can get more information by calling 509-429-9309.
The state Department of Fish and Wildlife said July 24 there will be no fishing above the Highway 17 bridge at Bridgeport.
Also this year there will be no kids sockeye or sockeye side pots.
Prize Pots will be based on ticket sales unless we get a minimum of 200 anglers.
Cash will be awarded to the top 10 in the adult division, the top 10 in youth and top five in child division.
The derby is now a member of the Northwest Salmon Derby Series (www.nwsalmonderbyseries.com), which includes 15 derbies.
An entry at Brewster's derby enters you into the grand prize drawing with the derby series, where the winner will be drawn in early November.
That grand prize is a $65,000 fully-loaded KingFisher 2025 Falcon Series boat powered with a Honda 150 horsepower engine and 9.9 horsepower trolling motor on an EZ-loader galvanized trailer.
Brewster derby side pots are sold at the fishing seminar and derby headquarters.
A skippers meeting is planned for 6 p.m. Thursday, Aug. 1, at the Columbia Cove Park next to the boat launch.
You can pick up tickets, boat marker, wrist bands plus do side pots, raffles and purchase T-Shirts and super baits.
All Brewster King Salmon Derby profits are donated to local charities such as the Brewster Boys and Girls Club, Brewster Senior Center and the Coastal Conservation Association of Washington.
Last year's derby drew 208 entrants with 81 boats. There were also 17 entered in youth and 10 entries in child.
Catches last year included 105 fish on Friday (86 Chinook, 19 sockeye), 99 on Saturday (97 Chinook, two sockeye) and 49 on Sunday (47 Chinook, two sockeye).
There were 247 anglers in 2017.
Notice of Brewster's Derby being a go came on the heels of the state Department of Fish and Wildlife saying the section of the Columbia River was open to Chinook salmon fishing as of Thursday, Aug. 1, in the section above the Highway 173 bridge in Brewster to the Highway 17 bridge near Bridgeport.
The section was opened due to the return of hatchery summer Chinook above Wells Dam were found to be sufficient to allow for recreational harvest.
There is a minimum length of 12 inches and a daily limit of six Chinook salmon. No more than two hatchery adult Chinook may be retained as part of the daily limit. Release wild adult Chinook, all sockeye, and all Coho.
Use of barbless hooks is voluntary. Anglers may fish with two poles with a valid two-pole endorsement.
The state will be monitoring harvest and may close the season early if necessary.
Also, Colville Confederated Tribes will be purse seining to collect salmon for broodstock and ceremonial and subsistence purposes. Anglers are asked to be respectful of these activities conducted by the tribe.
The Chief Joseph Hatchery releases millions of Chinook that contribute to recreational fisheries in the Columbia River.
Brian Condon withstood a couple strong challengers to claim the men's championship last weekend at the Okanogan Valley Golf Course.
"At the completion of play we have a new champion in Brian Condon," said club professional Bill Sproule, who said 20 men and three juniors started play Saturday morning. "Brian outlasted Brian Lewis by three strokes with defending champ Mike Bordner another three strokes back."
This year's event was shortened to 36 holes versus the 72 holes in the past.
"Jim Brucker took home the honors in the net and seniors division by nine strokes over Bill Neely. In the junior category, Brady Tonasket finished first by seven strokes over Destyn Markel."
The club's next even is slated to be the Conconully Grubstake Open, tentatively set for Aug. 17.
Gross – 1, Brian Condon, 74-77, 151. 2, Brian Lewis, 74-80, 154. 3, Mike Bordner, 80-77, 157.
Net – 1, Jim Brucker, 69-63, 132. 2, Bill Neely, 74-67, 141. 3, Jacque Crago, 75-67, 142.
Juniors – 1, Brady Tonasket, 101-89, 190. 2, Destyn Markel, 99-98, 197.
Free sports physicals to incoming student athletes will offered by Three Rivers Family Medicine on Aug. 6 at the Brewster Boys and Girls Club, 601 W. Cliff Ave.
The physicals are on a walk-in, first-come, first-serve basis from 5-7 p.m.
Health insurance will not be billed for this service.
Clinic provider Debbie Cavalieri, ARNP, will be performing the sports physicals.
"Students should bring any paperwork that the school district needs and have their guardian present with them," said the hospital's Business Development Coordinator and Public Records Officer Jennifer Best. "If no guardian can be present, we will need a signed permission slip and a way to contact their guardian at the time of the physicals; otherwise, we won't be able to provide a physical for that student."
The physicals are offered in conjunction with the annual National Night Out hosted by the Brewster Police Department.
Washington State Parks was letting know golfers that several top-notch courses are located near and even in state parks.
They include Alta Lake Golf Resort near Alta Lake State Park out of Pateros, Bear Creek Golf Course between Winthrop and Twisp near Pearrygin Lake State Park, and Desert Canyon Golf Resort near Daroga State Park,