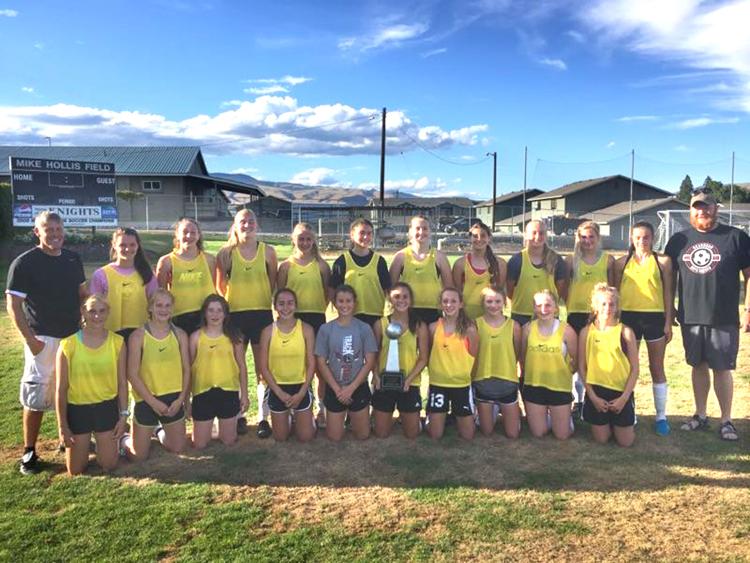 Riverdogs take one out of six games
Free vet checks and qualifications for this year's World-Famous Suicide Race begin the weekend of July 20-21.
Vet checks on Saturday run from 5-6 p.m. Qualification follows from 6-9 p.m.
On Sunday, the last of the free vet checks is 4-5 p.m., followed by qualification from 5-8 p.m.
Qualification with the same times resumes July 27-28.
Entries open Friday, Aug. 2, at 6 p.m. Qualification runs 6-9 p.m.
Entries close at 8 p.m. Saturday, Aug. 3. Qualification runs 5-8 p.m.
A meeting follows Sunday's last qualifying round to determine if there should be an elimination races or a jackpot race.
If more than 20 horses have qualified and paid, runoffs are 3 p.m. and 5 p.m. Sunday, Aug. 4.
There will be a vet check from 1-2 p.m.
Calcutta follows vet checks in the horse area. Everyone is welcome to participate.
The World-Famous Suicide Race follows each performance of the Omak Stampede rodeo Aug. 8-11.
The Columbia Basin Senior Riverdogs summer baseball team went 1-4-1 over six games Friday through Sunday at Ephrata's Johnson-O'Brien Field.
The Riverdogs opened the series strong, topping the Northwest Blaze 18U Collegiate team 8-3 on July 5.
Joe Taylor of Brewster, who played second base and led off, went 1-4 with a run, two RBI and a stolen base.
Dalton Kentner of Almira/Coulee-Hartline, who played left field, went 1-2 with a run and a walk.
In the nightcap Friday, Chaffey Baseball got the first of two shutouts on the weekend, a 10-0 one-hitter in four innings.
Taylor came on for relief in the second inning with the Riverdogs down 10-0. He got the final out and pitched the next two innings. He finished with three strikeouts, a walk, one hit and no earned runs.
On Saturday, Northwest Blaze won 17-12 in the morning and Chaffey Baseball prevailed 5-3 in the afternoon.
In the first game, Taylor went 1-3 with two walks and scored a run.
Kentner was 2-4 with a double, run and two RBI.
The Riverdogs finished with 10 hits and six errors.
In the second game, Taylor was 1-4 with an RBI.
Chase Fingar of Okanogan went 1-2 with a run, walk and stolen base.
On Sunday, Chaffey blanked the Riverdogs, 6-0, and the Riverdogs tied Northwest Blaze six-all after eight innings in the afternoon game.
In the morning, the Riverdogs mustered only two hits while both teams committed no errors.
In the afternoon tie, Taylor went 0-5 in leadoff, but got on base three times – twice on errors and once on a fielder's choice.
He made the Blaze pay by scoring twice.
Kentner went 1-3 and scored once.
Riverdogs outhit the Blaze, 9-7, but committed eight errors to only three for the 18U collegiate team.
The Riverdogs pitches gave up one earned run while the Blaze yielded three earned runs.
The 10th annual Chesaw Hot August Nights car and truck show returns from 8 a.m. to 3 p.m. Saturday, Aug. 24.
There is a cost to register, which starts at 8 a.m.
There will be people's choice awards.
If you want to be a vendor call Bonnie at 509-485-2268 (no charge to be a vendor).
The Grant County Sheriff's Department raised $77,000 in a golf tournament to be used for scholarships and Behind the Badge Foundation.
Grant County Sheriff Tom Jones presented a $2,000 check to Corinne Isaak of the Columbia Basin Foundation to be added to the John Bernard Memorial Scholarship Fund.
Deputy Sheriff John Bernard died in the line of duty on January 3, 2010.
In addition, a check for $75,000 was presented to the Behind the Badge Foundation to help continue its mission of assisting families of law enforcement officers killed or seriously injured in the line of duty.
The funds were raised during the John Bernard Memorial Golf Tournament this past April.
"Thank you to all of the golf tournament sponsors for you most generous support," said Jones.
Page B2 was done last Monday morning before Okanogan Bullfrogs swim coach Dean Klepec got back to me about the relay invitational July 6 at Okanogan.
"It was a relay invitational," Klepec said of the four-team meet. "We had many different relays throughout, but sometimes teams have too many or not enough swimmers to fill a relay. They added individual events so that swimmers that were not able to get into all of the relays could still swim throughout the day."
Shane Proctor of Grand Coulee Dam scored a 75 in saddle bronc riding at Oregon's St. Paul Rodeo on July 2.