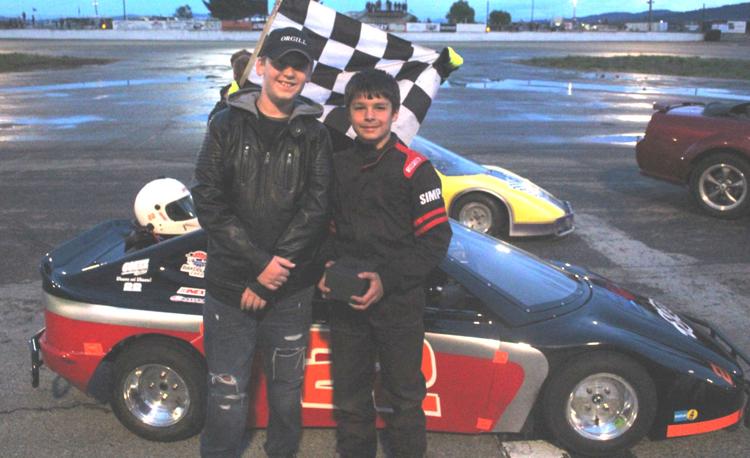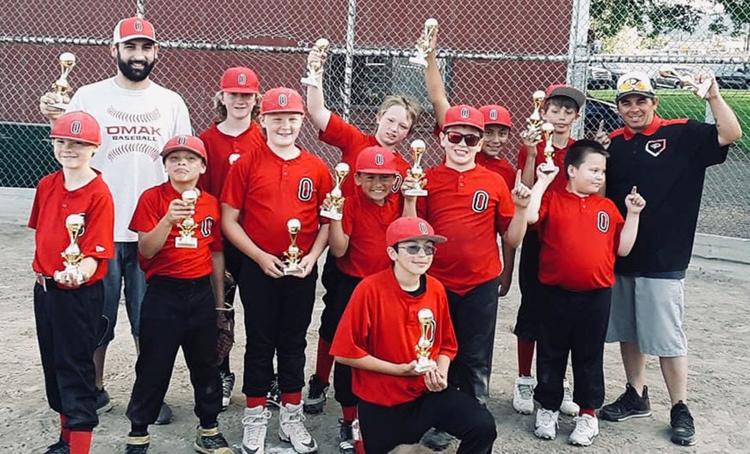 Teams capture Hoopfest titles
Evan Goetz, who is heading into the sixth grade in Okanogan, won all three main events he's entered at Stateline Speedway in Post Falls, Idaho.
Goetz, 11, competes with a bandolero-type of car, which has a 30-horsepower sealed Briggs and Stratton engine that reaches speeds of about 55 mph, depending on which restrictor plate is being use.
Bandolero racing is a nationally sanctioned class through INEX (INEXpensive way for people to get into racing, into three car types - legend, bandolero and roadster, and each separated by age and experience).
A bandolero-car weighs 750 pounds with the driver.
Main events vary from 15 to 25 laps.
Goetz, whose most recent win was June 8, is the season points leader at Stateline.
INEX is the third largest short track sanctioning body behind NASCAR Weekly Racing and International Motor Contest Association (IMCA) with more than 3,500 members.
INEX annually sanctions more than 2,500 races at more than 300 different tracks throughout the world.
Other tracks include Atlanta Motor Speedway, Charlotte Motor Speedway, New Hampshire Motor Speedway, Las Vegas Motor Speedway, Texas Motor Speedway, Sonoma Raceway and Lincoln Speedway.
At least two teams with basketball players from this area went undefeated and won their brackets at the annual 3-on-3 Hoopfest in Spokane last weekend.
The Cats, composed of Okanogan County players Cameron St. Pierre, Soarin Marchand, Tre Marchand and Adam George, won a high school male bracket by going 5-0.
Just Got W It with Lake Roosevelt's Kayla St. Pierre, Cameron St. Pierre, Raycee Marchand and Xavier Brown went 5-0 to win an adult co-ed bracket.
I am sure there are many more teams from our area – let me know and I will put them in my column.
Here is what I found searching for towns in our area or names of players I know who might have played in the tournament.
Brewster Bears - Addyson Boesel, Jody Wyss, Celeste Garcia, Katia Terrones, second, 4-2.
Brewster Cattle - Griffin Freels, Jeni Freels, Wade Gebbers, Kristina Gebbers, 2-2.
Cats - Cameron St. Pierre, Soarin Marchand, Tre Marchand, Adam George, champion, 5-0.
Dennis - Bob Dennis, William Womer, Kevin Rosenbaum, Edwin Marchand, 1-2.
East Omak - Williams Sellars, Antonio Rowe, Lawrence Harland, Edward Wolfe, 1-2.
Just Got W It - Kayla St. Pierre, Cameron St. Pierre, Raycee Marchand, Xavier Brown, champion, 5-0.
LR - Cora Nicholson, Halle Picard, Cecillia Dick, Phenyx Marchand, 1-2.
Omak Grizzlies - Kloee Elsberg, Ceciley Albert, Melody Moses, Sheshoka Marchand, 2-2.
Omak Baillers - Jermain Watkins, Gabe Lowry, Kortney Keaton, Zalissa Santo, second, 4-2.
Omak Fireballz - Sage Boyd, Bryson Buchanan, Eric Timentwa, Kason Timentwa, consolation winner, 2-2.
Timber Quest - Mathew Shiflett, John Hathaway, Joe Fata, Aaron Renford, 1-2.
Tonasket - Ferran Tonasket, Kyle Stensgar, Marlo Tonasket, Joe Camel, 3-2.
Tribal Council - Katannah Marchand, Ashlynn Looney, Luis Ortega, Mylo Jones, 2-2.
The 2019-2020 Washington Sport Fishing Rules pamphlet is now available from the state Department of Fish and Wildlife.
The new pamphlet, which became effective July 1 and runs through June 30 next year, features rules and regulations for hundreds of lakes, rivers, and marine areas around the state, as well as species including trout, salmon, shellfish, sturgeon and many more.
Some major changes include the Columbia River salmon/steelhead endorsement that, starting July 1, will no longer be required to fish for salmon or steelhead on the Columbia River and its tributaries.
Another change has barbless hooks being no longer required when fishing for salmon and steelhead in the Columbia River main stem from the mouth (Buoy 10) to Chief Joseph Dam, and all tributaries from the mouth to McNary Dam.
The Columbia Basin Senior Riverdogs baseball team stayed very busy last week, going 4-1-1.
Although not playing last week, area players on the Riverdogs earlier this summer included Chase Fingar of Okanogan, Joe Taylor Brewster and Dalton Kentner of Almira/Coulee-Hartline.
The Riverdogs, which played last week's games in Vancouver, tied at 2-all with the Northwest Bandits after eight innings July 27.
The very even game saw both teams finish with five hits and one error.
In the nightcap Thursday, the Riverdogs prevailed 6-4 over Northwest Star Academy Roadrunners.
On Friday morning, the Riverdogs came from behind with two runs in the bottom of the seventh to tie the game before winning 4-3 in eight innings over Northwest Futures.
In an evening game, the Riverdogs won 10-3 over the Seattle Braves.
On Friday evening, the Riverdogs dispatched River City Athletics U16, 8-5.
On Sunday, the Idaho Cubs won 3-0 over the Riverdogs.
Next up are games against Northwest Blaze and Chafey Baseball on July 5-6 in Ephrata.
Erik Bjornsen of Winthrop won the men's division of the 2019 Robert Spurr Memorial Hill Climb (Bird Ridge) on June 16 at Girdwood, Alaska.
Bjornsen and the women's winner, Rosie Frankowski, had just gotten back from glacier training for cross country skiing.
"I don't know, I tried to start hard, but I was lacking the motivation midway and could feel the 250 miles of skiing that I put in last week," Bjornsen in a KTTU.com story. "It was fun to go out and push hard but kinda trying to save a little bit for Mount Marathon."
The approximate three-mile trail, which Bjornsen covered in 37 minutes, 28 seconds, starts just above sea level and extends well beyond the tree line southeast of Anchorage and along the Turnagain Arm of Cook Inlet.
Frankowski finished in 43:53.
Shane Proctor of Grand Coulee tied for sixth with a score of 83 in saddle bronc riding at the Buffalo Bill Rodeo on June 13 in North Platte, Neb.
He took fourth with a score of 81.5 on April 19 during the three-day Red Bluff Round-Up in California.
Proctor is ranked No. 47 as of June 27 in the PRCA saddle bronc standings with winnings of $11,887.98.
For Indian Relay fans, mark your calendar for the Championship of Champions Indian Relay Races Sept. 20-22 at the Walla Walla Fairgrounds.
The races, presented by the Colville Confederated Tribes, start at 6:30 p.m. Friday and 2 p.m. on Saturday and Sunday.
The final Omak High School bulletin of the year June 12 listed next season's cheerleaders.
Fall cheerleaders will include Abby Levanel (co-captain), Mayra Silva (co-captain), Annika Diamond, Aspen Todd, Tanya Ibarra, Hailey White, Tamra Linowitch, Aspen Hoover, Macy Routien and Chloe Levi.
Winter cheerleaders include Annika Diamond (co-captain), Aspen Todd (co-captain), Mayra Silva, Tanya Ibarra, Tamra Linowitch, Hailey White, Chloe Levi, Macy Routien, Olivia Nguyen and Aspen Hoover.
The Colville tribes' Resident Fish Hatchery staff released around 300 adipose fin-clipped rainbow trout that weighed an average of two pounds each June 12 in the Nespelem River.
Another 100 similar fish were stocked evenly into Lost and Hall creeks the week of June 17.
The fish can also be identified by the absence of an adipose fin.
Anglers who retain fish are encouraged to contact the Colville Confederated Tribes' Resident Fish Hatchery at 509-686-9330 or the hatchery monitoring and evaluation project biologist at 509-422-4771, and provide information related to the catch. This includes date, location, length and the approximate size.
The information assists biologist in managing annual fish releases in reservation waters.
Anglers continue to enjoy a white sturgeon season on Lake Roosevelt.
The season, which opened June 15, is for a species native to the Columbia River that is known for its large size – adults grow in excess of 10 feet and weight hundreds of pounds.
"This is the third year in a row that anglers have the opportunity to fish for white sturgeon in Lake Roosevelt," said Chris Donley, state Department of Fish and Wildlife Region 1 fish program manager. "This is a great opportunity for anglers to get out and pursue one of the greatest native sport fish in Washington."
White sturgeon hatchery programs started in the early 2000s in British Columbia and Washington state. Between both jurisdictions, stocking ranged from 2,000 to 12,000 juvenile sturgeon per year from 2001 to 2010.
"Survival of hatchery-produced juvenile sturgeon was higher than anticipated," Donley said. "As a result there is a surplus of hatchery-origin sturgeon available for harvest from Lake Roosevelt."
Anglers will be able to fish for them from Grand Coulee Dam to the China Bend boat ramp (including the Spokane River from the Highway 25 bridge upstream to 400 feet below Little Falls Dam, Colville River upstream to Meyers Falls and the Kettle River upstream to Barstow bridge).
The daily limit is one sturgeon and the annual limit is two, although anglers may continue to catch and release fish after reaching daily and annual limits.
Legal size to keep a white sturgeon is between 53 and 63 inches from the tip of the snout to the middle of the fork in the tail. All harvested sturgeon must be recorded on a catch record card (catch code 549).
Anglers are asked to use heavy gear (50-pound test mainline and leader at a minimum) and use 14/0 hooks or smaller to avoid catching or injuring large wild adult sturgeon. Two-pole fishing is allowed but night fishing is not.
The white sturgeon season will be open until further notice.
Season dates, times, slot limits, daily limits and annual limits may be adjusted to ensure that a sustainable population of sturgeon is maintained in Lake Roosevelt.