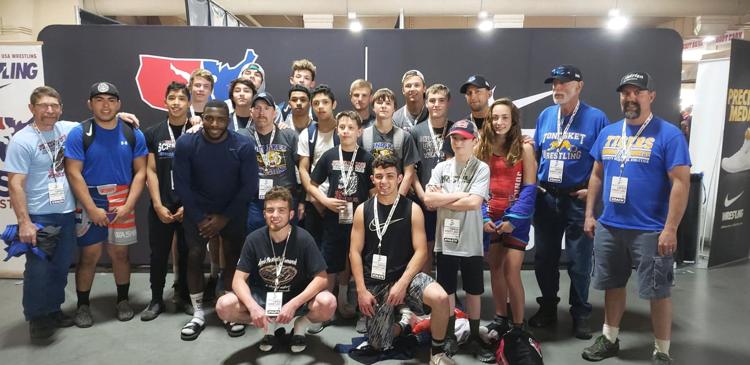 Wilson, Markel are April's athletes
The Junkyard Dogs wrestling team based out of Tonasket competed at a five-day Western Regional tournament earlier this month in Las Vegas, Nev.
Wrestlers competed in three different styles against others from around the country.
"Most wrestlers came away with at least one win, several came away with a few wins and Carson Sasse took fourth in freestyle to qualify for nationals," said an entry for Tonasket Tiger Wrestling on Facebook. "All who went came away with a great experience that will have a huge impact on their continuing wrestling career."
Others competing included Kase Denison, Keenan Denison, Aaron Polito, Cailee Denison, Waylon Wilson, Waylon Thomas, Kevin Sanabria, Lane Bolich, Colin Silverthorn, Jose Cortez, Rielan Bretz, Dawson Bretz, Austin Wood, Garrett Wilson and Isaac Gomez.
"I am very proud of all the extra hard work these guys put in, it will definitely pay off for them," said coach Cole Denison on Facebook. "This would not have been possible without the amazing support that our wrestling program has. Thanks to our sponsors, every wrestler who wanted to go was able to."
Emma Wilson on the Omak tennis team and Destyn Markel on the Pioneer golf team were named the Omak student athletes of the month for April.
"Emma is a hard worker and is always very positive," Omak tennis coach Lance O'Dell said. "Her positive attitude carries over to her teammates each and every day - practice and matches. She encourages others to do their best.
"With her great attitude and work ethic, she has improved tremendously this season and has become one of our most consistent doubles players on the girls' team. She has this same attitude in the classroom where she is one of Omak's top academic students. She is a true leader on and off the court."
"Destyn has had a pretty successful month of April," Omak golf coach Nick Popelier.
Markel finished first for Omak at Cascade, second overall (14 golfers).
He was first for the Pioneers and first overall (10 golfers) hosting Cascade.
Against Okanogan he was second for Omak, seventh overall (13 golfers).
Against Okanogan with Omak as host Markel was first for the Pioneers, second overall (13 golfers).
"Destyn is a very positive young man that is well liked across the league by his competitors and their coaches," said Popelier.
The District 6 golf tournament was planned for May 14 at Chelan.
The top seven boys and top four girls earn berths to state May 21-22.
State 1B/2B boys and 1B/2B/1A girls will be at Tumwater Valley Golf Course.
State 1A boys is at Olympia Country and Golf Club.
Miles Grossberg of Chelan, a sophomore on the Goats golf team, was named the WIAA/Wendy's Athlete of the Week for 1A boys for week 34, April 28-May 4.
Grossberg took advantage of great conditions to fire a one-under par 68 in the Jack Barnes Invitational at the Three Lakes Golf Course in Malaga.
Nominations are open to athletic administrators, coaches, fans and members of the media, with a weekly deadline of Tuesday at noon.
The Okanogan County Junior Rodeo will be competed June 15 and 16 at the Omak Stampede Arena.
Gates open at 9 a.m. each day.
There is a fee for spectators to enter.
Boyd Walton and Valerie Murray had a round robin during Tuesday night pinochle at the Eagles in Okanogan.
High scores: 7,030, Vicki Harland. 6,730, Norma Lawson. 6,690, Boyd Walton.
Partners with 300 pinochle: Tommye Robbins and Millie Jewell; Tommye Robbins and Buck Workman; Mike Serles and Boyd Walton; Norma Lawson and Vicki Harlan.
A Hooked On Kids fishing derby is planned for June 8 at Bridgeport's Marina Park Lagoon.
Sign-up for those age 4-14 starts at 8 a.m.
Pre-registration can be done at city hall.
There is a small registration fee.
The derby, hosted by the City of Bridgeport, runs through 3 p.m.
There is a 10-fish limit.
Washington State and Canadian biologists teamed up in late April with a tribe, public utility district, conservation district and other agencies and groups to capture, fit with transmitters, and relocate 40 sharp-tailed grouse from habitat in British Columbia to Okanogan County, including on privately owned land.
Sharp-tailed grouse once numbered more than 100,000 in Washington, but conversion of land to other uses reduced its habitat to less than 5 percent of what it once was.