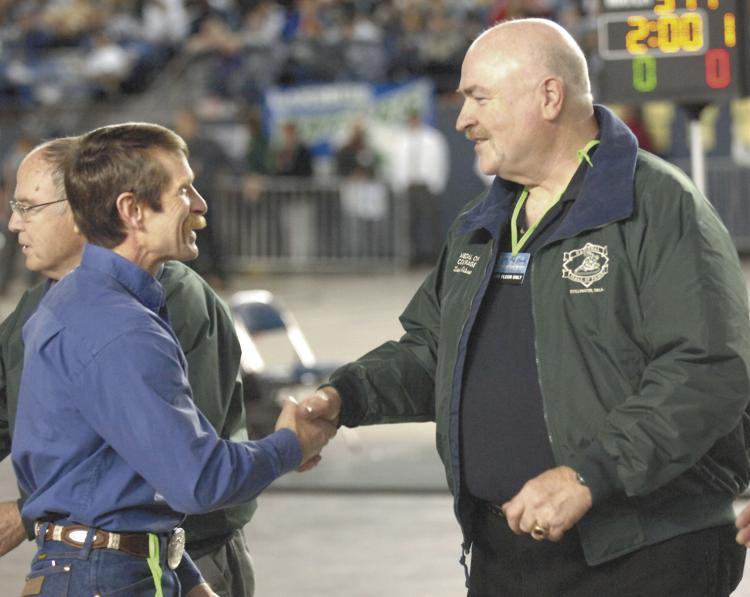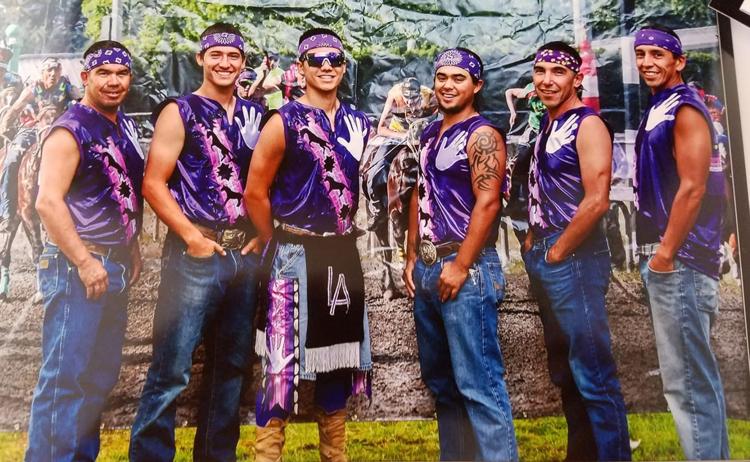 Oroville girl places well at national equestrian meet
Retired Tonasket High School wrestling teacher Dave Mitchell officially was inducted June 2 in Olympia into the Washington State chapter of the National Hall of Fame.
Mitchell, who coached the Tigers for 39 years, was notified in October last year of making the hall.
"This is quite an honor," said current coach Cole Denison at the time.
Denison is was a longtime assistant with Mitchell and wrestled for Mitchell.
"Wrestling has always been a big part of my life and Dave has had a big impact on my whole wrestling and coaching career," said Denison in November last year.
Mitchell touched the lives of many Tonasket athletes.
"He was my wrestling coach when I first started in the first grade and coached me all the way through high school," Denison said. "As I went into college to wrestle, he still had a huge impact on my success on the mat. Then, when I came back home from college, we coached together for 14 years.
"Over 39 years he has coached a state championship team, 33 individual state champions and a lot of state placers. These are some very impressive accomplishments. But the most impressive and important accomplishment is the number of young individuals that he had a positive impact on.
"I know that there are lots of people out there who are extremely grateful for everything he has done and glad to see him be recognized for it."
Larry Gibson of Omak is also in the hall as a medal of courage recipient.
Jerrod Gibbons and his business, Okanogan Valley Guide Service, will be taking three blind men rifle hunting this fall.
The adventure will be filmed by HECS Hunting and shown on the Pursuit Channel.
"This is now our 19th year of being in business," said Gibbons. "We enjoy being included in this organization's getting people back in the outdoors."
Gibbons and his business, along with Connect Outdoors TV, sponsored 14 blind or visually impaired anglers from a blind school in Seattle for fishing and camp in May at the Conconully lakes.
Photos and a story appeared in The Chronicle's June 22 issue.
The second Get Lost! Trail Race is planned for 8:30 a.m. Sunday, June 30, at Lost Lake.
The run, sponsored by Okanogan Highlands Alliance, includes four race options – a 1K kids' race (no pre-registration required), a three-mile race, seven-mile race and a half marathon.
Races will start and end at the group campsite at Lost Lake Campground.
There is free camping available Saturday for runners and race volunteers, their family and friends.
Alizae DeVon or Oroville finished with a second and fourth at the Youth Equestrian Development Association National Invitational in Sunbury, Ohio.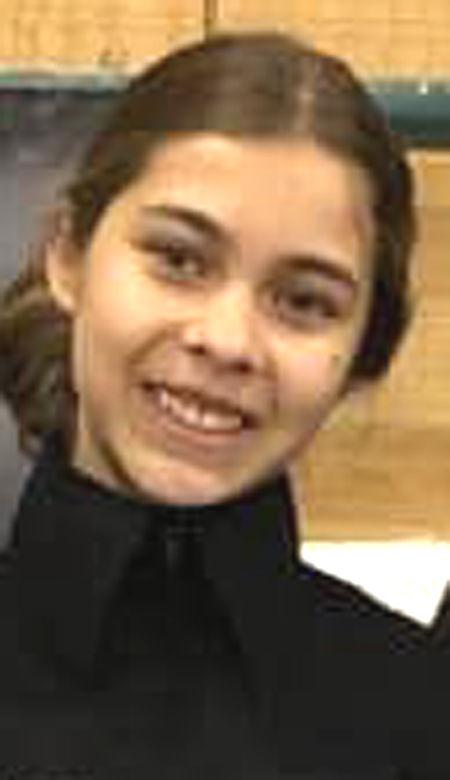 DeVon, 13, competed in Junior High Emerald Rail and Pattern classes.
She also received the sportsmanship award and an award for farthest traveled.
DeVon is member of the Sexton Equine Team, coached by Melissa Sexton of Okanogan.
There were 650 entries from 13 states at the three-day event.
An agenda for a June 24 meeting of the Pateros School Board includes approval of the fall coaching staff.
That includes for the high school (head coach, then assistant) Chloe Gill and Melanie Williams for volleyball, Marcus Stennes and Shane Kelly for football, Jesse Villalobos for girls' soccer and Erika Varrelman for cheerleaders.
For junior high are Tom Asmussen and Justin Carrington for girls' basketball and Erik Romero and Brandon Butler for football.
Alvin Wadkins finished with high score of 8,360 during Tuesday pinochle at the Okanogan Eagles on June 18.
High scores: 8,360, Alvin Wadkins. 7,350, Dee Tarnowski. 7,080, JoAnn Harrison.
Partners with 300 pinochle: Gail Norman and Dick Fuller; Gail Norman and Tim Norman; Alvin Wadkins and Buck Workman; Alvin Wadkins and JoAnn Harrison; Boyd Walton and Alvin Wadkins; Boyd Walton and Dick Fuller.
High scores: 8,410, Bill Bruton. 7,690, Vicki Harlan. 7,460, Valerie Murray.
Partners with 300 pinochle: JoAnn Harrison and Norma Lawson; JoAnn Harrison and Alvin Wadkins; Norma Lawson and Buck Workman; Diana Sauceda and Vicki Harlan; Alvin Wadkins and Buck Workman; Debbie Nuehring and Ida Laurie.
Buck Workman and Gail Norman had a round robin.
Bill Bruton and Tommye Robbins had 800 kings.
Family Health Center will offer free sports physical from July 15 to Sept. 15.
You do not have to be a patient at Family Health Center.
The state Department of Fish and Wildlife will host four public meetings, including one in Ephrata, to discuss the current landowner hunting permit program.
The program is one of five private lands hunting access programs available across the state. The program was introduced to enhance public access to large tracts of private lands across Washington.
Currently, five properties participate in the program, totaling 116,515 acres.
All properties enrolled in the program allow public access through the distribution of big-game permits advertised in the Big Game Hunting Regulations pamphlet.
These meetings are meant to gather information from the public as well as current participating landowners to aid program staff in determining if a change to the program is warranted. The program was last revised nearly 15 years ago.
The department has scheduled public meetings for the following locations and times:
-Yakima: 6-7:30 p.m., Wednesday, June 26, at the Terrace Heights Civic Center, 4011 Commonwealth Road.
•Ephrata: 6-7:30 p.m., Tuesday, July 9, in the large conference room of the department's Region 2 office, 1550 Alder St. N.W.
•Dayton: 6-7:30 p.m., Wednesday, July 10, at the Dayton Memorial Library, Delany Building, 111 S. Third St.
•Spokane Valley: 6-7:30 p.m., Thursday, July 11, at the Mirabeau Park Hotel and Convention Center, 1100 N. Sullivan Road.