Learning the players makes watching games better
For the past couple weeks I've participating in ESPN's mock fantasy NFL drafts in preparation for real drafts once the pre-season starts in August.
The drafts I've been doing are 10-team and PPR (points-for-passing) scoring.
Mock drafts allow you to choose where you want to pick (if not already filled). Drafts start every five minutes.
For real drafts, the site will randomly place you.
I keep track of my drafting position so I have a bit of an idea what players might be available when doing a real draft.
Also, participating in such drafts make you more aware of players, including upcoming rookies plus veterans who might see more or less time this year.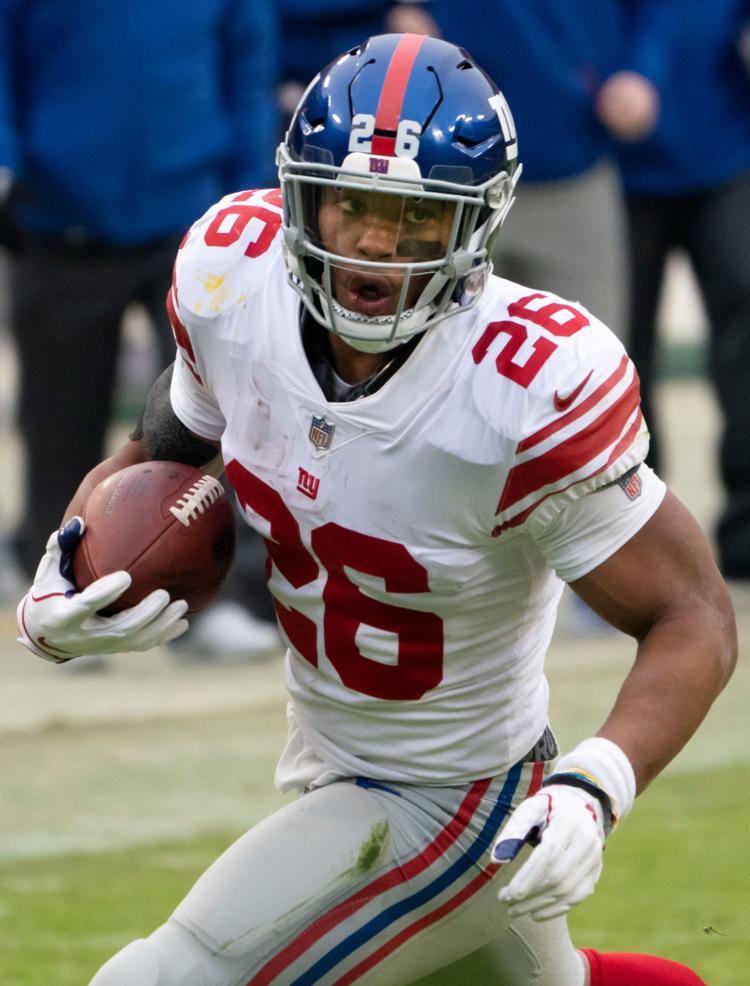 PPR scoring makes wide receivers and tight ends closer in scoring than very valuable do-everything running backs.
That's why the No. 1-ranked player (and first off the board in just about every draft I've been in) is New York Giants' Saquon Barkley, whose rookie year last season showed he could run and catch the rock.
With Giants wide receiver Odell Beckham traded to Cleveland (where he will be catching balls from a real quarterback!), Barkley's value will skyrocket since he will be counted on to take up some of the receiving yardage (I figure about 20 percent more touches).
As an aside, the past two seasons I've won more than 50 percent of the time with my 25 (maximum) ESPN teams.
Last year I also won half the time at Yahoo.com, which uses standard scoring (no extra points for catching passes).
Although both services are free, you can search to find drafts where the winning owner receives money or a prize (I got a discount my first year on a championship ESPN fantasy draft T-shirt).
ESPN and Yahoo both use a snake system to choose players. If you pick No. 1 in the first round, you pick No. 20 in the second round and No. 21 in the third round (kind of snazzy to get two picks in a row).
If you pick last in the first round at No. 10, you pick first in the second round at No. 11 and then wait until No. 30 in the third round.
Of note, I thought ESPN would randomly select picking slots in a real draft. But I've found after you have drafted a couple teams you almost always go to the end of the line, picking in the last two or three in the first round.
I suspect the site, which must be using eggs to keep track of your visits, wants to let newcomers get a shot early at the better players.
There are 16 rounds in the draft, which typically takes 30-40 minutes.
Teams must have a quarterback, two running backs, two receivers, a tight end, a defense, kicker and defense.
There is also a flex position on starting teams, which can be either a back, receiver or tight end.
You will also fill an eight-player bench.
Many team owners select a backup quarterback (about 20 quarterbacks out of a possible 32 are taken) and tight end for their bench.
Most teams also opt to pick up a defense with pick 15 (unless you really, really want Chicago, which goes several rounds earlier) and a kicker with pick 16.
Let's get started with a 10-team draft I completed Tuesday at ESPN while munching on my lunch.
I selected to pick at No. 6 in my mock draft.
Those taken before me, in order, were running backs Barkley, Ezekiel Elliott, Christian McCaffrey, Alvin Kamara and Melvin Gordon.
There is a limited amount of three-down running backs. Only a few can catch passes and run like these guys.
Teams have two to three wide receivers putting up points and may also have one or two tight ends who can score. So I pick them up a bit later in the draft.
At No. 6, I picked up New York Jets' Le'Veon Bell, feeling that despite a weaker offensive line and quarterback than he had at Pittsburgh, his abilities will provide good scoring.
Pittsburgh's James Conner was added with my No. 15 pick.
Of note, Conner takes Bell's spot with the Steelers.
I have since backed off Bell, feeling he may not produce as well as I thought a first-rounder should. In fact, I am not drafting from this No. 6 position Conner (No. 12 ranked at ESPN), who takes Bell's spot at Pittsburgh.
Sometimes at No. 15 you can get Todd Gurley in some drafts, but lately he's been going around pick 9-10, despite coming back from injury.
You might not win your league in the first two rounds, but you certainly can lose it.
Ideally, I like to select two running backs, followed by receivers and then see what falls my way.
But I've also picked up a receiver followed by two backs and then a receiver.
It all depends on who is available on your turn.
Sometimes you can use ADP (average draft position) at ESPN to see where other owners are, on average, picking a player.
In this draft, because I got two backs right off, I next picked up two receivers - Minnesota Vikings Adam Thielen and LA Rams' Brandin Cooks next.
Thielen was ranked high at this point in the draft.
Later last week I got a magazine that predicted (written last spring) that Thielen would be a bust this year because of the elevation of offensive Kevin Stefanksi, who in the final three weeks last season went to a sluggish offense that cut Thielen's targets from 10.8 to 4.0 per game.
Future drafts will have me looking someone else for my WR1 spot, as Thielen is at best a WR2 at this point.
A Sports Illustrated magazine ranked Thielen at No. 11 amongst WRs while Cooks was ranked No. 16.
Speeding along, my favorite quarterbacks are Houston's Deshaun Watson and Cleveland's Baker Mayfield, who is way down ESPN's ranking that makes him available later in most drafts.
If those signal callers are gone as they were Tuesday, I opted to wait on my quarterback.
Kansas' Patrick Mahomes is ranked No. (he even went No. 1 overall in one of my mock drafts).
Other players I took include Kansas City wide out Sammy Watkins, Chicago rookie running back David Montgomery and New Orleans tight end Jared Cook.
I then picked up Carson Wentz of Philadelphia in the eighth round.
From there I picked 9, Will Fuller, WR, Houston; 10, N'Keal Harry, WR, New England; 11, David Njoku, (backup) TE, Cleveland; 12, Dak Prescott, (backup) QB, Dallas; 13, Mecole Hardman, WR, Kansas City; 14, Minnesota, defense; 15, DK Metcalf, WR, Seattle; 16, Ka'imi Fairbairn, K, Houston.
I'll keep practicing right up until real drafts start, and then do a couple each week until I've filled my 25 maximum amount.