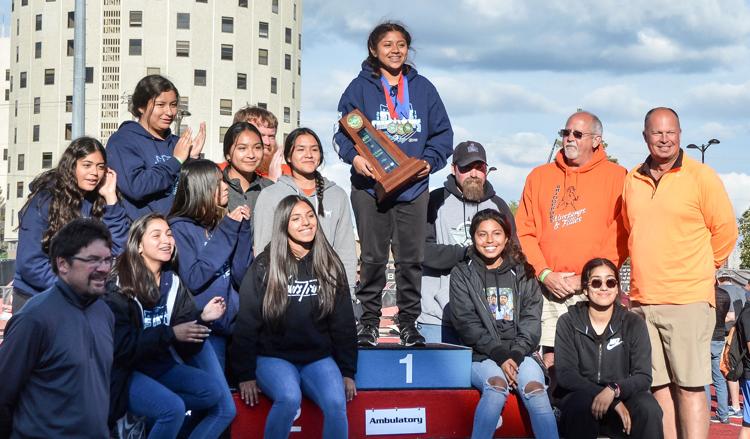 Joanna "JoJo" Prestegui, a sophomore soon to be a junior at Bridgeport High School, and Dalton Kentner, a senior at Almira/Coulee-Hartline, were named WIAA/Wendy's State Athletes for week 37 (May 19-25), which culminated with state championships.
Kentner pitched 12 innings of shutout baseball for the 1B Warriors, leading them to a second consecutive state championship.
In his two state victories, Kentner gave up four hits and struck out 26 batters.
He also added two hits with the bat and four RBI.
Prestegui won the ambulatory 100 meters and javelin, placed second in both the shot put and discus while guiding Bridgeport to winning the Para-Combined State Championship, said Washington Interscholastic Activities Association.
Also earning state ambulatory recognition was Yareli Palacio, who finished eighth in both the shot and javelin.
"Teammates, coaches, school staff, student body and community couldn't be more proud of both JoJo and Yareli on their efforts and accomplishments," said Bridgeport athletic director Scott Darwood. "Both the state title and the WIAA/Wendy's recognition are really quite the accomplishments!"
Olympians Brian Gregg and Caitlin Gregg, who have relatives in the Methow Valley, skied cross-country legs in the Ski to Sea relay race May 26.
The race stretches from Mount Baker Ski Area to Marine Park off Bellingham Bay.
This year 414 team (3,322 racers) competed for more than 93 miles in seven legs that included cross-country ski, downhill ski/snowboard run, road bike, canoe, cyclocross bike and sea kayak.
Brian Gregg was on the team Boomer's Drive-In, taking first in open cross country.
Boomer's kayaker, Greg Redman, led off Zuanich Park.
Greg Barton with Wenatchee Valley Brewing was right behind, eventually passing Redman before landing first on the beach near the finish line.
Redman may have been second to the beach, but he sprinted past Barton to win by four seconds (6:05.55 total) for the team's third straight overall title.
Caitlin Gregg, who was on the Boomer's Drive-In B team (fifth, 6:38.44), was seventh overall was the first women in open cross country skiing.
Omak High School and Junior High athletics director Joe LaGrou recently reported to the school board an amendment he wants to propose to the Washington Interscholastic Activities Association.
LaGrou will request WIAA allow 1A schools, such as Omak and Okanogan in our area, be allowed to use eighth- graders to participate on high school teams the same as 2B schools are permitted to do now.
"At this time, any 2B school (with league approval) may allow 8th graders from a WIAA member feeder school to participate in the high school program with the intent to maintain a varsity and a junior varsity program in baseball, basketball, soccer, softball, or volleyball," said LaGrou in a report to the school board. "If the participants on each high school team is at or below these specified numbers, 8th graders would be allowed to participate on the high school team:  baseball:  25, basketball:  16, soccer:  25, softball:  25, and volleyball:  17."
Okanogan received four top honors in the Caribou Trail League for track and field.
Chet Craigen for the boys and Allie Eastridge for the girls were field Athletes of the Year.
Renea Taylor of Okanogan was track Athlete of the Year,
Okanogan's Marty Staggs was Coach of the Year.
Cashmere's Carter Ball was boys' track Athlete of the Year.
Cascade received the sportsmanship award.
Craigen and Eastridge were, respectively, the top shot put and discus competitors in the CTL.
Taylor was the No. 1 girl in the 100, 200, 300 hurdles and was No. 2 in the 100 hurdles.
Staggs guided the Okanogan girls to the state 1A championship with 72 points.
Cashmere dominated all-Caribou Trail League tennis honors.
The southern Bulldogs Ryan Cooper and Aleah Kert were voted the boys' and girls' Player of the Year, respectively.
Cashmere's Trevor Kert was named Coach of the Year.
Omak received the sportsmanship award.
The Pioneers' Braeden O'Dell and Chase Grillo were named to first team in doubles.
Simon McCune and Stuart Law were named to the second team.
Adam Hendrick was honorable mention in singles.
On the girls' side, Okanogan's Hayley Wyllson and Alex Perez were named to the second team.
Omak's Lupita Moriel was an honorable mention in singles.
Bill Norwill of Okanogan was named the boys' Player of the Year in the Caribou Trail League.
Norwill, a senior, shot a 93 the first day of the state 1A tournament and missed the cut to the second day by three strokes.
Emma Halseth of Cascade was named the girls' Player of the Year.
Cascade's Randy Alexander was voted Coach of the Year.
Omak and Cascade shared the team sportsmanship award.
Others on the first team included Omak's Brady Tonasket, a freshman, and Destyn Markel, a junior.
Chelan golfers on the first team included Miles Grossberg, sophomore; Joey Gasper, freshman; and Parker Brown, a sophomore.
Cascade's Isaac Cortes, sophomore, also was on the first team.
The second team was Okanogan's Weston Wood, sophomore, and Jacob Stanley, junior.
Schools already have started making enrollment counts for grades nine to 11 to determine classification levels for the next four years period starting the fall of 2020.
The headcount numbers will also include an enrollment adjustment to be determined by a school's free and reduced lunch data, said Omak High School athletic director Joe LaGrou in a report to the school board.
" The higher or lower the free and reduced lunch percentage compared to the state average determines the reduction or increase of the overall enrollment count," LaGrou said. "The WIAA will use the lunch count data reported to the State Office of Public Instruction for the month of November 2019 of the reclassification year to determine our school's enrollment adjustment."
The current classification for 1A is 214.50 to 461.24 (65 schools), 2B is 83-214.49 (60 schools) and 1B is 26-82.99 (64 schools).
Omak on the last count was 325.
Okanogan was 215, less than one student from 2B status. Just behind the Bulldogs are Jenkins (Chewelah) at 214.88 and Columbia (Burbank) at 214.50.
The largest area 2B schools were Tonasket at 193.60 and Brewster at 187.50.
The largest area 1B school was Pateros at 74.13.
Joe LaGrou, the Omak middle and high school athletic director, reported to the school board May 21 the grade points for spring teams.
"As this school year comes to a close, I am pleased with this year's progress in athletics," said LaGrou. "And I am always reviewing ways to build and improve programs.
"The spring scholastic awards for athletics are confirmed for those teams who had a 3.0 or better: boys' soccer: 3.122; boys' tennis: 3.484; girls' tennis: 3.548; boys' track and field: 3.479; girls' track and field: 3.650; girls' varsity softball: 3.484.
Gail Norman racked up 8,200 points to lead pinochle players Tuesday at the Eagles in Okanogan.
High scores: 8,200, Gail Norman. 6,940, Norma Lawson. 6,850, Millie Jewel and Buck Workman tied.
Partners with 300 pinochle: Lisa Turner and Boyd Walton; Millie Jewell and JoAnn Harrison; Boyd Walton and Buck Workman.
The summer heat continues to open trails in the Methow Valley.
The latest report, provided by Methow Trails, finds:
- Cutthroat Lake's  trail is almost entirely snow-free now. A great hike to do with children due to not being overly stee0p.
- Lookout Mountain's snow is gone from the trail, where you can view blooming wildflowers.
- Buck Mountain is a great trail for biking.
- Jack's Trail is a quiet route out of Mazama starting at the Highway 20 trailhead.
- Sun Mountain sports many trails ideal for running, riding or hiking. There's lots of shade on the trails, too.
- Driveway Butte highlights an awesome climb with stellar views. Do this before the heat really invades the valley.
The inaugural Mental Health two-mile run is planned for Aug. 31 at The Plex, 93 Rodeo Trail, Okanogan.
Race packets and T-shirts can be picked up 8-8:30 a.m.
There is a speaker, book reading and raffle 8:30-9 a.m.
The first heat takes off9-9:30 a.m. for one mile. 9:30-10 a.m. is the second heat walking for a mile
10-11 a.m. is for community agencies.
Moto this year is Bring Compassion, Share the Hope.
One hundred percent of entries proceeds go to the forefront of suicide prevention.
The Washington State Department of Fish and Wildlife will open a harvest fishery for white sturgeon in Lake Roosevelt starting June 15.
White Sturgeon, a species native to the Columbia River, are known for their large size, with adults growing in excess of 10 feet and weighing hundreds of pounds.
"This is the third year in a row that anglers have the opportunity to fish for white sturgeon in Lake Roosevelt," said Chris Donley, Region 1 Fish Program manager. "This is a great opportunity for anglers to get out and pursue one of the greatest native sportfish in Washington."
White sturgeon hatchery programs started in the early 2000s in British Columbia and Washington State. Between both jurisdictions, stocking ranged from 2,000 to 12,000 juvenile sturgeon per year from 2001 to 2010.
"Survival of hatchery-produced juvenile sturgeon was higher than anticipated," Donley said. "As a result there is a surplus of hatchery-origin sturgeon available for harvest from Lake Roosevelt."
Anglers will be able to fish for them from Grand Coulee Dam to the China Bend Boat Ramp(including the Spokane River from the Highway 25 Bridge upstream to 400 feet below Little Falls Dam, Colville River upstream to Meyers Falls, and the Kettle River upstream to Barstow Bridge).
The daily limit is one sturgeon and the annual limit is two, although anglers may continue to catch and release fish after reaching daily and annual limits.
Legal size to keep a white sturgeon is between 53 and 63 inches from the tip of the snout to the middle of the fork in the tail. All harvested sturgeon must be recorded on a Catch Record Card (catch code 549).
Anglers are asked to use heavy gear (50-pound test mainline and leader at a minimum) and use 14/0 hooks or smaller to avoid catching or injuring large wild adult sturgeon. Two-pole fishing is allowed but night fishing is not.
The white sturgeon season will be open until further notice.  Season dates, times, slot limits, daily limits and annual limits may be adjusted to ensure that a sustainable population of sturgeon is maintained in Lake Roosevelt.
The Okanogan County Fly Fishing Club will meet June 5 for a potluck dinner at Chopaka Lake out of Loomis.
Angles may also want to bring a small gift for a planned white elephant exchange.
If you plan to attend let club spokesman Greg Bennett (putmbac@gmail.com) know if you are attending so he can plan appropriately for how many are expected.
Lake Roosevelt graduate Shane Proctor finished first in bull riding at the Auto Place Group PRCA Regional Rodeo May 24-25 in Farmington, Mo.
Proctor scored 82 points on Universal Pro Rodeos' Happy Jack to win $816.
The Washington State Committee on Geographic Names approved May 30 four proposals, including one to rename a popular hiking destination near Wenatchee in Chelan County.
Approved was renaming Squaw Saddle to Saddle Gap, and to name a formerly unnamed rock formation atop Saddle Gap to Saddle Rock.
The change reflects local use and was supported by the Confederated Tribes of the Colville Reservation, the state said.
The city of Wenatchee already refers to the feature as "Saddle Rock" by signs at an area trailhead, and it is a familiar feature to people in the area, the state said.
Names approved by the committee are forwarded to the Board of Natural Resources (acting as the Washington State Board on Geographic Names) for final decision.
Names approved by the Board are published in the Washington Administrative Code and forwarded to the United States Board on Geographic Names for federal consideration along with the state's recommendations.
Al Camp is the sports editor at The Chronicle. He can be reached at 509-826-1110 or via email at acamp@omakchronicle.com.