First black bear season opened Aug. 1
Former Gonzaga University's women's basketball player Chandler Smith of Brewster signed to play professional basketball for Snæfell in the Urvalsdeild (Iceland-Dominos) League.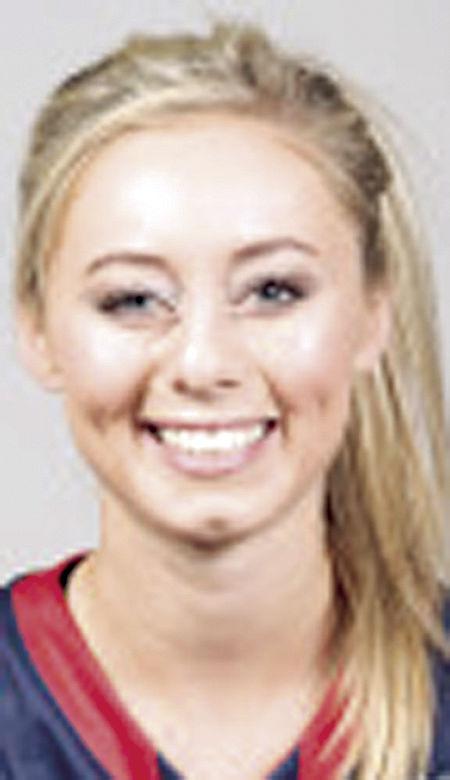 Also signing to play overseas was fellow Zag graduate Zykera Rice, who heads to Peli-Karhut out of the Finnish Korisliiga, the top-tier professional league in Finland.
Smith will play in the premier women's league in Iceland, where Snæfell, based in Stykkishólmur, just missed the playoffs after finishing fifth overall in league play with a 16-12 record.
She finished second in scoring last season for Gonzaga at 9.2 points per game and had a team-best 28.6 minutes per game.
Smith was twice named All-West Coast Conference, earning first team honors last season.
She played on three WCC regular-season championship teams that won two WCC tournament titles and made three NCAA Tournaments.
Jill Townsend, Okanogan, continues to play for Gonzaga, which later this month heads to Italy and Spain for sights, food and competition.
Gonzaga, which gets an extra 10 days of practice that way, seeks to improve on last year's 29-5 record that included a WCC title and advancing to the second round of the NCAA tournament.
Townsend has been rehabbing a major leg injury suffered in the WCC tournament that ended her sophomore season.
Although not back 100 percent, she was back on the court practicing recently in preparation of getting some minutes of play in Europe.
The team left Aug. 10 with stays in Barcelona, Rome, Venice and Florence before returning Aug. 22.
For outdoor enthusiasts, the black bear hunting season, the first big-game hunt of the season, opened Aug. 1 statewide.
Hunters are allowed two black bears during the general season.
Scouting deer and elk hunting areas in preparation for seasons starts in earnest.
Region-by-region descriptions of fishing, hunting, and wildlife viewing opportunities are detailed in the Weekender Regional Reports at https://wdfw.wa.gov/weekender/.
The reports are updated throughout the month.
Chinook salmon fishing is underway on the upper Columbia River from Rocky Reach to Wells dams.
The warming of lakes this summer means there's good fishing for bass and yellow perch.
Higher elevation waters remain good for trout.
Bridgeport athletic director Scott Darwood, who fights fire in the summer, took a moment to update activities and who will be coaching this fall.
The annual Bridgeport high school/middle school athletic enrollment will be Monday, Aug. 19, from 6-7:30 p.m. in the high commons.
"We will be discussing HS/MS student athletes required needs before they are able to attend their first practice," said Darwood.
Also scheduled to be there will be high school Principal Tamara Jackson, middle school Principal Hanna Coffman, high school ASB secretary Lisa Pierce and high school office secretary Brenda Garcia.
Required needs include reading athletic codes, understanding and signed by the athlete and a parent, all the previous years' school fines paid, physicals completed and up to date, proof of insurance, and attendance of and signed off in a concussion protocol class.
Also required is an annual ASB card.
Free student athlete physicals are available through Sept. 15 at Family Health Centers.
Appointments can be scheduled at 509-686-0603.
Fall high school coaches:
Football, head coach John McDougal; assistant Luke Luttrell.
Volleyball, head coach Suni Gill; assistant Zoe Baxley.
Girls' soccer, head coach Gabe Gonzalez; assistant Carlos Lope.
Cheer coach, Samantha Torres.
Cross country combined high school/middle school, head coach Rick Neigel.
Football, head coach Sam Buckingham; assistant Derek Pulsifer.
Volleyball, head coach Susan Schuh; assistant Dolly Buckingham.
Debbie Nuehring finished as high-point pinochle player with 8,410 points at the Okanogan Eagles on Tuesday in Okanogan.
High scores: 8,410, Debbie Nuehring. 7,440, JoAnn Harrison. 7,400, Tim Norman. 7,100, Millie Jewell.
Partners with 300 pinochle: Boyd Walton and Tom Schieffer; Joann Harrison and Vicki Harlan; Millie Jewell and Debbie Nuehring; Joe Feddersen and Lisa Turner; Alvin Wadkins and Tim Norman; Valerie Murray and Debbie Nuehring.
A free celebration by the Methow Beaver Project is planned for Sept. 14-15.
There will be a social at 5 p.m. Saturday in the Winthrop Park followed by presentations at 6:30 p.m. in the Winthrop Barn.
The presentation will be by Ben Goldfarb, author of "Eager: The Surprising, Secret Life of Beavers and Why They Matter," and Sarah Koenigsberg, who will screen her feature film "The Beaver Believers."
Beaver restoration site tours will be offered on Sunday morning. Signups will be taken at the Saturday event.
The Taste of Three Valleys Auction and Gala, hosted by Loup Loup Ski Bowl, will be 5-10 p.m. Oct. 19 at the Okanogan County Fairgrounds Agriplex, 175 Rodeo Trail.
The benefit supports the ski hill about 18 miles west of Okanogan.
There will be dancing with DJ Bullfrog.
The state Department of Fish and Wildlife has opened a public comment period to gather input on how the department will manage wolves in Washington post-recovery.
Since 2008, the state's wolf population has grown an average of 28 percent per year.
The department documented a minimum of 126 individuals, 27 packs and 15 successful breeding pairs during the last annual population survey.
"Long-term sustainability and persistence of Washington's wolf population will always be a department priority," said department Director Kelly Susewind. "We know that Washington wolves are doing well, and it's our responsibility to be prepared to help wolf and human populations coexist in the same landscape."
Although it may be a few years before meeting wolf recovery goals, the state is preparing for when wolves are no longer designated as state or federally endangered by developing a post-recovery conservation and management plan. It will guide long-term wolf conservation and management.
As part of using the State Environmental Policy Act process, the department will include an extensive public input and engagement process to develop the plan. This involves preparing a draft environmental impact statement that will evaluate actions, alternatives and impacts related to long-term wolf conservation and management.
The department will develop the draft EIS based on feedback, and the public can review and comment on the draft once it is complete.
"The department currently uses the Wolf Conservation and Management Plan, adopted in 2011, to guide wolf management activities in Washington," said Julia Smith, department wolf coordinator. "However, the 2011 plan was developed specifically to inform and guide Washington wolf recovery while wolves are considered threatened or endangered. The new plan will focus on how the department will conserve and manage wolves after their recovery."
Spokane - Sept. 3, 6-8 p.m., Spokane Community College, The Lair Student Center, Building No. 6, Sasquatch and Bigfoot Room 124 and 124C, 1810 Green St.
Colville - Sept. 4, 6-8 p.m., Agriculture and Trade Center, 215 S. Oak St.
Clarkston - Sept. 5, 6-8 p.m., Quality Inn and Suites, Half Mahogany Room, 700 Port Drive.
Chelan - Sept. 11, 6-8 p.m., Chelan Fire Station, 232 E. Wapato Ave.
A webinar will also be available for those who are interested. A date and time for it will be announced later.
Okanogan County's limited-entry deer hunt applications are due today, Aug. 14.
Eighteen lucky hunters will have an opportunity to hunt for deer this fall on the 6,000-acre Charles and Mary Eder unit of the Scotch Creek Wildlife Area near Oroville.
Hunters can submit an application for the "limited-entry" deer hunt on the state Department of Fish and Wildlife's website at https://wdfw.wa.gov/hunting/special-hunts/scotch-creek or by contacting the state Department of Fish and Wildlife north central region office at 509-754-4624 or headquarters at 360-902-2515.
The deadline to apply is midnight Aug. 14.
Eighteen applicants will be chosen during a random drawing in late August. Winners of the drawing will receive access permits to the Charles and Mary Eder Unit of the Scotch Creek Wildlife Area near Oroville.
Of the 18 access permits available this year, six will be reserved for bowhunters, six for muzzleloaders, and six for hunters using modern firearms.
Hunters are allowed to take only one deer, as authorized by their general hunting license.
The area is within Game Management Unit 204 with general deer seasons set for Sept. 1-27 for bow hunters, Sept. 28 to Oct. 6 for muzzleloaders, and Oct. 12-22 for hunters using modern firearms.
The results of the drawing will be available on the department's website the last week of August. Hunters who are drawn will receive an access permit and a boundary map in the mail.
A fishing rule change will open a white sturgeon fishery Sept. 1 on Lake Roosevelt up stream of China Bend boat ramp.
Areas open include Lake Roosevelt, from Grand Coulee Dam to China Bend Boat Ramp (including the Spokane River from Highway 25 Bridge upstream to 400-feet below Little Falls Dam, Colville River upstream to Meyers Falls and the Kettle River upstream to Barstow Bridge).
The season remains open seven days per week through Sept. 30.
Another stretch includes Lake Roosevelt, from China Bend Boat Ramp upstream to the Canadian Border.
Open seven days per week from Sept. 1 through Sept. 30.
The reason for the action is that a portion of Lake Roosevelt from China Bend upstream to the Canadian border is managed as a spawning sanctuary for white sturgeon.
Spawning is expected to continue into August.
In order to reduce the potential for impacts to wild adult sturgeon spawners, the opening of that portion of the reservoir to sturgeon fishing will be Sept. 1.
There is a daily limit of one sturgeon and an annual limit of two sturgeons.
It is legal to retain sturgeon between 53 inches and 63 inches fork length.
Fork length is measured from the tip of the snout to middle of the fork in the caudal fin (tail)
The season is closed to night fishing. Two-pole fishing is allowed with a two-pole endorsement.
Harvested sturgeon must be recorded on a catch record card (catch code 549).
Anglers may continue to catch and release sturgeon after the daily limit and annual limit have been taken. All other statewide rules for sturgeon must be observed.
Anglers are asked to use heavy gear (minimum 50-pount test mainline and leader) with 14/0 hooks or smaller to avoid injuring large, wild adult sturgeon. This will ensure anglers hook and land sturgeon effectively, but also protects large, wild adult brood sturgeon, that if hooked, should be played to hand quickly.
It is unlawful to remove oversized sturgeon from the water. The sstate Department of Fish and Wildlife recommends that any fish that will not be retained should not be removed from the water prior to release.
The Lake Roosevelt co-managers (the department, Spokane Tribe and the Colville Confederated Tribes) will all be conducting sturgeon fisheries at this time.
Anglers are asked to be respectful of tribal angling and both tribal and non-tribal sturgeon research that is occurring on the reservoir.
Anglers are reminded that fishery dates, times, slot limits, daily limits and annual limits may be adjusted over time to ensure a sustainable population of sturgeon is maintained in Lake Roosevelt and that equitable access to the fishery amongst the three co-managers is achieved.
OLYMPIA – The Washington State Parks winter recreation program is looking for winter sports enthusiasts to serve on the Winter Recreation Advisory Committee or the Snowmobile Advisory Committee.
Committee members review vital issues and advise the Washington State Parks Commission and staff on program policy and funding priorities for snow removal, trail grooming, sanitation, education and enforcement.
Members are appointed by the commission and may serve up to two three-year terms. The committees meet at least two weekends each year, once during the winter and once during the summer. Travel, lodging and meal costs for the meetings are reimbursed for members.
There is an at-large position for motorized (snowmobile) representative on the advisory committee.
The WRAC is made up of six non-motorized representatives and three representatives from snowmobile winter sports.
The committee also includes one representative each from state Department of Natural Resources, state Department of Fish and Wildlife and Washington Association of Counties.
Also included is an ex-officio member from state Department of Licensing.
Non-motorized winter recreation includes cross-country skiing, snowshoeing, dog mushing, skijoring, tubing, sledding and family snow play.
An at-large position is available for non-motorized representative on the advisory committee.
The SMAC is made up of six representatives from snowmobiling and three representatives from non-motorized winter sports. The committee also has one representative each from the state Department of Natural Resources, state Department of Fish and Wildlife and Washington Association of Counties. Also included is an ex-officio member from the state Department of Licensing.
Advisory committee members can be nominated or apply to serve on the committee.
Nominations and applications for both committees must be received by Aug. 30.
New appointments begin Oct. 1, for a term of three years. To send nominations or request an application, contact the Winter Recreation Program at winter@parks.wa.gov, P.O. Box 42650, Olympia, WA 98504-2650, or (360) 902-8684.