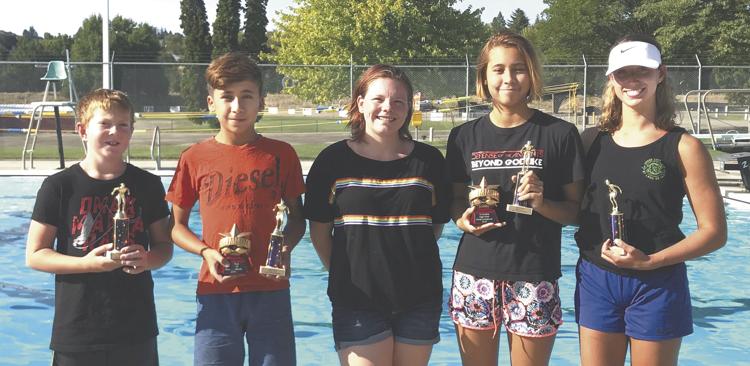 Brewster Derby: Dorsey claims King of the Pool
Women can learn the basics of fishing, hunting, outdoor stewardship and other outdoor skills in a September weekend workshop that includes sessions led by state Department of Fish and Wildlife experts and other certified instructors.
Washington Outdoor Women (WOW) present and coordinate the annual workshop Sept. 13-15 at Lazy F Camp near Ellensburg.
Now in its 22nd year, WOW is an outdoor skills education program of the Washington Wildlife Federation, a non-profit program dedicated to teaching women outdoor skills and natural resource stewardship.
Certified and experienced instructors will teach 20 classes throughout the weekend on skills such as archery, basic freshwater fishing, fly fishing, fly tying, big-game hunting basics, survival, garden for wildlife, Dutch oven cooking, backpacking, outdoor photography, map and compass, and more.
Workshop participants must be at least 18 years old and have a current Washington recreational fishing license to participate in the fly fishing and basic freshwater fishing sessions.
Partial scholarships from the Rocky Mountain Elk Foundation are available for first-time participants.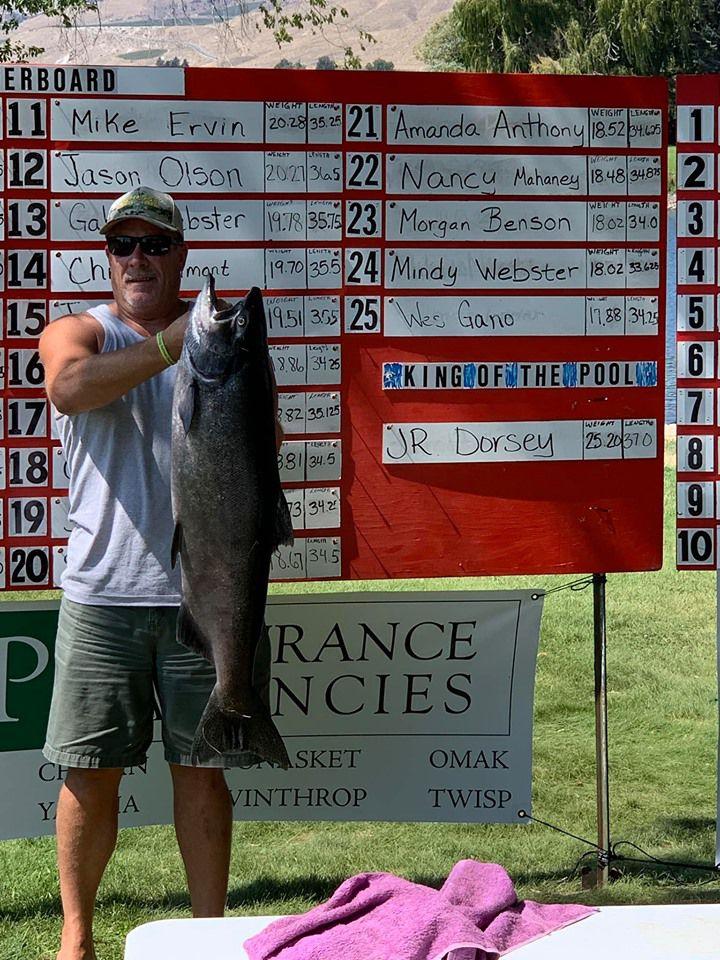 Howard "Junior" Dorsey won the King of the Pool price of $2,000 at the 14th annual Brewster Salmon Derby competed Aug. 2-4.
Dorsey's winner, which was the largest salmon weighed in the derby, was weighed Sunday at 25.20 pounds (37 inches long, 22.5 inch girth).
Kim Hammons, who weighed her salmon Saturday, was second at 23.57 pounds.
The derby saw 261 hatchery kings weighed-in by 207 anglers (122 fish Friday, 66 on Saturday and 73 on Sunday).
Alex Davis took first in youth ($550) age 9 to 14 with a 22.42-pound Chinook.
Adam Roman took first in child ($100) age 8 and younger with a 17.74-pound Chinook.
Tim Norman and Dee Tarnowski had a round robin during pinochle Tuesday at the Eagles in Okanogan.
High scores: 9,230, Vicki Harlan. 9,140, Alvin Wadkins. 7,940, Gail Norman.
Partners with 300 pinochle: Vicki Harlan and Alvin Wadkins (twice); Lisa Turner and Gail Norman; Ida Laurie and Dee Tarnowski; Norma Lawson and Alvin Wadkins; Tim and Gail Norman (twice); Dick Fuller and Joe Feddersen; Joe Feddersen and Gail Norman; Dee Tarnowski and Mike Serles.
The first tribal release of Chinook salmon upstream of Chief Joseph Dam since construction in 1955 will be at 10 a.m. Friday, Aug. 9, at the RV Park on Lake Rufus Woods.
A gathering is at 9 a.m. at the park about five miles down Columbia River Road from tribal headquarters on Highway 155.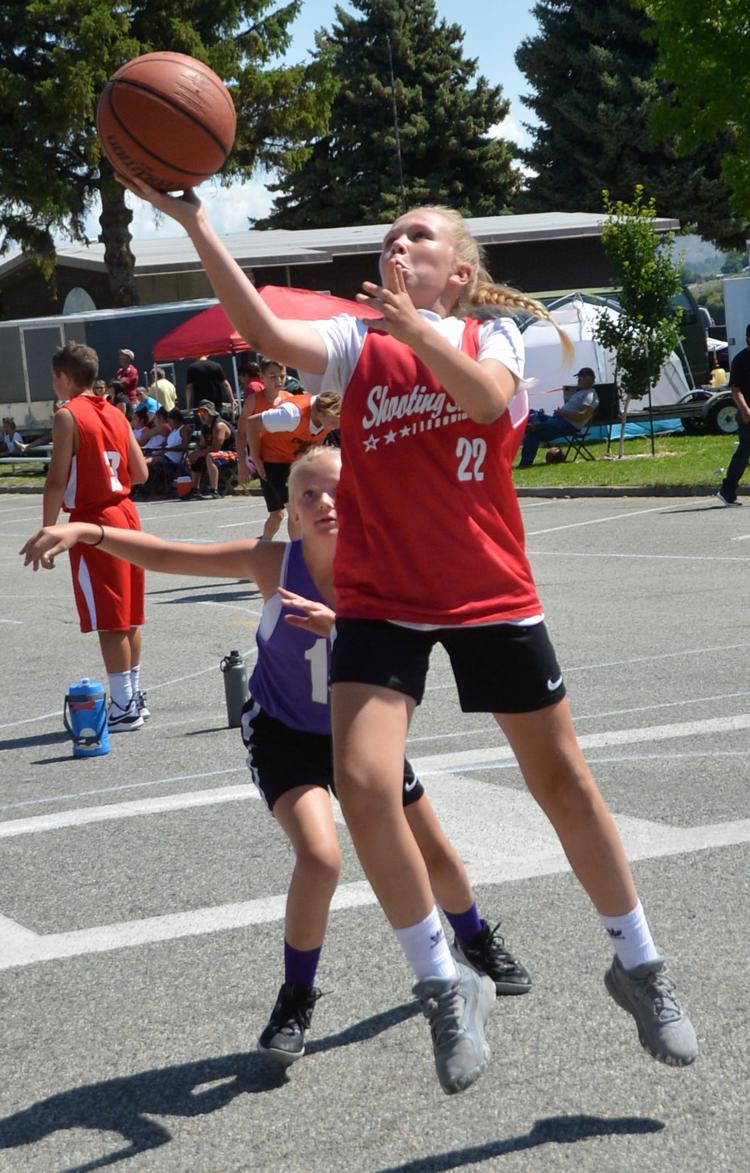 Shane and Olivia Cronin told the Pateros School Board during a meeting July 29 they are developing an athletic facility in town.
They asked if the board would like to begin a dialogue of possible collaboration.
The board took no action in what was termed a baseball field proposal.
More information was received after watercross racing July 20-21 at the Apple Pie Jamboree.
That included seven women racing in a class, making it the largest in the region - which includes Oregon, Washington and Idaho – in at least a decade, said race organizer Roger Harnack.
The Apple Pie Jamboree kicked off with a parade Friday night; racers were allowed to enter their watercraft, but none did this year, said Harnack.
The community-wide event resumed Saturday with a bass fishing tournament launching at 4 a.m., followed by a 5K color run at 8 a.m.
Watercross action kicked off about 11 a.m. after presentation of the national anthem. Okanogan County Sheriff's Deputy Dave Yarnell piloted a law enforcement ski while Apple Pie Jamboree Committee President Tracy Wilson carried the flag, presenting the flag as the national anthem played.
Other Apple Pie Jamboree activities, including a large 3-on-3 basketball tournament, paused as the anthem played.
Doug Wolff manned the tower, and certified rescue diver Archie Dennis anchored nearby.
Angela Clements and Jen Effrig handled registration, scoring and announcing as they have done in the region for years. Wayne Hilsinger manned one of the course marshal skis while his wife, Katie, served as a spotter for Dennis, said Harnack.
Harnack manned the other rescue ski as Yarnell and Josh Brown patrolled the Columbia River, keeping other boats at bay.
Racing continued throughout the day, with only a 20-minute lunch break to allow bass boats into the docks to weigh in fish.
After 26 motos, racers pulled their skis and pit area, making way for pyrotechnicians to set up the evening's half-hour-long fireworks display.
The action continued Sunday, with only one on-water incident as a minor collision sent the hood of 550 rider Seth McNeil's boat flying, said Harnack.
Sunday's course marshal's, Harnack and Mike Reynolds, quickly got to the area, with Reynolds tending to McNeil and Harnack towing the ski back to the docks.
McNeil was uninjured; he pumped the water out of his boat and fired it up, returning to the line later in a later moto.
After an additional 26 motos, the racing concluded without any injuries.
"It was a great weekend of racing," Harnack said prior to Osoyoos Cup races last weekend north of Oroville. "We're ready to go again."
Mountain goats were transplanted from Olympic National Park and Olympic National Forest to the northern Cascade Mountains last month.
Among places receiving the goats were the Chikamin Ridge and Box Canyon areas of the Okanogan-Wenatchee National Forest.
Other sites included Preacher Mountain in the Mount Baker-Snoqualmie National Forest, near Mount Index on the Skykomish Ranger District, and between Prairie and Whitechuck mountains in the Darrington Ranger District.
An additional two-week period is planned for more capture and translocation that could continue into 2020 depending on this year's results.
So far 76 mountain goats have been moved and 174 mountain goats removed since September of 2018.
In May 2018, the National Park Service released the final Mountain Goat Management Plan that outlined the effort to remove an estimated 725 mountain goats on the Olympic Peninsula. Both the plan and the associated environmental impact statement were finalized after an extensive public review process which began in 2014.
In recognition of the National Park System's 103rd birthday, the Washington State Parks and Recreation Commission is offering free entrance to state parks on Sunday, Aug. 25.
Day-use visitors will not need a Discover Pass to visit state parks by vehicle.
State Parks free days are in keeping with 2011 legislation that created the Discover Pass, which costs $30 annually or $10 for a one-day visit.
The pass is required for vehicle access to state recreation lands managed by Washington State Parks, the state Department of Fish and Wildlife and the Department of Natural Resources.
The Discover Pass legislation directed State Parks to designate up to 12 free days when the pass would not be required to visit state parks. The free days apply only at state parks; the Discover Pass is still required on WDFW and DNR lands.
The remaining 2019 State Parks free days are Sept. 28 for National Public Lands Day and Nov. 11 for Veterans Day.